Book on Ethiopia: Invitation to Read
Oct 17, 2013 by Alex Mekonnen | 0 Comments
Greetings!
My first book in the Western hemisphere was printed this week in the UK, by Regnum publishers. You can get it through different local bookstores in Europe and in the U.S.A., and Amazon also has it:
http://www.amazon.co.uk/Culture-Change-Ethiopia-Evangelical-Perspective/dp/1908355395/ref=sr_1_sc_1?ie=UTF8&qid=1381850162&sr=8-1-spell&keywords=Culture+chang+ein+Ethiopia
The title is: CULTURE CHANGE IN ETHIOPIA: AN EVANGELICAL PERSPECTIVE. Through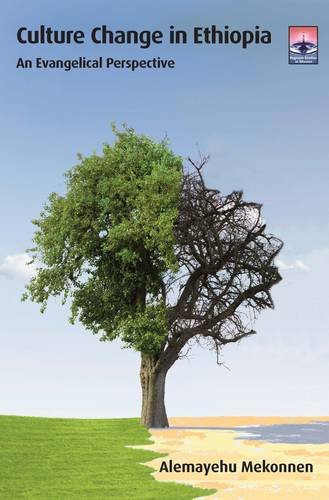 thorough academic research, I've covered the culture change in Ethiopia from the time of Haile Selassie to the present. Because of the time span and the scope of my research, I've not omitted the issue of Eritrea even though it seems to be a dead case to many.
In my over 41 years of Christian service, I strongly feel this is the climax of my contribution to the wellbeing of Ethiopians, friends of Ethiopia, and to everyone who has an interest and commitment to make positive contribution to mankind in the Horn of Africa or elsewhere.
If you are reading this, I believe in one way or the other you're a leader, a change agent and an influencer. This is true whether you are a public figure or a mother who is raising children without much community attention or recognition. I invite you to get a copy of my book and read it. If you have adult children at college level or beyond, the book is for them too.
It is my prayer that the book will stir up good discussions and inspire many of you for a constructive action to build the nation.
CLARIFICATION: The picture on the book cover is a half green/alive and half dry/dead tree. While the green symbolizes hope through the living, the dry represents all who died in the name of the Marxist revolution, different wars (justifiable and unjustifiable), and preventable famines. As Jürgen Moltmann, the German theologian, said; "Hope should be based on remembrance." Hence, as we hope for the second coming of Christ, we remember his death until he comes. Great anticipation for Ethiopia's tomorrow with no memory of yesterday will have no lasting positive impact. Guinness rightly asserts, "The very notion of restoration needs restoring. The classical notion of renewal is through a return to the past that is progressive." That is why I chose the cover picture to help me connect the past, the present, and the future. You will see some of my rationale in the introduction and conclusion section of the book.
Like most of the German youth, Jürgen Moltmann was sincerely supporting Hitler. When his dream became shattered, he ended up in depression and he was contemplating to commit suicide, even while he was in prison. It was at this point that Christ changed his life and he discovered that he was sincerely wrong to be on the side of the Nazis. But, Moltmann resolved to not totally disconnect himself from the past. He was remembering it. Paul, the greatest apostle of all time, was always remembering that he was the chief of sinners. No matter how bad and ugly it looks, the past is a part of us. In any kind of change we try to introduce, we can't start a totally new chapter of life without laying a foundation connected to the past. To the best of my knowledge, I've tried to portray Ethiopia with her new identity, the topographic, political, and cultural garment she is dressing in now and the evolution of these cultural processes. Under the past two regimes and the current one, you will see that whether citizens have had freedom and choice to be in the "fitting room" of culture change and whether the tailors' new cultural outfit was and has been real or superficial. ..For further detail, I invite you to read the book.
The foreword by Dr. Tibebe Eshete is both humbling and gratifying. Furthermore, the great interest I saw in my American students and colleagues to know about Ethiopia, so far, is overwhelming. Below is the comment of David Bass, my proof reader, and the remarks of some of the endorsers. I hope that their observation will whet your appetite to read the book!
Alex,
I just finished going through the manuscript. It was an epic project, but I am very grateful to have been a part of it! You are correct; it was an extremely fascinating read. I've explained to people what I've been doing, and most of them have said, "I don't know anything at all about Ethiopia." I am happy to say that is no longer true for me, and I have piqued the interest of many people who are eagerly awaiting this book's publication! ….
Thank you for letting me read the manuscript. It was an honor, and I definitely learned a lot about Ethiopia, the world, culture and mission, and much more. Best of luck, and please keep me updated on the publishing process!
David
____________________
Dear Alex,
What a great book! I just finished reading it this afternoon… Please send Regnum the following endorsement from me….
Craig Blomberg
____________________
Shalom Alex,
Fascinating book! It is extremely informative and a great read. I thoroughly enjoyed reading your book. What an amazing study, story and conclusion. … I'll send the endorsement….
With blessings,
Hélène Dallaire
____________________
May your reading of my book prompt you to make one positive contribution in Ethiopia or in the Horn of Africa when you have the time and opportunity. That is the goal and purpose of writing this book. My great appreciation goes to those who already are engaged in making positive deeds and influences in different sectors of the society in Ethiopia or the Horn of Africa. Because of my exposure and interaction with African students, I've equal concern for the region—
With regards & best wishes,
Alemayehu Mekonnen