Dr. Kevin J. Navarro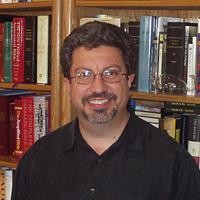 Senior Pastor, Bethany Evangelical Free Church, Littleton, CO., M.Div. '93.
Dr. Kevin J. Navarro (M.Div. '93) is the author of The Complete Worship Leader and the upcoming The Complete Worship Service. Kevin is the Senior Pastor of Bethany Evangelical Free Church in Littleton, Colo. He has been leading worship in the local church and with para-church ministries for over 23 years. Kevin's blend of musical and theological education allows him to teach about worship as an artist, theologian and pastor. He has also been a guest speaker at national conferences and bible conferences worldwide. Kevin's mission is to celebrate the work of Christ through creative communication. His emphasis is not just on the imitation of Christ but on the habitation of Christ. "Our worship is only acceptable before a holy God because Christ lives in us and represents us as our High Priest. Our life of worship is all a response to what Christ has done, is doing and is about to do," said Kevin.