Lal Pakhuongte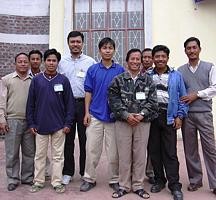 Director, Evangelical Free Church of India, M.Div. '00.
Lal Pakhuongte, of Shillong, Meghalayha, serves as the Director for the Theological Extension Education Course for the Evangelical Free Church of India (EFCI). Theological education by extension has become an important method of training Christian leaders in the rapidly growing churches of developing countries. To date, over 700 pastors have been trained, some coming from miles to attend. "Since I started this job as coordinator-instructor, I have experienced an immense sense of happiness to know
that we are able to teach the Scriptures to many key people who otherwise would have never been in a position to study God's word in detail," said Lal. "Without this program, all they have are their Bibles, Sunday school classes, and sermons to listen to from their speakers, trained or not." Lal also serves as the executive secretary for the EFCI, which has established over 300 local churches. The EFCI mission work in Delhi is being established in Hindi communities made up primarily of low caste and outcaste families.