Alumni
At Denver Seminary, we believe that our relationship with our students does not end when they graduate. We value our Alumni and Alumnae and hope to continue some type of relationship with each of them as they go into the world to declare the good news of Christ.
The NEW monthly Alumni Connection is an excellent source for you to keep up to date with Denver Seminary and your fellow Alumni and Alumnae. Sign up for this monthly email newsletter and read archived messages here.
Alumni stories
Our Alumni Stories section allows us to highlight the work of just a fraction of our alums. However, we think that you will find these stories moving and inspirational. Visit the Archive to find out just what Denver Seminary grads are up to.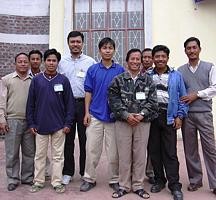 Lal Pakhuongte
Director, Evangelical Free Church of India, M.Div. '00.
Lal Pakhuongte, of Shillong, Meghalayha, serves as the Director for the Theological Extension Education Course for the Evangelical Free Church of India (EFCI). Theological education by extension has become an important method of training Christian leaders in the rapidly growing churches of developing countries. To date, over 700 pastors have been trained, some coming from miles to attend. "Since I started this job as coordinator-instructor, I have experienced an immense sense of happiness to know
that we are able to teach the Scriptures to many key people who otherwise would have never been in a position to study God's word in detail," said Lal. "Without this program, all they have are their Bibles, Sunday school classes, and sermons to listen to from their speakers, trained or not." Lal also serves as the executive secretary for the EFCI, which has established over 300 local churches. The EFCI mission work in Delhi is being established in Hindi communities made up primarily of low caste and outcaste families.