Alumni
At Denver Seminary, we believe that our relationship with our students does not end when they graduate. We value our Alumni and Alumnae and hope to continue some type of relationship with each of them as they go into the world to declare the good news of Christ.
The NEW monthly Alumni Connection is an excellent source for you to keep up to date with Denver Seminary and your fellow Alumni and Alumnae. Sign up for this monthly email newsletter and read archived messages here.
Alumni stories
Our Alumni Stories section allows us to highlight the work of just a fraction of our alums. However, we think that you will find these stories moving and inspirational. Visit the Archive to find out just what Denver Seminary grads are up to.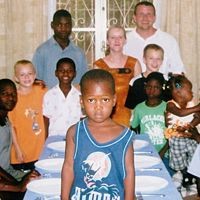 Rodger Schmidt
Missionary, Mozambique, M.Div. '01.
Since Rodger Schmidt and his wife Lynne arrived in Mozambique, Southeast Africa in June 2003, they have learned the Portuguese language and have been involved in preaching, teaching and leading worship. The Schmitdts are also participating in a new church plant in Djuba, a region of over 300,000 people, still without an evangelical church. As part of their plan to train national leadership, their goal is to begin baptism and discipleship classes, Biblical foundation for marriage training and the development of a leadership team in the new church. However, one of the greatest joys has been simply building incarnational relationships and entering into the lives of the people. "The Mozambican people have taught us that no one should ever struggle alone." said Roger. "In this culture when someone has any form of difficulty it is unthinkable to keep it to oneself. Our Western, independent thinking has been challenged and we have been humbled by the way Mozambicans selflessly come alongside their family, friends, neighbors or even strangers."