Alumni Connection June 2012
Serving on the executive staff of a megachurch, I was exposed to the powerful publishing/consulting nexus that has come to dominate the conversation about church ministry and leadership. Hardly a week went by when I wasn't alerted by email blasts, brochures and ads of the biggest, latest, life-changing revolution in how to do church. We could make our church seeker-driven, purpose-driven, or emerging. In other words we could become a McHybels, a McWarren or a McMclaren franchise with dozens of consultants (most of whom had never been pastors) helping us create the look, feel and programming that suburbanites just could not resist. (Okay, I can be sarcastic at times. I admit it.)

The word "missional" became a part of the "how-to-do-church" conversation in early 2000's. However, long before "missional" became another catchphrase for consultants and conference speakers, biblical scholars, theologians and missiologists had developed a robust conversation about the mission of God as a hermeneutical and theological paradigm. Therein lies the real revolution. The mission paradigm has created a significant shift in how we read the Bible, how we think about God and His people, and how we approach ministry. A truly missional church is built on that foundation. For those of you unable to attend last months webinar on Being Missional, let me invite you to explore what it means to be a truly missional church through an archive of the event - www.DenverSeminary.edu/Alum-Webinars.



---
What has been happening in your life? We want to know! Send us your photos, plus updates (e.g. weddings, births, anniversaries, career changes, etc.), to and we'll highlight it right here in the Alumni Connection. We look forward to "seeing" you!
1950's
David Donaldson (B.D., 1957)
David celebrated a big milestone by turning 80 on February 5th! He graduated from Denver Seminary in 1957 and went on to get his Ph.D. in Psychology from the Graduate School of Psychology at Fuller Seminary in 1969. He is still active in private practice in the west Denver metro area, with 45 years of very satisfying and meaningful work as a "doctor of the soul."
William (Bill) Simons (D.D., 1959)
William (Bill) Simons of Doylestown died March 13, 2012 at the age of 92. He was married to the late Florence Crowell Simons. Bill was born May 29, 1919 in Port Chester, NY. His family moved to Doylestown when he was six. He graduated from Doylestown High School in 1937, Bob Jones University in 1941, and Eastern Theological Seminary in 1944 (MDiv) and 1947 (MTh). He received a DD from Denver Theological Seminary. Bill served as a Navy Chaplain 1944-46 at the Great Lakes Training Center and in the Philippines. Bill, with his wife, served in China 1948-1951 and in the Philippines until 1984 as a church planter and seminary educator. Bill retired to Buckingham, PA, and in 2004 moved to the Pine Run Retirement Community in Doylestown.
After retirement Bill remained active as interim president at Asian Theological Seminary in Manila for three years. He impacted many through his home church, First Baptist of Doylestown, and at the Pine Run Community. He was a growth group leader, church elder, and mentored young ministers in the area. His children and grandchildren serve the Lord and the church around the world.
1960's
Ed Richardson (M.Div. 1965)
Ed and Barbara celebrated their 75th year on the planet in February and March, marking their 56th year of marriage in August and their 39th year of ministry in the canyons of Southern Colorado. Beginning as a house church in the 70s, Christ in the Canyons Fellowship flourishes as a most lovely community church, with many kids, young couples, and a scattering of elders. After 20 years in the making, their retreat center - The Refuge - hosts pastors, missionaries, and regulars through most of the year. Open to any needing some authentic R & R, The Refuge can be visited at www.therefugecolorado.com.
1970's
Dave Asp (M.Div. 1977)
After 17 years as pastor and 12.5 years in prison ministry(as a College Coordinator), Dave has now joined Pastor Assist Ministries (pastorassist.org) to mentor pastors--especially those who are struggling for one reason or another.
1980's
Michael Rossmann (M.Div., 1983)
In May, Michael completed his 12th year as pastor of Valley Bible Church in Grand Junction CO. In February, he celebrated 34 years of marriage with his wife Kathy. Recently he entered the next phase of life as a grandfather with two lovely 1+ year old granddaughters and a grandson on the way in June. As for community outreach. he is on the steering committees of our local Ministerial Alliance, which sponsors the National Day of Prayer & a community Resurrection Sunday Sunrise service, and the ShareFest outreach, which brings the Love of Jesus to his community through various service projects.

This summer will be the 8th year he offers "The Stone Basketball Camp" for beginner and intermediate skill levels. (He started this camp after retiring from coaching soccer for 14 years, the last seven years of which were traveling state competitive teams.)



1990's
Myrna Pugh (M.A., Counseling, 1996)
Myrna Pugh, a resident of Tucson, AZ, passed away on on March 23, 2012. Born Sept. 9, 1938 in Pitcher, OK, she traveled all around the United States when she was younger but spent the most time in Oklahoma and Colorado before settling in Tucson where she had a very active counseling practice. She is survived by her husband, Pat.
2000's
Ben Knox (M.Div., Intercultural Ministy, 2009)
Ben and his wife Meggan are serving with WorldVenture as full-time missionaries. They now serve in Madrid, Spain, reaching high school students with the gospel of Jesus Christ. Read more about Ben and his ministry.
2010's
Joe Seredinski (M.Div., 2001)
In September 2011, Joe launched a ministry website called A Pastor's Thoughts at www.seredinski.blogspot.com. It is a weekly blog centered on Christian theology, soul (pastoral) care and spiritual formation. The vision of the ministry is derived from 2 Timothy 3:16-17 using Scripture to help others grow in their faith and Christian walk. The mission of the ministry is derived from Jesus' Great Commission in Matthew 28:18-20. A new teaching is posted weekly on Wednesdays. Originally, the ministry was developed for the benefit of friends and family. However, it very quickly became much more--as of March, 2012 the website has been accessed in 16 different countries!
We would love to hear what God is doing in your life! Please send your personal and/or ministry updates, plus photos, to .



2012 Alumni LIVE Webinars and Archives
Did you know that you can not only watch these FREE webinars LIVE, but we also have them archived for those of you unable to attend? Visit www.DenverSeminary.edu/Alum-Webinars to see the most current schedule AND view archived webinars.
COMING IN JUNE
June 13 - 12:00 pm (MST): Dr. Doug Groothuis, Professor of Philosophy,will be talking about Christian Apologetics and will discuss the importance in having a rational and credible Christian witness before the world that involves discussing:
- The nature of truth
- Arguments for the existence of God
- The reliability of the Bible
- How we deal with people who hold other worldviews
We would love to hear from YOU for suggestions on topics and speakers. Is there a professor you want to hear from on a certain topic? Is there a particular challenge in ministry you would like addressed? Please email all suggestions to .
Alumni Events
We have more events planned for 2012-2013 - look for more information in our next Alumni Connection. Are you be interested in having an Alumni event in your area? Email us at and indicate what area you live in. We will contact you soon!
"Therefore confess your sins to each other and pray for each other so that you may be healed. The prayer of a righteous person is powerful and effective." James 5:16 (NIV)
It is our honor and priviledge to pray for you and want to give you the same opportunity to prayer for us also.
Please pray for:

From the Seminary:
· That God would provide as we have applied for five grant or foundation requests for our Growth Initiative and Minority Advancement Initiative.

· Thank you for praying for the two reaccreditation site visits (Association of Theological Schools, and Higher Learning Commission) which took place in February. Both visits went very well. In June-July, the two boards of commissioners will be reviewing the reports and recommendations of the site visit teams, and making final decisions regarding our reaccreditation. Please pray that the process will go well in the coming months.

· For the African American Initiative as they start leadership training in African-American churches.

· New students to establish a healthy, rhythmic balance between family, studies, and work that allows them to function well in all three areas.

· Our general student body to experience clear direction from God regarding their vocational calling.

· Our graduates as they begin the process of finding employment.

· Continued prayer for Shepherd's Gate Counseling Center, that enough clients would come; that our student counselors would be open to learning and effective in their ministry to clients; and that supervisors and staff would have the wisdom and discernment needed for this ministry to continue to be successful.

· We have many students and faculty traveing over the next couple of weeks. Currently there is a group in Israel with Dr. Helene Dallaire and Dr. Craig Blomberg; a group is leaving for China next week with Dr. Hess; and a group in Haiti with Dr. Noelliste. Please pray for safe travels and God's hand as they minister and learn in these countries.
Do you have a prayer request you would like to share for the next Alumni Connection? Send all requests to (If you have a prayer request but would prefer to keep it private, please indicate so in the email)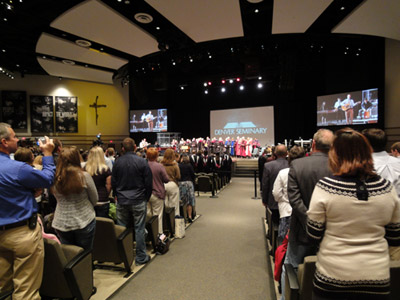 2012 - The Largest Graduating Class of Denver Seminary!
This years graduation took place on May 12 at Southeast Christian Church. There were 205 graduates in 2012, which was the largest class to graduate from the Seminary. Dr. Leith Anderson, a graduate of Denver Seminary (M.Div. 1969) and president of National Association of Evangelicals, was the speaker for the event, sharing many insights from his years in ministry. A BIG congrats to all the students! View pictures of the event here.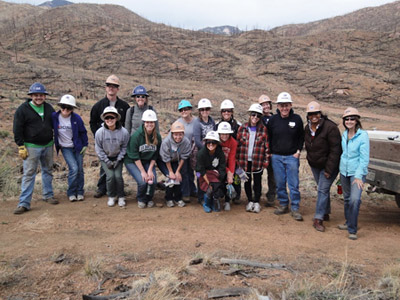 Students Serving in the Community - 2012 Salt and Light!
On Saturday April 14, 2012, the Vernon Grounds Institute of Public Ethics held its annual Salt and Light Day of Service. 44 Denver Seminary students and staff participated in environmental care activities that were organized by three participating agencies in the Denver area:
Feeding Many Agency: they guided students in preparing garden beds for planting crops at a community orchard located on the Water Stone Community Church Campus.
The Coalition for the Upper South Platte: they hosted work on an area destroyed by the 2002 Hayman Fire.
Waterstone Community Church Expedition Ministries: Waterstone Community Church led a rock-climbing expedition that taught students how to "leave no trace" behind them as they climbed.
View pictures from the day. To learn more about the Grounds Institute, visit www.denverseminary.edu/grounds-institute
Denver Seminary Logo Items
Denver Seminary has recently made logo wear available ONLINE, including a sweatshirt, t-shirt, water bottle and pen. View the items HERE.
Campus and Adventure Previews at Denver Seminary!


June 14 & 15, 2012
July 20, 2012 (Daytime Preview Only)
Do you know someone who is interested in learning more about Denver Seminary? One of the best ways to do this and see Colorado at the same time is to join us for one of our adventure previews. Potential students will spend one day on campus participating in the classroom, touring the campus, meeting with students and faculty, and learning about Denver Seminary's academic programs and community life. They will spend the second day experiencing the breathtaking beauty of Colorado. » More information here


| | | |
| --- | --- | --- |
| | | Denver Seminary prepares men and women to engage the needs of the world with the redemptive power of the gospel and the life-changing truth of Scripture. |