Alumni Connection - November 2011



Just over a year ago we gathered to remember our dear friend, Vernon Grounds, at his memorial service. Just six months after that, his sweetheart of seventy years joined him in glory. After Mrs. Grounds died, I remember reflecting not only on the sense of loss for those fortunate enough to know the Grounds but, even more, on the loss of those who will never have the opportunity to personally experience their touch, their voices of encouragement, their wisdom and their deep, deep faith. No one has shaped Denver Seminary more than Vernon and Ann Grounds. Their lives changed lives at the Seminary for six decades!




Having seen our enrollment grow to record levels each of the last five semesters, we've been challenged to answer two pressing questions: (1) How can we create the capacity we need to sustain the growth that we're experiencing? and (2) How can we honor Vernon and Ann Grounds for their sixty years of ministry at the seminary? In response to those two questions, the Seminary Board of Trustees approved our 2011 Growth Initiative, a bold project to build four new classrooms, expand our ability to produce online courses, and construct the new 9,400 ft2 Vernon and Ann Grounds Student Center.




Let me encourage you to learn more about our 2011 Growth Initiative at www.denverseminary.edu/invest. I would also like to ask you to make a gift to help us complete this exciting project. What a marvelous opportunity to support the growth of the Seminary and to honor Vernon and Ann Grounds. Thank you for listening and for praying. We need you.
---
What has been happening in your life? We want to know! Send us your photos, plus updates (e.g. weddings, births, anniversaries, career changes, etc.), to and we'll highlight it right here in the Alumni Connection. We look forward to "seeing" you!
Ron Browning (M.Div. 1997)
Ron is now the rector at The Mission Anglican Church (www.tmacpensacola.com) in Pensacola, FL. Ron and Lisa have been there for 6 years and will soon celebrate the church plant's 6th birthday!
Peter Conlin (M.A. Counseling, 1977)
I am teaching undergraduate and graduate courses online at Grand Canyon University in Phoenix. I am also currently serving as an interim pastor in Belle Fourche, SD. We have "retired" to Apache Junction, AZ.
Dave (M.Div. 1987) and Karen (MA Christian Ed 1987) Dunaetz
After 17 years of planting two churches in the suburbs of Paris, France, Karen and I came back to the States and retooled. I am an assistant professor of psychology at Azusa Pacific University specializing in organizational psychology. My research program focuses on conflicts in churches and other Christian organizations. Karen is now a marriage and family therapist who will soon complete her licensing requirements. She is working in two Christian counseling centers.
Kent Eilers (M.Div. 2006)
Kent is Assistant Professor of Theology at Huntington University and has a recently released book, Faithful to Save: Pannenberg on God's Reconciling Action (T&T Clark: London, 2011). The book is an exploration of the central place and comprehensive character of the doctrine of reconciliation in Pannenberg's mature theology.
Ryan Espinoza (M.A. Counseling, 2009)
My wife gave birth to Sophiah in November 2010 and our two oldest kids, Noah and Hannah, started Kindergarten and Preschool (respectively) this year. I started a private practice in Littleton, CO located in The Rock of Southwest Church teaching people how to use tools and techniques to reduce anxiety, stress, and other life struggles. Information can be found at www.ryanespinozacounseling.com. The photo on the left is of our family from Easter this year.
Naomi Gaede-Penner (M.A. Counseling 1991))
Naomi is the author of the non-fiction, Alaska "Prescription for Adventure" series. Tate Publishing has picked up the series, of which four books are now under contract. Currently available are From Kansas Wheat Fields to Alaska Tundra: a Mennonite Family Finds Home and 'A' is for Alaska: Teacher to the Territory. Coming soon are Alaska Bush Pilot Doctor and 'A; is for Anaktuvuk: Teacher to the Nunamiut Eskimos. Each book has a reader's guide which is suitable for intergenerational reading, book clubs, and student book reports. The stand-alone books are also in ebook format and several will be available on audio book. To learn more about the series, find a promotional event, or see the next book in the series, go to www.prescriptionforadventure.com or FaceBook: Prescription for Adventure.
Zac Hicks (M.Div. Biblical Studies, 2005)
Zac Hicks and the Cherry Creek Worship Band with special guest, Chris Martin are releasing our second album, Without Our Aid -- a rich and energetic modern worship record of old hymns to new music.
Paul Lundgren (M.Div. 2010)
After graduating in December 2010, Paul has received the position of Senior Pastor at Gateway Community Church in Middleton, WI.
Chris McCormick (M.A. Christian Education, 1988)
After 20 years as a youth pastor in CA, Indiana and Arizona, I took a position in 2005 as the Family Pastor at The Highway Community in Palo Alto, CA.
John Soden (MA, Philosophy of Religion, 2008)
John, his wife Ashley and their daughter live in Cypress, Texas. He is a teacher in the Logic School at Covenant Academy. John teaches Boys Physical Training, Systematic Theology, The Christocentricity of the Old Testament, Informal Logic, Modal Logic and US History. In his free time he is working on a certificate as a Master Teacher in the Western Tradition and spending time with his family. They are members of Wilcrest Baptist Church in Houston, Texas.
Elizabeth Wagner (M.A. Counseling, 2008))
Elizabeth Wagner is the Director of Counseling at Step Up Enterprises. Step Up Counseling has a new office in a prime location at 165 S Union Blvd, Suite 900, Lakewood, CO 80228. We offer individual and relationship counseling, personal and financial coaching, as well as various trainings and workshops throughout the year. Step Up is especially equipped to work with cross-cultural and ministry workers and their families. Our staff's life experience, personal formation, and professional training make us uniquely able to relate to people in and from these environments. We also are able to adapt our services to the needs of the mobile community. For more information, visit www.stepupenterprises.com.
Sergei Yevdoschenko (M.Div. Biblical Studies, 1999 and M.A. Counseling, 2002)
I would like to say that I am very happy that I was trained at Denver Seminary. The knowledge, experience and skills I got at Denver Seminary really help me to serve the Lord Jesus Christ in Russia effectively. It has been almost 10 years since I graduated from Denver Seminary and returned to Russia. I want to thank everyone who "invested" in me while I was there. I have been faithful in my personal walk with the Lord and in my service. I currently work as a professional counselor in Russia in the city Krasnodar. This Fall 2011, I am getting certified as a Gestalt Therapist and am entering training program to become a Gestalt trainer.
We would love to hear what God is doing in your life! Please send your personal and/or ministry updates, plus photos, to .





Fall Colorado Gatherings

This fall found the advancement team meeting with many Colorado alum. We had events in Fort Collins, Denver and Colorado Springs, with presentations from a variety of faculty on many different topics. Also present were President Mark Young and V.P. of Advancement Dr. Jim Howard. A BIG thank you to those who attended, and next year we hope to see you all again (as well as those who were unable to attend!) The picture above was from the Colorado Springs gathering at Glen Eyrie.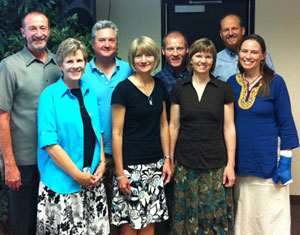 Dr. Young visits with local alumni
On Sunday, August 28, Dr. and Mrs. Young were visiting Southern Gables Church in Denver and had lunch with 3 alumni and their wives. The couples listed are (left to right): Seminary President Mark Young and wife Priscilla. Von (M.A. World Christianity, 1996) and Delene Newcomb are Pioneers Ethnomusicology missionaries, based in Wales. Jon (M.Div. World Christianity, 1996) and Kathy Haley are WorldVenture missionaries, serving in Spain in Leadership Development. Wayne (M.Div. 1996) and Amy Losey are serving with Wycliffe in Southeast Asia.



COMING EVENT - Alumni Breakfast at SBL in San Francisco
If you are attending SBL in November, or if you are an alumni who lives in the San Francisco area, plan on joining us for breakfast on Monday, November 21. Enjoy fellowship over a complimentary breakfast with other DenSem Alumni, hear Dr. Mark Young give a seminary update and visit with several faculty members. For more information and to RSVP, visit the website.

Interested in having an Alumni event in your area? Email us at and indicate what area you live in. We will contact you soon!
"Therefore confess your sins to each other and pray for each other so that you may be healed. The prayer of a righteous person is powerful and effective." James 5:16 (NIV)
It is our honor and privledge to pray for you and want to give you the same opportunity to prayer for us also.
Please pray for:

• The November 15 Leadership Luncheon, that God will bring the right people to the event and that it will be a blessing for them.

• Praises for the student callers that have been talking with donors and alumni this past month. Pray that they enjoy their conversations and be a blessing to all that they reach.

• Jim Howard and Chris Johnson as they travel the country to share the good news about the exciting mission, vision and growth of Denver Seminary with new key friends who could become our strategic partners.

• The continuous stressors and strains on students' lives as they press forward in their programs, and for those who are also working to balance being a student with their roles as father/mother, husband/wife, and an employee.

• Continued prayer for Joanne Heim, the student who experienced a massive stroke last semester. Her husband, Toben, and two girls are continuing to try and understand life as Joanne makes a slow recovery.

• Our international student body as they continually deal with the language barrier in their studies, but, even more so, they exist in the tension of living in a land that is foreign to them which takes its toll. Our department would welcome prayer as we continually try to understand how to assist them while they are here.

• Please pray for Dr. Heather Gingrich as she is working towards the completion of her book on Complex Trauma. Her book deadline is December 2nd, and she requests prayer for God's help as she finishes the first draft.

• Please continue to pray for Drs. Fred and Heather Gingrich's son, Nathan. He is a senior in high school, but due to his extended illness through his high school career, he is still short half of his credits to graduate. He is also having difficulty with motivation. Please keep him in your prayers.

• Please continue to pray for a favorable review of our CACREP Accreditation report. We are hoping to get an initial response from CACREP in the coming week or two.
Do you have a prayer request you would like to share for the next Alumni Connection? Send all requests to (If you have a prayer request but would prefer to keep it private, please indicate so in the email)
2011 Growth Initiative

Progress
By now, you have most likely heard about the 2011 Growth Initiative. It's an exciting time on the Denver Seminary Campus! We have been in the midst of construction for the NEW Vernon and Ann Grounds Student Center, as well as a remodeling of classrooms. View an updated slideshow of the progress HERE.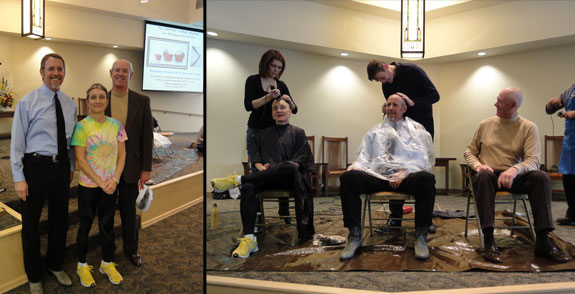 Hair Shaving for a Good Cause
Students, faculty and staff held an auction last month to raise money for the 2011 Growth Initiative. Over 100 items were included in the auction, which included dinner with Dr. Sung Wook Chung, a date with one of our own 'unnamed' staff member, spanish lessons, and much more!

One of the auction items was the privilege of seeing three of our Denver Seminary family members get their heads shaved. We are happy to report that the item was bought and Wednesday, November 2 was the day for the shaving! Faculty members Dr. Don Payne and Elodie Emig, and Board of Trustee member Jed Burnham were the chosen, and good-natured targets! Video and pictures were taken of the event, you can view them HERE.For more information on the Growth Initiative, visit the webpage.
New Degree - Justice and Mission
This new program tackles justice through the lens of the Biblical mandate to "do justice" (Micah 6:8). Addressing human need and injustice in every level of society, this degree will help students see justice in the context of God's mission in the world. It is designed to equip students with the knowledge and practical, hands-on training needed to make a difference in the lives of those who suffer. For more information, visit www.denverseminary.edu/justiceandmission


Dr. Jan McCormack named as board member to Association of Professional Chaplains
Denver Seminary is proud to announce that our own Dr. Jan McCormack, Director of Chaplaincy and Pastoral Counseling, has been elected board member At-Large of the Association of Professional Chaplains (APC). To learn more about APC and Dr. McCormack, visit HERE. Congrats to Dr. McCormack from all of us at Denver Seminary!


New Book from Dr. Doug Groothuis
In September 2011, InterVarsity Press published a new book by Denver Seminary Professor of Philosophy Dr. Doug Groothuis, titled Christian Apologetics: A Comprehensive Case for Biblical Faith. In this systematic text, Douglas Groothuis makes a comprehensive apologetic case for Christian theism. He defends objective truth, presents the key arguments for God from natural theology and makes the case for the credibility of Jesus, the incarnation and the resurrection, assessing alternative views along the way. For more on this book and where to order a copy, visit HERE.
Leadership Seminar
Friday, November 18 and Saturday, November 19
This FREE seminar will examine the integrity, spiritual vitality, and emotional health required to be an effective, godly leader. This special two-day, interactive workshop will help you take an honest look at your personal history, relationships with God and others, and the hidden corners of your life that have a critical impact on your leadership and ministry. This seminar will be presented by Angie Ward, an alum of Denver Seminary and a teacher of leaders with over 20 years of leadership development experience in a variety of ministry settings. For more information and to RSVP, visit the website.


Trip to Israel
May 13 - June 4, 2012
This trip is a wonderful opportunity to travel with with Dr. Hélène Dallaire and Dr. Craig Blomberg to see and experience the Holy Land. This intensive, three-week course will introduce you to the geography, history, and archaeology of Israel. Studies and walks in Jerusalem emphasize important aspects of the city in biblical and modern times and reconstruct the features of the city and its environs during the times of David, Solomon, Hezekiah, the Maccabees and Jesus. Time spent in the Galilee region helps students understand the geography as well as the culture during the time of Christ and other periods of biblical history. For more information on this trip, visit www.denverseminary.edu/israel


2012 Mission Symposium
Friday, January 27 - Saturday, January 28, 2012 - Denver Seminary Chapel
Everybody's talking about being 'missional.' Is 'being missional' just another church growth fad, or a radical new way to see life and ministry, grounded in the very heart of God? This symposium, hosted by Denver Seminary and World Venture, will address this question and much more. Speakers include Denver Seminary president Dr. Mark Young, who has over 30 years in global ministry experience. For more information, visit the website www.missions21.org.


D.Min. Preview
Tuesday, January 10, 2012
Experience the D.Min. program at Denver Seminary through our exclusive Doctor of Ministry Preview. Sit in on a D.Min. class (with Dr. Harvey Powers, Dr. Bruce Demarest, Dr. Frederick DiBlasio, and Dr. Everett Worthington), meet the program director and current DMin students, tour the campus, and more. Learn more by visiting this webpage.


| | | |
| --- | --- | --- |
| | | Denver Seminary prepares men and women to engage the needs of the world with the redemptive power of the gospel and the life-changing truth of Scripture. |