Alumni Connection - Summer 2011
The pattern is all too familiar these days, isn't it? The pitch and volume of the voice increase as the radio talk show host interrupts the invited guest or caller who dares to offer a different perspective on the issue at hand. Their message is clear, "How could anyone see the matter differently? You must be an idiot to think there's another way to see it." Television pundits, sometimes three of them talking over one another simultaneously, repeat the same sad performance nightly. Understanding takes a back seat to entertainment and civility gets drowned in bombast. The New Living Translation of Proverbs 18:2 seems to capture the tone and content of contemporary public discourse, "Fools have no interest in understanding; they only want to air their own opinions."




At Denver Seminary we believe that there's a better way for those with strong convictions to interact with others. We call it charitable orthodoxy. Charitable orthodoxy, the third of five core commitments that define Denver Seminary, means that we are committed to the essential doctrines that have defined Christianity for centuries and we are committed to be a community that relates to one another charitably, with a penchant to listen before speaking and a desire to learn that trumps the instinct to defend and to tell.




Our commitment to orthodoxy means that we believe passionately in the truths that Christians have confessed in every generation and on every continent. But passionate belief must never eclipse compassionate engagement with those who do not see the truth as we see it. The integrity of our witness demands that we interact charitably toward all people. That means more than being polite; it means seeking the good of others, even those who misunderstand you, disagree with you and even malign you. Although often mistaken for weakness, acting charitably toward others requires strength of conviction and depth of character that comes only from Christ.
---
What has been happening in your life? We want to know! Send us your photos, plus updates (e.g. weddings, births, anniversaries, career changes, etc.), to and we'll highlight it right here in the Alumni Connection. We look forward to "seeing" you!
Leith Anderson (M.Div. 1969)
Leith, the president of the National Association of Evangelicals (NAE), will step down as senior pastor of Wooddale Church at the end of this year. Anderson, who will assume the title of pastor emeritus of the church in Eden Prairie, Minnesota, is author of many ministry books, including Leadership That Works and Dying for Change. He served as interim president of Denver Seminary in 1999 and on the Board of Trustees from 1973-1979.
Matthew Burden (M.Div. 2009)
Matt Burden, his wife Rachel and their children live in Calais, Maine. When he is not writing fiction, Burden serves as minister of Second Baptist Church in Calais. His third historical novel has been published, "Freedom Cry: The Hidden King's Trilogy, Book One." From a recent review: The outlines of human struggle between the forces of light and darkness, good vs. evil, come vividly alive in Maine novelist Matthew Burden's new work of fiction. His fantastic narrative evokes the universal quest for justice, in the allegory of a fascinating set of characters, historical types that could be models taken from figures in the Old Testament, ancient Roman history, and Arthurian legends. A major influence on Burden's fiction came from his experience during his stint as a linguist and Christian missionary in Angola, Tanzania and Sudan. He first went to Africa as a missionary during high school sponsored by local Maine churches. While still in college, he worked in Sudan on a trilingual dictionary for foreign workers for Arabs, Sudanese and English speakers.
Bryan Beyer (M.Div. 1980)
Bryan Beyer has been named dean of the College of Arts and Sciences at Columbia International University. Beyer has been a professor at Columbia International since 1985. He was undergraduate dean from 1994 to 2001, and dean of students from 2001 to 2004. Most recently, Beyer was the director of the biblical languages program.
Beyer has a bachelor's degree from Colorado State University, a master's of divinity degree from Denver Seminary, and a doctorate from Hebrew Union College-Jewish Institute of Religion. "Dr. Bryan Beyer holds a high standard for academic excellence for the professional programs in the College of Arts and Sciences, such as communication, psychology, music, business and English," said Columbia International provost James Lanpher.
Chris Carroll (M.Div. Pastoral Counseling, 2008)
Chris and Karla run a newly-birthed non-profit Christian ministry called Poet's Glade located in Buena Vista, Colorado. Their ministry is devoted to strengthening and restoring marriages and families by receiving guests with warm hospitality and offering Soul Care and/or Christian counseling to individuals, couples and families. (see prayer requests below for how you can pray for them and their new ministry).
Russell Courtney (M.A. Christian Formation/Soul Care, 2009)
The ministry I currently work with, The SoulCare Project, has been mentioned in alumni news but I wanted you to be aware of a new project we've started called Giving of Life. We're offering non-profit ministries with an annual budget of 4 million or less an opportunity to win $50,000, $20,000, and $10,000 in grants. Not only are ministries able to apply, but anyone can visit the site, browse through ministry profile pages and vote for the ministry that captures their heart. I know a number of graduates now work and have started non-profits that will be eligible for these grants and others may be interested in learning about great ministries that are giving life to those they serve every day. Check out their website at http://givingoflife.com/
Cleide Cooper (M.A. Youth and Family Counseling, 2003)
Cleide lives in El Dorado, Panama and works for a regional human resources consulting firm doing assessment testing, coaching and facilitating workshops. She is also part of a core team starting a church for the local international community.
Mary Katherine 'Mimi' Eckstein (M.A. Counseling 2006)
Mimi received the 2011 People of Life Award for lifetime commitment to the pro-life movement during a ceremony at the annual Diocesan Pro-Life Leadership Conference in Atlanta, Georgia. The People of Life Award is designed to recognize those who have answered the call outlined by Pope John Paul II in The Gospel of Life (Evangelium Vitae, 1995) by dedicating themselves to pro-life activities and promoting respect for the dignity of the human person. It is bestowed to a practicing Catholic in honor of his or her significant contributions in service to the culture of life.
Mimi currently directs the Gabriel Project of the Archdiocese of Denver, where she served for 20 years as the director of the Respect Life office. During her tenure, she earned a master's degree in psychology from Denver Seminary, strengthened the network of parish respect life representatives, and instituted key pastoral, educational and liturgical initiatives. The Gabriel Project is a parish-based outreach program that pairs pregnant women in need with parishioners who accompany them throughout their pregnancy and beyond. During her tenure as director, she also introduced Project Rachel, the Church's post-abortion ministry for women and men seeking healing and reconciliation.
Bob Erbig (M.Div. 2009)
Bob is currently on pastoral staff at Millington Baptist Church, about 30 minutes west of NYC in New Jersey. He started the position back in January and served as the Associate Pastor overseeing Youth Ministries.
Dean Erickson (M.Div. OT, 1991)
Dean, a South St. Paul native, graduated from Luther Seminary earning his Ph.D. in Old Testament on May 29, 2011. For his Doctoral Dissertation, Dean conducted a literary critical study of the Hebrew text of 1 Kings entitled: "The Characterization of Solomon in 1 Kings 1-11." Graduating from South St. Paul High School in 1982, Dean went on to study Bible and Theology and minor in History at Crown College (then St. Paul Bible College). Upon graduation from college in 1986 he married Janice Stebbins and moved to Colorado to pursue his Masters of Divinity degree at Denver Seminary. Completing his M.Div. with a major in Old Testament in 1991, Dean pastored a church in Colorado until returning to Minnesota in 1995 to pastor another church in Shakopee. The opportunity came in 2001 to teach Bible and Theology at Crown College where Dean remains the Old Testament Professor and Chair of the Bible and Theology Department. Dean and Janice have two high school aged sons, Dean II and Seth, and reside in Waconia, MN.
John Gilmore (M.Div. Pastoral Studies, 1980)
John is living in Cincinnati, OH and survived aeortic valce replacement in 2010. He has written several books and is enjoying being active in his church. (see prayer requests below for how you can pray for him).
Chad Holladay (M.A. Counseling, 2002)
My wife Tami and I live in Utah near Ogden. We moved out here 2 years after graduation. I have left counseling as a primary ministry and am now in my "sweet spot" as a Junior High Pastor. I love this ministry! Tami and I have 2 daughters, Leah and Bethany (7 and 6 respectively) and recently welcomed a son into our family, Josiah, on Sept 30th. When we moved out here, Tami started a ministry to teen parents with Youth For Christ, and has since passed it off so she can stay at home full time with our kids. It's been an amazing ride!
Curtis Holmes (M.A. Counseling/Christian Ed. 1980)
Curtis & Mavis recently celebrated their 40th wedding anniversary. From the snowstorms of Canada, to the torrential rains of Haiti to the prison bars ministry in Denver, they praise the Lord for His faithfulness. (see prayer requests below for how you can pray for them).
Doug Johnson(M.Div. Pastoral Studies, 1996)
Doug passed away after suffering a brain aneurysm on August 3, 2011. Doug was born on March 22, 1947 and was raised in Broadalbin, New York. After high school, he attended Ithaca College and earned his bachelor's degree in 1969. He met
his wife Victoria at Sacandaga Bible Camp in the Adirondack Mountains and they married in 1971. Shortly thereafter, they moved to Germany where Doug served in the U.S. Army. After Germany, Doug attended Albany Law School and earned his Juris Doctorate. They settled in Mystic, Connecticut, where Doug established his law practice. During those years, they had three daughters. In 1991, at 44 years of age, Doug experienced a call to faith and transplanted his family to Colorado where he attended Denver Seminary. He earned his Masters in Divinity in 1996 and was then chosen to become the Director of Friends in Transition. After several years, at the helm of Friends, Doug felt led to establish the Charitable Fund which he ran until the time of his death. Doug is survived by his wife Victoria, daughters Kelli, Abbi, and Libbi, 5 grandchildren and a sister, Ginny Dodd.
Brad Lanning (M.A. Counseling, 2011)
Growing up in Sarasota, Brad Lanning was a young star golfer who earned a scholarship to Stanford where he teamed with Casey Martin and Notay Begay to win an NCAA championship. Now his job is to recruit and develop high school golfers to beat his alma mater due to his new job as Oregon's assistant golf coach July 1. For the last two years, Lanning was coaching golf at Valor Christian High School in Highland Ranch, Colo. A 1994 Stanford graduate with a degree in political science, Lanning played the min-tours for six years and also worked as a stock broker. He earned his master's in counseling at Denver Seminary in 2011. "I'm almost pinching myself right now about having the opportunity to come into this environment at Oregon and be a part of such an amazing and talented staff within the athletic department," Lanning said. "I'm truly grateful and honored to be here." Lanning and his wife Pamela will celebrate their 10th anniversary this summer and they have two children.
Paul Lundgren (M.Div. 2010)
After graduating in December 2010, Paul has received the position of Senior Pastor at Gateway Community Church in Middleton, WI.
Some Denver Seminary alumni have started a blog based on a group that we launched our second year of seminary dubbed The Scholar's Table - http://thescholarstable.com/. Greg Ruby (MDiv, 2010), Dave Ripper (MDiv, 2010), Peter Barber (MA Leadership 2008), Jeff Haanen (MDiv 2009), Jason Kell (MA Counseling, 2009), and Chris Barnes (MDiv, current), all contribute to this "great books" club. I've included our short description here - "Launched in early 2008, the Scholars Table is a group of friends who gather at a local pub every other week to discuss the Great Books of history. Over the years we've read authors ranging from Plato and Milton to Twain and Orwell. Our purpose is to enjoy good conversation and engage with the foundational ideas that underpin western society from a Christian perspective."
Wayne Mason (M.Div. 1981)
After over 25 years of pastoral ministry in Colorado and Kansas, I began serving five years ago as a chaplain for Harry Hynes Memorial Hospice in Southeast Kansas. I travel throughout eight counties in Kansas, serving patients and their families. Melanie and I celebrated our 34th wedding anniversary July 2, 2011. A couple of years ago, Melanie was diagnosed with Early Onset Alzheimer's Disease. She is able to stay at home while I am travelling because our oldest daughter and her husband work online from our home office and provide for her safety. Our three children are now grown and gone with our youngest graduating in 2011 from Wichita State University with his Mechanical Engineering degree. All three are employed (hurray!) and are active in ministry in their churches.
Brad Meuli (M.A. Leadership, 2006)
Brad is the CEO and President of Denver Rescue Mission and embarked on a bike trip across Kansas this summer to raise money to help feed the hundreds of folks who come to the Mission each day. The initial goal was to raise money for 10,000 meals. However, enough money was raised to provide 10,159 meals for the homeless and needy, a total of $19,505.28! Brad blogged about his experiences on the road, check out the website.
Rev. James (Jamie) McPherson (M.Div. 1978)
James McPherson is currently serving as a full time chaplain with St. Luke's hospital in Boise, ID and with the VA hospital. James and his wife Judy have three married children and three grandchildren with another due in October. They will celebrate their 37th wedding anniversary this year and currently reside in Meridian, ID, a suburb of Boise.
Andy Scheer (Theology Certificate, 1984)
Andy has a wealth of experience as a publishing professional with over 18 years as the managing editor of Moody Magazine, 8 years as the managing editor for the Christian Writer's Guild, and as a freelance writer and editor. He is a frequent instructor at writing conferences around the country. A journalism graduate from Colorado State University, he also attended Denver Seminary, earning a certificate in theology. Andy is a consummate professional and will be a great asset to the Hartline Literary Agency team.
Guzin Selamet (M.A. Counseling Ministries, 2007)
Greetings from God's sport field. It's our pleasure and great joy to share about His work through us and sports. We finally had our first Ultimate Sports Camp in Turkey! 50 people attended from 12 countries and 20 of them attended from Turkey. We were the leaders of the Turkey team. It was so wonderful to see them grow right before our eyes as they learned and applied Biblical principles at the camp! At the last night of the camp, many shared how God taught and changed them at the camp. After the camp, two soccer teams, one from Korea and one from Brazil, came to Istanbul as short-term mission teams. In partnership with them, we organized two tournaments and over 50 Muslims (mostly radical Muslims) attended. We were able to get contact information for over 20 of them. We hope to build relationships with them, inviting them to our games and then hopefully sharing the Gospel with them.
Michelle Stinson (M.A. in Biblical Studies, 2000)
After doing PhD coursework at Wheaton College, I took a position teaching Old Testament at Simpson University in 2007. At our graduation ceremonies this spring, I was given the 'Professor of the Year Award' for teaching excellence and contribution to the University. It was quite a blessing and an honor to receive.
Marshall Thompson (B.D. 1952)
Marshall went with fellow student Lorne Matheson to Canada upon graduating from Denver Seminary in 1952, where he served for a year in charge of three churches. Marshall married Hazel Kramer in Houston, Texas and they spent their first years serving in South America. After 1960, they spent a few months in Oruro before going to begin a Baptist work in Potosi. After two years there, the Bolivian Baptist Union named Marshall the Executive Secretary of their Convention, after which we moved our family to Cochabamba, while he ran the roads of Bolivia taking care of Convention business until July of 1965. He did some studies after deputation during our furlough from 1965 to 1967. After furlough in 1967, we spent five years in Oruro where he worked as Field Missionary in and around Oruro.
Besides serving the four established churches and establishing the fifth, he held regular courses for lay people in the Oruro Bible school. In the Carangus area (the Wild West of Bolivia) he made visits along with Oruro deacons to the 33 small congregations there. He helped to plan the two Junta's a year in the area. When we returned after furlough, we were on hold (doing odd jobs while we waited for a partner in Cochabamba for service in Sucre). We went in November of 1973 and finally leaving in 1977, 3 1/2 years later. In 1978, Marshall was awarded the Masters in History from Acadia University. Since retirement, Marshall has dedicated himself to writing. They began writing about their experiences in Turkey and Bolivia, titled "High Adventures in Bolivia" and "Hot and Cold Turkey." Marshall has been using his gifts in not only in writing, but in music and illustration as well. He has composed about 40 songs. They are still quite active, attending church faithfully and both work with the 4 & 5-year-olds several years in Vacation Bible Schools. On June 5th Marshall celebrated his 85th birthday.
Sarah (Lodwick) Vander Neut (M.A. Christian Studies, 2008)
Sarah worked as an art teacher in the Cherry Creek School District in Denver last year. She taught at the Joliet Learning Center, which is a school for middle and high school students with emotional disabilities and behavior disorders. "It was eye-opening to me and at times I thought of Henry Nouwen's writing about serving people who have special needs. some days I taught more social skills than art! I am very thankful that I had the experience to teach art last year, but budget cuts have me laid off for next year." As an artist, she has a website of her current artwork at here. Recently she has been designing hats and apparel. Sarah's husband teachs Spanish at Campus Middle School and are enjoying thinking about starting a family in Denver soon.
Phil Vogels (M.A. Leadership, 2005)
Phil is the new pastor at both Brush United Methodist Church and Akron United Methodist Church, as of July 1. "It´s been fun and hectic," he said in an Aug. 9 interview. "I like the small community feel of both Akron and Brush." Pastor Phil was appointed by the Bishop to minister at both churches, in part, because of the economy. "It´s not an uncommon thing at all," he said, adding that it´s common for smaller Methodist churches to do dual partisanship as a way to cut back on costs. "It´s a benefit to both churches." Before preaching, Pastor Phil was in the computer business when he 'got the call.' "I think I had been called by God," he said. "Other people ignore the call & I finally gave into it." In 2001, Pastor Phil found himself at Denver Seminary. Four years later he became a pastor at Eaton United Methodist Church and in 2008 he began dual-coverage of Eaton and Pierce United Methodist Church. Pastor Phil and his wife, Cindy have three daughters.
Ken Webb (M.A. Counseling/Chaplaincy, 2006)
Ken and Kam Webb are now partnering with Tactical Chaplain Services (TCS) which will allow Ken to work as a chaplain in different ministry venues, such as the opportunity to minister to a local fire department or law enforcement agency. This would be a part-time venture that would include ride-a-longs, being on-call for emergencies, seeking opportunities to teach on crisis interventions and creating Bible study opportunities within the department. Ken loves the chaplain aspect of missions and is looking forward to seeking new ways to grow the ministry in the Denver area by recruiting other Christian chaplains to join the ministry of TCS. Ken will continue serving as the Bandimere Track Chaplain and building on the Bible studies we have begun. In addition, we will expand the ministry outreach of Bandimere Speedway Ministries which functions during the Mile High Nationals each year. This ministry serves the spectators and workers at the event. We will strengthen the chapel services we have been conducting by being available each Sunday to lead or arrange the services and we will continue to meet the pastoral needs of our racing family as it pertains to weddings, funerals, baptisms, counseling, etc.
Some of our future ministry plans include Disaster Relief/Crisis Intervention as we have both felt called to be more involved in disaster relief efforts. This has already taken us to New Orleans, Port-Au-Prince in Haiti and Joplin, MO. Ken is already part of two different Crisis Intervention teams in the Denver area. Mayflower Crisis Response Team serves the fire, law enforcement and EMS communities of the Denver area. He serves as both a chaplain and a peer. Denver Seminary CISM Team seeks to serve Christian ministries and institutions of higher learning. Being on two different crisis intervention teams gives Ken many opportunities to teach to varied audiences on the topic of crisis mental health issues.
Robert Woolfolk (M.A. World Christianity, 1997)
Robert, Director of the African American Initiatives at Denver Seminary and pastor at Agape Christian Church, was recently awarded the Community Spotlight Award from the Colorado Jurisdiction of the Churches of God and Christ for his continued work in the community.
We would love to hear what God is doing in your life! Please send your personal and/or ministry updates, plus photos, to .
Summer Alumni Gatherings!

Alumni relations have been busy this summer! Dr. Jim Howard, the VP of Advancement, has visited Boston, MA; Seattle, WA; Portland, OR; Tarrytown, NY; and Edison, NJ. It has been a blessing to catch up with you and hear about your lives and ministry since graduation! We continue to plan more gatherings throughout the US and can't wait to catch up with even more of you!




See below for more information on events coming to Colorado this fall.
COMING TO YOUR AREA... Alumni Events this Fall

Dates are being planned for alumni gatherings in the Colorado front range this fall. It's a great opportunity to join fellow Denver Seminary alums for dinner and an update on the great things happening on campus. Events will be held in Fort Collins, Denver, and Colorado Springs and the evening will be hosted by President Young or Dr. Jim Howard, the VP of Advancement for Denver Seminary.
- September 27 (place and time TBD): Fort Collins, CO
- September 29 (place and time TBD): Denver, CO
- October 18 (place and time TBD): Colorado Springs, CO
- One more event in Denver, the date, place and time TBD
If you would like to be contacted with all the details, email us your contact information at . We look forward to seeing you all!
Interested in having an Alumni event in your area? Email us at and indicate what area you live in. We will contact you soon!
"Therefore confess your sins to each other and pray for each other so that you may be healed. The prayer of a righteous person is powerful and effective." James 5:16 (NIV)
It is our honor and privledge to pray for you and want to give you the same opportunity to prayer for us also.
Please pray for:

Prayer requests for alum Chris and Karla Carroll at Poet&s Glade (see update above):
• Praise for the 18 people that we have had the privilege of receiving and caring for in this opening season of our ministry. Whether they have come for rest and respite, spiritual guidance or counsel, we thank God for the opportunity to invest in the lives of those He has drawn.
• Prayer for Chris as he prepares for those coming to him seeking spiritual guidance.
• Prayer for Karla. She has been working hard to get paneled by insurance companies which will allow her to contract with local schools and organizations to provide counseling as a private practitioner under the banner of Poet's Glade. This is an exciting step in fulfilling our vision for Poet's Glade and will be an important revenue source for us this fall and in years to come.
• Prayer for Poet's Glade as we complete our 2011 support raising. We need to raise $10,000.00 by October 1st. As a newly birthed non-profit, support is integral to the health of our ministry.
• Prayer for ongoing partnership in this ministry. We will begin securing pledges towards our 2012 ministry goals. Starting this fall, we will begin applying for grants to progressively balance the revenue streams needed to sustain Poet's Glade.
Prayer request from alum John Gilmore (see update above):
• John will be undergoing surgery to remove pancreas cancer this month. Please pray for healing.
Prayer request from alum Curtis and Mavis Holmes (see update above):
• Please pray for our son Jays' recovery from emergency back surgery.
From the Seminary:
• Praise the Lord for the beginning of construction on new classrooms and the Vernon and Ann Grounds Student Center.
• The $2.4 million capital campaign which will fund the campus expansion for more classroom space, a larger student center, and improved classroom technology. The Lord has blessed us with a great kickoff to the campaign as $1.3 million remains to be funded. Pray specifically that God would raise up givers to help us reach this goal
• Work on the reaccreditation Self Study reports. This is a large, complex and very important task. Pray for members of study groups as they complete research and writing, for Dr. Jim Beck as he edits, and for Suzanne Matson as she provides oversight and support in a variety of tasks. Pray for energy and wisdom.
• The new students coming in for the 2011-2012 school year, that they would continue to keep their focus on Christ as they begin their educational program. Pray for God's blessing and protection for our students.
• Dr. Jan McCormack and Roger Cauthon as they prepare to go before the ACPE Committee to be approved as CPE supervisors. Pray that they would serve well and faithfully represent themselves, the Seminary, and the Lord in such a way to have a favorable approval for their status as supervisors.
Do you have a prayer request you would like to share for the next Alumni Connection? Send all requests to (If you have a prayer request but would prefer to keep it private, please indicate so in the email)
2011 Growth Initiative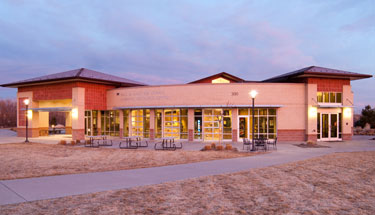 A PRESSING AND URGENT NEED
Since building its new campus on Santa Fe Drive in Littleton, Colorado, just six short years ago, Denver Seminary has experienced explosive growth. The stresses of a growth rate exceeding 20% have begun to show themselves in three critical ways:

* The lack of adequate classroom space to accommodate larger class sizes
* The lack of adequate meeting space to facilitate spiritual mentoring—a hallmark of Denver Seminary
* The lack of adequate online courses to meet the demands of our growing student body
These concerns compromise our ability to fulfill our mission—to prepare men and women to engage the needs of the world with the redemptive power of the gospel and the life-changing truth of Scripture.
The Seminary is committed to offering students a life-changing education that includes classroom experiences taught by world class professors and mandatory mentoring relationships that stimulate personal spiritual growth. But without adequate space and technology our ability to deliver that kind of powerful education is at risk.
A STRATEGIC SOLUTION
Leaving these issues unaddressed will ultimately limit the Seminary in fulfilling its mission. The Board of Trustees and the executive leadership of the Seminary are committed to the following three initiatives to meet our current needs and to keep us growing into the future.
Construction of the 9,400 ft. Vernon and Ann Grounds Student Center.
Construction of two 100 seat tiered lecture halls and two 70 seat classrooms.
Installation of needed technology and equipment to expand and upgrade our online courses.

Learn more about our plans at www.denverseminary.edu/invest


New Partnership with National Hispanic Christian Leadership Conference (NHCLC)
Denver Seminary is proud to announce a new partnership with The National Hispanic Christian Leadership Conference, America's largest Hispanic Christian organization (NHCLC - http://www.nhclc.org). Rev. Samuel Rodriguez, President of the NHCLC, said, "We commend Dr. Young and Denver Seminary for their commitment to the great core truths of the Christian faith and to furthering the education of the Hispanic community--the NHCLC welcomes Denver Seminary as a partner and looks forward to our future in this endeavor." Read the press release from NHCLC
9th Annual Golf Tournament
Monday, September 12
Spend the day golfing and invest in Denver Seminary students at the same time! The proceeds from this event go directly to our Seminary Fund, which subsidizes the cost of tuition for each student. DEADLINE TO REGISTER IS THIS FRIDAY, AUGUST 26. Visit the website at http://www.denverseminary.edu/golf/


Fall 2011 Convocation
Tuesday, September 6 - 11am in the Simpson Chapel
All are welcome to join us for this special event.


President's Bible Study
Wednesdays, beginning September 28 - November 23
Join us for a morning study on Genesis 1-10 with President Mark Young. Time is still to be determined, email for more information.


Church and Ministry Expo - Find a church community!
Tuesday, August 30, 10:30 am - 12:00 pm - Denver Seminary Chapel
Finding a suitable church community can be difficult and time-consuming when all you really have is one day per week to visit. The purpose of this event is for new and returning students, alumni, and spouses to be able to "visit" a wide variety of church communities at one time in an effort to help connect them to a fitting community of worship. Additionally, this is a great opportunity to increase and strengthen your network of ministry contacts. We hope to see you there!


2011-2012 Chapel Schedule
Common Ground chapel services are always open to the public and we would love to have you join us! Beginning September 12, chapel is held on Mondays and Tuesdays at 11:00am. Craig Gross (founder of 3X Church) and Dr. Carl Moeler (author of The Privilege of Persecution) are a sample of our speakers this semester. Check out a complete list with all the details Details »
Denver Seminary Preview
October 17, 2011
Do you know someone who is interested in learning more about Denver Seminary? One of the best ways to learn about the Seminary is to join us for one of our previews. The day will be spent on campus participating in a classroom, touring the campus, meeting with students and faculty, and learning about Denver Seminary's academic programs and community life. Details and RSVP »


| | | |
| --- | --- | --- |
| | | Denver Seminary prepares men and women to engage the needs of the world with the redemptive power of the gospel and the life-changing truth of Scripture. |