2012 Christmas Devotional
Download the 2012 Christmas Devotional (pdf)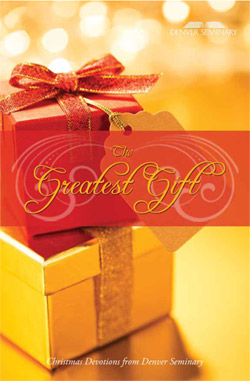 For to us a child is born
to us a son is given,
and the government will be on his shoulders.
And he will be called
Wonderful Counselor,
Mighty God,
Everlasting Father,
Prince of Peace.
Isaiah 9:6 (TNIV)
This Christmas is going to be different. That's because my wife Priscilla and I are eagerly awaiting the arrival of our first grandchild this December. Somehow I imagine that holding a newborn during the Advent Season makes the idea of the incarnation seem even more absurd, yet somehow more powerful. Could the Creator and Sustainer of the universe, the sovereign Ruler over all earthly and heavenly powers, the Savior of the world, truly have been as weak and dependent and vulnerable as the newborn that we will hold in our arms?
Yes! As implausible as that thought may be, the Scriptures are profoundly clear that when God "became flesh and made his dwelling among us," He did so through the birth of a baby, Jesus.
While Priscilla and I are trying to avoid grandparent insanity, we do find that our sense of anticipation for the birth of our Savior is heightened by the expectation of the birth of our grandchild. Someday soon we'll announce with great joy to our friends and family that our grandson has been born.
That day will prepare us even more for the glorious day of rejoicing on Christmas morning when we join the heavenly host and shout, "The Savior—yes, the Messiah, the Lord—has been born!" (Luke 2:11 NLT).
Denver Seminary would like to give you a gift this Christmas. Our faculty and staff have written 25 daily devotionals to guide you through these days of anticipation. Our prayer is that with each day's reflection, your sense of wonder and gratitude for what God has done for us in Christ will grow throughout this Advent Season.

Merry Christmas!