Denver Seminary strengthens partnership with SETECA in Guatemala
2008 Trip Report by Sarah Rymer
From July 16-21, 2008, Denver Seminary Board Trustee Larry Graber and his wife Jacqueline, along with Sarah Rymer, Director of Seminary Relations, traveled to Guatemala to visit partner seminary, SETECA. The purpose of this trip was to meet with and encourage the administration of SETECA, observe and participate in Dr. Danny Carroll's class, interact with Denver Seminary and SETECA students, and become better acquainted with Guatemala and the Latin culture in order to better serve the Latin community in Denver. All of these objectives were met beyond expectations!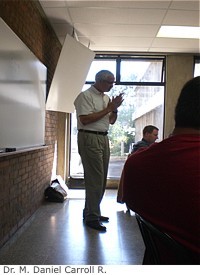 Dr. Danny Carroll, Distinguished Professor of Old Testament at Denver Seminary, who is half Guatemalan, has taught at SETECA for the past 26 years. Under his leadership and counsel, Denver Seminary continues to partner with SETECA, the largest resident evangelical seminary in Latin America. Through this partnership, Denver Seminary and SETECA exchange faculty, students and curriculum. Each year, Dr. Carroll teaches a summer course at SETECA and every other year he brings Denver Seminary students to participate in the class. Dr. Carroll graciously invited Denver Seminary board members to travel to SETECA to experience the Latin culture and context of theological education.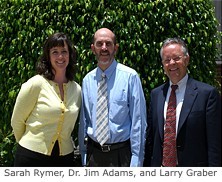 Larry Graber, who has served as a board trustee for the past eight years, accepted this invitation. Larry and Jacqueline Graber and Sarah Rymer participated in a field trip with the class to a mountain town of Chichicastenango where religious syncretism is practiced. They also had the opportunity to meet SETECA president, Dr. Jim Adams, and tour the SETECA campus. Mr. Graber delivered a financial gift of $425 from Denver Seminary's Worldwide Baraca Philathea Fund for assisting seminary students abroad to Dr. Adams to provide additional scholarship money for SETECA students. When asked why this trip was important to him and the board of Denver Seminary, Larry Graber responded, "the board needs to have a common vision and purpose for our global partnerships and in order to do that, we need to witness and experience these interactions first-hand." Larry Graber invited Dr. Adams to visit Denver Seminary within the next year to continue to strengthen the relationship.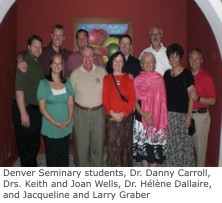 Additionally, five Denver Seminary students accompanied Dr. Carroll to participate in his two-week class. The class also consisted of 16 SETECA students who represented 11 Latin American countries and together they discussed contextualizing the Scriptures within cultures. Dr. Hélène Dallaire, Associate Professor of Old Testament at Denver Seminary, Dr. Joan Wells, Senior Professor of Counseling, and Dr. Keith Wells, Associate Professor of Theological Bibliography and Research also joined Dr. Carroll. Dr. Dallaire participated in Dr. Carroll's course and Drs. Keith and Joan Wells provided leadership and counsel to SETECA's library and counseling program respectively. Their eagerness to teach and encourage the SETECA staff and faculty strengthened Denver Seminary's commitment to their partnership with SETECA and reinforced the importance of working together in the pursuit of equipping leaders for a lifetime of ministry.