Denver Seminary Strengthens Ties with the Korean Church in Seoul
The purpose of this official visit from June 6-16 was sevenfold: (1) to strengthen our ties with the leadership of Presbyterian College and Theological Seminary (our formal seminary partner school); (2) to visit other seminaries; (3) to meet with prospective givers and invite support of Korean initiatives; (4) to preach and teach about stewardship and theology; (5) to inquire of the needs within the Korean Church; (6) to recruit quality Korean students; and (7) to promote Denver Seminary. God opened all these doors and more!
Dr. Joong Eun Kim (P.C.T.S. president) and Dr. Do Il Kim (Public Relations Director) served as gracious hosts for our trip (pictured above with Im In Hea, P.C.T.S. student planning to study at Denver Seminary this fall as an exchange student). We spent quality time with them on campus, as well as with Dr. Hung Kil Chang (Academic Dean) and Rev. Dr. Sung Wook Hong (Pastor and P.C.T.S. board member who has visited Denver Seminary and whose church plans to start giving to us in 2009). Upon meeting, we were privileged to give P.C.T.S. a gift of $500 for scholarships from our Worldwide Baraca Philathea Endowment. We networked with faculty and were given books for our faculty back in Denver. We stayed in the Luce Center for the Global Church on the P.C.T.S. campus at no cost. P.C.T.S. soon may do a campaign to build a new dorm so we discussed that project at length too. We also met with leaders and faculty of Torch Trinity Graduate School of Theology (where Don Payne guest lectured on Mentoring in February) and Methodist Theological Seminary.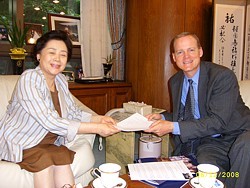 In 2007, I (Gary) preached at Hallelujah Church, the largest independent evangelical church in Korea. After the message I was approached by Dr. Hyung Ja Lee, whom I later learned is famous for building Yook Sam, the tallest skyscraper in Seoul. At her invitation, we met together on this trip. In our visit (pictured here) she offered to form an endowed scholarship fund for Korean students and start giving to Denver Seminary. This was an unexpected and generous blessing as she is person of great means and influence. I invited her to visit our school and she hopes come.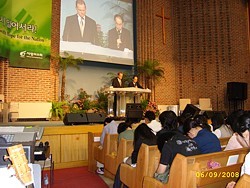 I was privileged to preach at Sarang Community Church, Kwang Lim Methodist Church, Jiguchon Baptist Church, Myung Sung Presbyterian Church, and Anyang First Presbyterian Church (Sung Wook translated for me). My message: "Riches can't redeem us but God can" from Psalm 49 was well received. Pray for much fruit as these congregations are among the largest in the world. Sung Wook and I also had the opportunity to train missionaries at Onnuri World Mission Center in Yangji. In Kyung kindly translated for me (Gary) there.
We had a meal with the pastor of each church above as well as with pastors from Yeongdungpo Church, Gaepodong Church and Youngdong Church (these would be considered mega-churches in contrast to the larger Korean giga-churches). In our times together, a theme started to immerge which was best articulated by Rev. Dr. Sam Whan Kim of Myung Sung P.C.: "The Korean Church has historically focused on orthodox theology but has given less attention to social concerns, and as a result is losing ground in the increasingly post-modern Korean context. We must remain conservative and evangelical in our theology but become more involved in ministering like Jesus in areas of social concern for renewal and growth to return to our churches." Rev. Dr. Daniel Lee of Jiguchon B.C. added that they want to "work together to create a spiritual formation movement" in Korea.
We also had noteworthy meetings with with Ae Joo Jong of Hong Sung Sa, Sung Wook's Korean publisher; President Yoon Gu Lee and (former president of World Vision Korea and friend of Ambassador Bob Seiple), Dr. John Linton and Secretary General Rev. Sang Hwan Kim of the Zero Tuberculosis Movement working to help those afflicted with TB in North Korea; and other friends and family members of Denver Seminary students.
We interviewed with two papers: the Kukmin Daily and Kidok Shinmun and hosted a Denver Seminary Explanation Session for a dozen prospective students seeking theological training in English (pictured at right). Most said they will apply to study at Denver Seminary!
Going to Morning Prayer at 4:30am with 4,500+ people at Kwang Lim Methodist Church on our final morning provided an unforgettable ending to this trip which exceeded all expectations. Thanks for your prayers. Again we pray much fruit will come from this trip for God's glory!