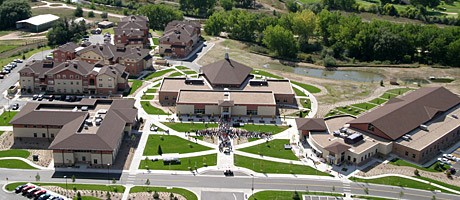 Visit Denver Seminary
One of the best ways to experience any school is to visit the campus. We invite you to visit Denver Seminary in the plan or program that's right for you. Whether it's using our online campus tour, diving into one of our Adventure Previews, experiencing a standard preview, or allowing us to develop a customized visit for you, visiting Denver Seminary is the best way to determine whether or not this is the seminary for you.
Campus and Adventure Previews
Two Day Adventure Previews
Adventure Previews are probably the best way to experience both Denver Seminary and a Colorado adventure.
Your day on the campus will include sitting in on a class, touring the campus, meeting students and faculty, and learning about Denver Seminary's academic programs and community life. The second day includes adventure opportunities ranging from snow shoeing to mountain climbing to driving tours of the mountains to sea kayaking and fly fishing.
We also have the option for you to attend the free, Preview-only portion of the events.
Learn more about Adventure Previews and register for your adventure today!
Campus Previews
Only have one day or an evening? No problem!
Come and tour our beautiful campus, sit in on a class, meet faculty and students and get a sense of life as a Denver Seminary student. Both daytime and evening previews are available.
Cost: Free!
Schedules:
Daytime Previews: 8:30 am - 4:30 pm
Evening Previews: 5:30 pm - 8:00 pm
Get a list of dates for upcoming general previews
Develop a Customized Visit
If you'd prefer to visit Denver Seminary at your convenience, taking time to see and experience the things important to you, we would love to help you plan a customized visit. With advance notice, we can even provide lodging for up to two nights in one of our beautiful on-campus apartments!
In your custom visit, you may have the chance to sit in on multiple classes, tour the campus, sit and chat with faculty and staff, experience Denver Seminary's Common Ground (chapel), speak one-on-one with an Admissions counselor and the Financial Aid counselor, and much more.
While each customized visit is completely tailored for your schedule and preferences, we do offer a sample itinerary to give you an idea of what a customized visit might look like: sample itinerary.
If you are interested in scheduling a customized visit, please contact our Admission's Office at 303-762-6937 or
Plan Your Trip
There are some important things to consider as you make your plans to visit Denver Seminary. Please be prepared to answer the following questions when you contact our Admission's Office (, 303-762-6937) to set up your visit. We want to make sure that your visit is a valuable experience!
How long can you be on campus for your visit? We encourage students to plan to spend at least one full day on campus.

Will you need lodging? We can provide up to two free nights of on-campus housing for visitors. Complimentary lodging is provided on a first-come-first-served basis.

Are there specific professors that you would like to meet or courses that you would like to sit in on?

What degree program are you most interested in?

What information would be most helpful for you as you make your decision about attending Denver Seminary?
For more information on planning your visit, please visit Travel Information. For a map to campus go to Location.
Preview for DMin Students
If you are interested in Denver Seminary's Doctor of Ministry program, we invite you to consider the DMin Preview. This day-long event gives you the opportunity to sit in on some DMin classes, meet the program director, meet other DMin students, tour the campus and more. You will have the chance to really experience Denver Seminary's DMin program first hand! For details and dates, or to RSVP visit the DMin preview information page.
Online Campus Tour
If you'd like to get a feel for Denver Seminary's campus from the comfort of your own home, be sure to check out Denver Seminary's online campus tour which includes a variety of 360-degree tours of the campus.