Fast Ride
Sep 08, 2009 by Dave Condit | 0 Comments
Classes have started, and I'm back to a busy schedule. I'm taking Hebrew, Theology of Outdoor Leadership, Early Israel/Wisdom Literature, and my final year of Training/Mentoring. I should have used the long Labor Day weekend to get ahead in my Hebrew, but it was sooo nice out that I just couldn't resist heading to the mountains. I decided to take a little study break and go motorcycle riding with a friend from work.
There are tens of thousands of miles of trails in Colorado. A few of these are specifically designated for motorcycles. One of my favorite trails is the Rainbow Trail in the Sangre de Cristo mountain range. It's about 90 miles long and follows the entire range just inside the National Forest. This was my second time riding it having done it once before with my wife. She also has a dirt bike and loves to ride (what an awesome wife!) In fact, she and I are heading into the mountains in a couple weeks to do some riding for our 19th wedding anniversary.
My friend and I chose to ride at a pretty fast pace. The experience was a lot of fun, and it highlighted something for me; if you don't slow down you can miss out. My friend and I did in one day what my wife and I did in two days. The difference was that this time I rode really fast and didn't stop very often. When I rode with my wife, we spent a lot of time stopping to look at things. We stopped at every river crossing to take pictures and look for fish, we gazed for extended periods at the amazing views, we paused on every ridge top, we took off our boots and relaxed by clear streams. Steph and I took over 200 photos on our ride. This past weekend I took three photos.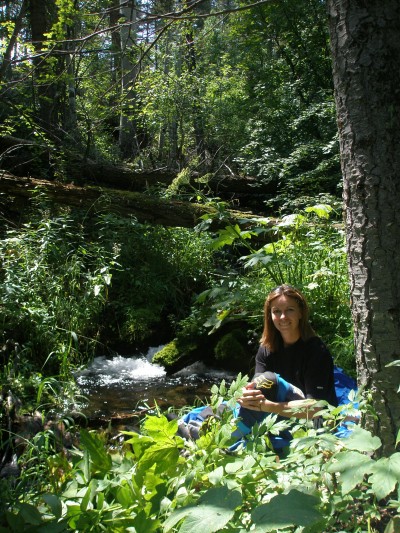 My natural leaning is to want to look forward to the next event or phase of life. I sometimes forget that I may be doing now what God intends. It's not all about moving on to the next thing. Seminary is a good example. I tend to think of seminary as something I need to get through to move onto what God has in store. That's the wrong attitude. This is where God has me right now. This is not a hurdle on the race to do God's work. If I'm not careful, I may miss something in the present that God wants to do in me or through me.
If you're in seminary or thinking about starting, I encourage you to take a moment to consider this. Take a break and get the camera out. This is part of your life too. You, and your spouse/kids if you have a family, will live this too. Is this going to be a sprint past something amazing or are you going to take the time to savor the experience and let God move in you?