Rekindled Amazement
Aug 06, 2009 by Dave Condit | 0 Comments
We decided to take an old school family vacation. My dad has photos of going camping when he was a kid. They would find a great camp site and stay there for a week or two. It seems like my generation is into quick trips into and out of the mountains without taking time to spread things out. With nostalgia in mind, we packed up my hunting outfitter tent, my parents' trailer, and gear/food to last a while. A neighbor suggested that perhaps it was too much work. I guess it was a lot of work, but my kids will remember this time for the rest of their lives. I think it's worth it.
We found a great camp site. In the National Forest of Colorado, you don't have to camp in camp grounds. There are many hidden spots where one can set up a great camp. We chose a well-established site to minimize impact on the surroundings. After a few hours of set-up, we settled in for a long stay.
The kids immediately found rock "castles" and "forts" to defend from imaginary attackers. Steph and I relaxed and enjoyed the surroundings. We brought plenty to do and had some fun activities each day. These included things like fly fishing, tubing on the river, rock climbing, motorcycle riding, and lots of family games/story-telling.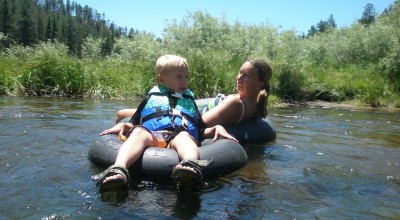 Because I'm taking some online classes this summer, I did have to take some occasional time off to do some school work.
We provided our camp location to friends and family and hosted several visitors while we were there. My Air Force flying squadron even managed to do a fly-by of the camp which happened to rest along one of our low-level routes (I had actually found the camp site while flying a few weeks earlier.) One set of visitors included my parents and their two house guests. The guests were 19-year-old guys from Holland who were visiting the U.S. for the first time. We taught them to rock climb and let them shoot a gun (illegal in Holland.) After several hours of activity, one of them asked if I would let him drive my Jeep around a little. That was fine with me, so off we went through the back roads. He was all smiles and said it was the best day of his life. His favorite thing was the Jeep. He kept comparing it to a safari. To me, it was just another bumpy ride along a familiar dirt road in a familiar car.
The next day, a group of kids from Texas showed up and camped a little ways from us. They had traveled all the way to Colorado to experience the mountains. They were very pleasant and made good neighbors in the woods. Like the 19-year-old from Holland, they were exciting and amazed by the surroundings.
After watching the excitement of my kids, our visitors and the group from Texas, I realized that perhaps I had lost some of my excitement about the amazing surroundings and activities. I loved the time and place, but my amazement was a little subdued. I took some time to stop and really think about what I had, and the amazement came back.
As a Christian in seminary, I think I tend to become accustomed to God. My amazement seems a little subdued sometimes. God created all that we see in these mountains. Christ suffered and died for me. God has created an eternal place for us. Amazing! I pray I would not become accustomed to God and forget how amazing He is.