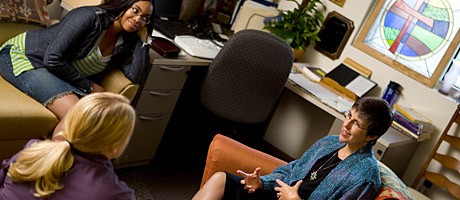 Counseling FAQ
Can I work full-time while completing one of the Counseling programs?
Denver Seminary is working to provide more accessibility to working and part-time students; however, working full-time while completing the Counseling Licensure or the Counseling Ministries degree will require more than four semesters.
Am I required to have a psychology or counseling background in order to be accepted into the Counseling programs?
No specific background is required. However, foundational undergraduate courses in introductory psychology, developmental psychology, personality theory, and abnormal psychology may give you an advantage in the admissions process. Classes are designed to prepare you adequately for the field in which you will work.
What do I do if I want to pursue a license in another state?
Our Licensure concentration meets the academic requirements for a Licensed Professional Counselor (LPC) in the State of Colorado. If you want to practice in another state, you will need to research your state's licensing requirements. The Counseling Department can work with you to fulfill additional requirements, should that be necessary.
What is CACREP?
Accreditation provides recognition that the content and quality of the counselor education offered by Denver Seminary has been evaluated extensively and meets standards set by and for the profession. You can be assured that appropriate knowledge and skill areas will be included that are necessary for entry into the professional counseling field. Students graduating from CACREP accredited programs have been found to have higher level counseling skills and knowledge (www.cacrep.org/FAQforStudents.html). CACREP accredits the counseling licensure programs of Denver Seminary.
What is the difference between the Counseling Licensure concentration and the Counseling Ministries degree?
The core courses are the same in each program, however the Counseling Ministries degree allows for more elective classes. There are also differences in the practical or field experience components of the program. The Counseling Ministries degree requires a semester of a field experience called Community-Based Clinical Pastoral Education Internship (CPE). CPE is a semester of first-hand experience in a pastoral care or chaplaincy setting, such as healthcare, military, elder care, church or para-church settings. CPE is accredited through the Association of Clinical Pastoral Education (ACPE). The counseling licensure concentration requires both a one semester practicum in the on-campus counseling center and an internship experience of at least two semesters in an approved mental health context.
Will I be supervised during my practicum/internship/CPE experience and are there additional costs involved with this experience?
Yes. Supervision is provided for students in practicum, however there is a $100 fee for the semester. (CPE also requires an additional $200 fee for the semester, beyond regular tuition.) Internship students are responsible to arrange for qualified individual and group supervision during internship that may require fees depending on the internship site.
Can I write a thesis for any of the Counseling programs if I wish to do so?
Yes, the thesis option is open to students in the Masters programs, but should be started no later than the second semester of the program. Doing a thesis project replaces the Masters comprehensive exam. M.Div. students must complete a Doctrinal Paper and an oral defense.