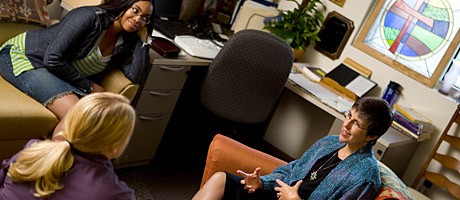 Counseling Program
Welcome to the counseling division at Denver Seminary. Incorporating into our curriculum both classic and contemporary scholarship in counseling and theology, the division celebrates God as the source of all truth. Counseling students receive a highly integrated education that weaves advanced theological instruction—by some of the nation's leading Bible scholars—with in-depth study of major counseling theories, developmental theories and counseling methodologies. Our M.A. in Counseling (Licensure) is accredited by the Council for Accreditation of Counseling and Related Educational Programs (CACREP), and Denver Seminary was the first theological seminary in the country to receive such accreditation. This ensures that our program is recognized by most states as acceptable educational preparation for licensure. Denver Seminary's strong theological education, coupled with the counseling program's CACREP accreditation, ensures that graduates are well-equipped to work in both Christian and secular contexts. Our counseling students come from diverse undergraduate backgrounds, and a number of our graduates choose to continue on to doctoral programs in counseling-related fields.
Clinical Training for Master's Level Students
Counseling skills are learned best through hands-on experience, and the counseling licensure program's practicum and internship sequences form the heart of each student's development as a therapist. Second-semester practicum students begin working at Shepherd's Gate, the seminary's on-site, low-fee community counseling center. Students counsel clients from the community under the skillful supervision of faculty and licensed clinicians from the Denver metro area. After practicum is completed, students enter their internship sequence and begin working as a therapist-in-training at a site of their choosing. Our counseling students are known in the community for their quality work and consistently receive internships with some of the best mental health agencies, organizations and churches in Denver.
Mentoring at Denver Seminary
In addition to the quality theological and clinical counseling training provided in our counseling programs, Denver Seminary also believes strongly in the student's spiritual and emotional development. From the time students start their practicum, they begin a structured mentoring process designed to help them develop beyond the realm of academics. Master's level students (usually in their second semester) begin meeting regularly with a mentor of their choosing. This chosen mentor, along with a designated faculty mentor and the Counseling Division's training center director, form the student's personalized mentoring team. Together with the student, they collaborate to support the student's development as a whole person. Doctoral level students choose their mentor and meet at regular intervals for review and encouragement throughout their coursework. Every student at Denver Seminary participates in our nationally recognized mentoring program, ensuring that our graduates are not just academically capable, but spiritually nurtured, strong in character, and emotionally mature as well.
Other Options for Counseling Students
In addition to the Master's level Counseling (licensure) track, the counseling department also offers the following degrees for students who do not need to be licensed for their desired career path:
M.A. Counseling Ministries - designed to prepare students to work in areas where licensure is not needed (primarily Christian settings)
M.A. Counseling Ministries/Chaplaincy Track - designed for students desiring to work as chaplains who need additional counseling training and do not need ordination (for students desiring ordination to work as a chaplain, see the Master of Divinity degree, Chaplaincy Track)
M.A. Youth and Family Ministries/Counseling Ministries - designed for students preparing for youth and family ministry who do not need licensure
D.Min. Marriage and Family Counseling - For those who already have their MDiv (or MDiv equivalency) and who are interested in pursuing a Doctor of Ministry in counseling, please also see the DMin with a concentration in Marriage and Family Counseling information
Additional Infomation