Denver Seminary Magazine: Fall 2004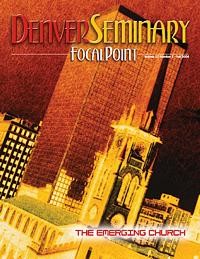 Information
Focal Point Vol. 27 no. 3
Online Version
Download the print version of this issue of Denver Seminary Magazine.
Emergent Dialogue
People who attend "emerging churches" are about as varied as the churches in which they find themselves. We assembled a group of students and alums who lead in local Emerging Churches, along with President Williford, to hear where they weigh in on the Emerging Church. Brian Gray, current student, is the Connecting Pastor at Denver Community Church; Alumna Mariam Kamell spearheads education and spiritual formation at Scum of the Earth Church; Alumnus Wes Roberts is a an author and leadership consultant; Jason Smith, student, is a pastoral intern at Celebration Community Church; and Dave Terpstra is an alumnus and the Teaching Pastor at The Next Level Church.
While people in the emerging church movement are generally uncomfortable with defining "emerging," many are not familiar with the term. Can you describe it?
Brian: I'd say it's an attempt to redemptively approach culture. A church that's attempting to not circle the wagons & maintain moral purity & at the same time hold the tension of not being a church irrelevant to the unchurched, to nonbelievers and to a generation that hasn't completely embraced the style of church from those before them.
Craig: Some would call those "disenfranchised."
Brian: I think so, although if you get a whole church of disenfranchised people, you get a whole church of disenfranchised people. So I think it's also those with a heart to see the church be embracing those without discarding the former. So those who are of the church culture being able to embrace a little bit wider audience.
Wes: I think there's a willingness to rethink and reinvestigate a number of issues theologically, and I think that's very important because so much of our culture in the last 50 years has been acculturated in what we call the evangelical church. And so there's a retooling or rethinking and I like it because it's not throwing out the cores of our belief, but it is understanding how does theology impact our society & life? There's a whole renewal that I see developing on social issues, justice issues, things like that that we too often leave to the liberals; we who have a more conservative bent are not stepping into the gap—we've let it go and I think that needs to be reclaimed—and I see the EC doing some of that . The second value that I think is really important, and I've just recently been in England talking to some of the Emerging leaders there...there's a whole new emphasis on living the Kingdom of God. When we say "thy kingdom come thy will be done," is the kingdom later? Is the kingdom now? There's a much greater emphasis on "the Kingdom is now?" How are we going to live together in, even our evangelical diversity? I'm pretty excited about that.
Jason: Everyone wants to throw around fancy definitions, but the emerging church is the church, and the emerging part of it has a lot to do with the leadership and what the thirty- somethings and twenty-somethings are thinking about as they move into this leadership role, and how are the mentors mentoring? How are they raising us up to become the leadership of the church in the 21st century? And it's admitting what reality is, not being stuck inside the four walls, and going, "you know the reality is this cool, 1200 person church that hey we're big, we're strong and we're reaching our culture," when the reality is we live in a post-Christian society that has no idea who Paul was, who Peter was, their only experience with Jesus is Mel Gibson, and that is just the reality of what the situation in the post-Christian society is, and is different that what some folks stuck inside the four walls think reality is. Then comes the missional part, and are we engaging this culture as missionaries, now that North America has become our greatest mission field?
Wes: I think that's been one thing on the value of mission. Mission is being talked about rather than missions—somewhere else that you send somebody else off to do. What is my mission? That has been another strong value that has come out of this.
Dave: I think the term Emerging Church can be somewhat misleading because ultimately I think it's about an emerging culture and churches that are interacting with that. In any sort of postmodern rise that's taken place inside of America, there hasn't been definition to it, there hasn't been a significant enough time until just recently for people to see all of the similarities. There were been people predicting what would happen, predicting how people would be thinking and interacting and what they'd be looking for in spiritual conversations, but we now have more experience, more data, more of an intuitive sense of what's going on in the culture. And churches are now able to really make some significant changes to adapt to that. Start brand new from scratch and not have to get rid of any baggage to begin with, but really interact with the culture in a different way because the culture is beginning to have more definition now than it did in some of these transitional years, in maybe the last 20 or 30 years.
What is the movement reacting to, if anything?
Dave: Our church is 11 years old now, and originally we were part of a movement that was simply youthful rebellion. I think everybody had this sense that something was changing in the culture, and none of these old guys were getting it, and so we're going to go out and do church the right way. And it's still happening—churches are defining themselves by what they're not, instead of by what they are. And we've consciously tried to make an effort at The Next Level to say, "Let's stop just saying what we're not," certainly we need to still. Jesus certainly said I am not these things over here, we can still define ourselves by what we're not. But what are we standing for? What do we really believe in? What can we actually say, "this is something that's important to us, these are some values that we have," instead of simply saying, "this is how everybody else has gotten it wrong." How can we sort of maybe take a little piece of territory and say these are the things that we believe and we'll sort of defend this area instead of just point our guns everywhere else.
Brian: I'll give you a list for brevity. A response against a perception of inauthentic personal experience with God. A response against the Christian life being lived more narrowly through mental ascent and knowledge of the Bible, while the mainline church is involved in social action at their end of the spectrum, so maybe that would be a response against an imbalance in what's perceived as kingdom priorities biblically. A response against a mentality of us/them in a churched and unchurched culture, circle the wagons, protect yourself morally from your non Christian friends by not being at a bar because that's where drinking and sin happens instead of "Don't sin." So maybe allowing Christian values to be more systematic than personally owned and lived authentically.
Jason: One of the big things as a future leader is a rebellion against a non-incarnational ministry model. And what I mean by that is the senior pastor gains celebrity status and hides himself in the golden tower. Our generation wants to be incarnated like Jesus was in the midst of the mission.
Brian: Now people know the pastor sins too.
Jason: Right, "I'm on this journey with you, I'm a traveler on the same journey you're on" versus "I've got it all figured out, here's your five step linear solution to all your problems. If you come to our church, you're going to solve all your problems and life's going to be grand." And I think as the 21st century dawned on us we all went, "That's a lie." And so the reaction has been, "We're on this journey together, life kinda stinks and let's do it together" instead of, "here's my solution to all your problems." Not that we shouldn't offer solutions or offer help along the way, but we don't have it figured out.
Wes: Embodied evangelism is a very intriguing word to me that has come up out of what we're calling the Emerging church. The whole thing of allowing people to live together and be drawn in by what they see of Christ, and life, the incarnational living capacity. Brian McLaren's book More Ready than You Realize is a huge statement in that way that is completely redefining what we call evangelism. It's not four steps to something, it's not arm wrestling people into a salesman's approach into agreeing to something but it's saying come live with us and let us live with you it is maybe doing the risky thing of showing up at the bar and having a conversation or not being afraid to be seen in some places where Jesus would probably be seen.
Brian: Things that would be considered messy, really messy, previously.
Jason: I think evangelism is going to be one of the hottest button issues with the Emerging Church because the Emerging Church is really bad at it, and they know that, but they sure don't want to go back to the Campus Crusade, cold call, four spiritual laws approach, and so that is something that is really fluid right now and trying to get figured out.
Brian: And the Christian rock concert/gospel presentation. Pizza party for youth.
The term "post-evangelical" has been used. Is that accurate?
Jason: Post is the favorite word, post Christian, post, post, post.
Wes: And I'm going to hitchhike on a word Jason used and that's the whole fluidity that we're in. We are in between times right now. So therefore it is hard to define. There are huge cultural shifts and changes, and can we together be creatively willing to be fluid with this while having anchors and cores in our belief system? The core of our beliefs should not always dictate the form and function of how we move. Can we be willing to change, shift, grow, be transformed? And that's one of the things that I find that so many older churches are just simply unwilling to change. I find in third world countries where they don't have the comfort zones that we do, they are willing to shift and change, and can we come together to talk about that? Can we be agreeable to a blank white slate and sit down together, and with the core of belief, create what is going to entice and invite and draw our culture in, so that the post situations, we don't know what the pre is yet. We haven't lived long enough yet, and I probably won't live long enough for that.
Jason: I have a weird background, so my authority to speak on evangelicalism might be limited. But something that seems to be part of the conversation to me is that the evangelical church wants to say "Well our core is these 30 things," and what the younger evangelicals are saying is "no the core are these five things, and we should be willing to adjust on these other 25," and that's what's making everybody nervous. And so as you say the post-evangelical, what we're saying is "what can we agree on that's core?" And as I come to Denver Seminary and I take my theology classes and I hang out with these professors, what can we agree on, because they sure don't agree on it. Brian and I were talking and saying the missional guy or gal are really messy. They're the ones that go down to the bar and have a drink with their friends. They're the ones that watch MTV and are hip on culture. And to know the language and speak the language, you have to participate at a certain level, and at some levels, that makes the evangelical church uncomfortable.
Craig: I think that's where the criticisms come, that the Emerging Church has shed itself of significant theology and significant commitments to biblical truth, that's an unfair criticism. However, my experience with the evangelical church is uniquely different from yours. My experience has been that there have been only seven or eight things that have been the core in the last 20 years in the churches that I've served, and those have been the significant things, and everything else is up for discussion within the authority of scripture. So, I have not seen those 30-40 things in my experience. My experience has been the National Association of Evangelicals statement of faith which is seven, eight or nine key statements that are very succinct. So, we rallied around those, and we set aside the other ones, not that we didn't believe them any longer, but they weren't going to be dividing issues, or they weren't going to be defined as core, they were going to be defined as distinctives. Having said that though, I don't think that my experience is the best way to describe the evangelical church over the last 40 or 50 years. There is no doubt that the fundamentalist side of the evangelical church had a very long list of what was core.
Wes: The church at large over the last so many dozen years has aimed to be successful rather than be authentic, because I know large churches that are doing some wonderful things and I know small churches that aren't doing anything but feeling sorry for themselves, so in that, what is the focus? What is the goal? Who is it that we are genuinely moving towards serving and lifting up? And those things I think resonate with what has been messy. Mike Yaconelli's book Messy Spirituality, how dare we think life's not messy?
Brian: I think that everything you (Craig) said, whatever your core issue, I would wonder if it's more of a form versus function. What does it look like to tow the historical line of the biblical gospel passed on from the time of Christ until now into a PowerPoint instead of the bible, instead of the codex, instead of the scroll for goodness sakes. My grandfather would flip out to hear that TNL meets on Tuesday night; that is absolutely unbiblical because it's not Sabbath. And so I think that's a form versus function issue. The function that church can take place in that form. And maybe that's some of the differences.
Dave: I would prefer the term "younger evangelical" rather than post evangelical. I think I am planning on still carrying the evangelical torch, and I just prefer to say that who originally started evangelicalism, they were certainly fighting against something, and that people from the previous generation who carried evangelicalism and created a particular sub-culture, I think what we're looking to do is simply keep the core of evangelicalism, which is ultimately our belief system, but not the culture of evangelicalism. We want to keep the theology but not the culture of our church.
Craig: Although you want to express theology a little differently, but not move away from the truth of theology.
Jason: The thing is within the Emerging Church, there's danger. There are people messing around with stuff that's not truth, that's messy, that's syncretism. It's out there, and it's part of the conversation. I have a friend at our church who just had a gigantic fallout with a friend over the postmodern conversation because they thought they were on the same page, and come to find out they weren't. The guy was dabbling with some syncretism type issues. At one level, this is a fight for truth for us, and that doesn't get said a lot, because the truth thing is not the popular piece of the conversation. The younger evangelicals thing is right on.
Wes: That's why the first two chapters of Robert Webber's book The Younger Evangelicals is one of the best gallops through church history I've ever read. I encourage people who are in the angst of this to just read that much of the book and understand what has happened over time. Webber does just a stellar job of bringing that to bear.
Craig: I still think there is a way in which the Emerging Church is still trying to explain and communicate the truth of scripture and the theology that emerges from that truth and the person...It seems to me that the Emerging Church wants to focus on the person of Christ, not in a Barthian way. But in some ways, similar to what Barth argued, let's get to the person of Christ first as the definer, but there is still objective truth, where Barth moved away from that. My generation and Wes' generation may have taken objective truth and made it more of a science than it should have been and as a result stripped it of some of it transformation nature.
Wes: Took an idol of it.
Brian: But the next generation may make it an art and forget that it's also a science.
Jason: The pendulum has swung on that truth issue and that to me is an uncomfortable position to be in, but we're a lot more willing to have some freedom with the objective truth conversation and to me, it's not going to wrap me around the axel if somebody brings some weird stuff to me, because, focused on the person of Christ, I'm going to love that person. Because if I come on too strong with the objective truth thing, they're out the kingdom door, and that's definitely not what we want.
Craig: Are you going to let them teach?
Jason: No, of course not.
Craig: I say that because that's the criticism sometimes that that's what the Emerging Church leaders will do. It has not been my experience that that's what the Emerging Church leaders are trying to do at all.
Jason: One thing goes back to having healthy conversation. It is our responsibility to be willing to come and have this conversation. For me to knock on Don Payne's door or Scott Wenig's door and say, "Can we have coffee?" because if we don't have those conversations and we just rebel, I don't see anything positive coming out of it.
Many in the Emerging Church (EC) talk about "deconstructing" and "reconstructing" Christianity--including theology, worldview, churches, etc. Explain that idea.
Wes: A lot of my peers, the older men and women in ministry today, I think freeze up when they hear the words "deconstruction" and "reconstruction," because what we need to understand is that we are in a different era, we are in a different culture and we have to contextualize the culture as it is now and as it's coming. And so to fight postmodernity is a silly fight because we're here. Now, what we don't want is to have a postmodern theology that does not take into account the triune God, etc., some of the core beliefs that are critical to our belief system, but we are in a postmodern culture, we can't ignore that. So there are parts of the culture that do need to be deconstructed, as far as taken apart and understood and put back together, I think in a healthy biblical foundation that develops relationships of understanding, but I don't think we should be afraid of investigating this and too many of my peer group is. They just throw up their hands and say, "Well that postmodernity stuff," but we're there and we need to own it.
Jason: There's a big danger too because a lot of philosophical terms are being thrown around that mean a million things. And so you say "Postmodern," and that could mean architecture; that could mean whatever. You say "deconstruction" and people start thinking about Derrida. And so there's this tension as these young folks are throwing around these philosophical terms that that's not the right language to be using and nobody's created a new language and this last year I spent a lot of time with (Associate Dean) Don Payne, and I would say something, and I'd think I was all cool and hip, and he would just literally, "I don't like that," and we really worked out a lot of stuff just hanging out over coffee and he helped me learn, "well theologically this is what you're talking about, and historical theology says this about that." I have an uncomfortable feeling with the language that goes on in this because it's not engaged in a healthy manner, and so people in Wes' generation are freezing up, and what ends up happening is we just rebel, and we go plant a new church because the older generation just doesn't get us and we're just going to go do it on our own, and that hasn't been the most healthy thing. One of the things that's encouraging for me is that there are three guys like us and there is Scum of the Earth going on that has a guy like (pastor) Mike Sares hanging out there really mentoring and encouraging. But it took a lot of knocking down doors to find the right people to encourage you, and a lot of kids my age don't have the energy to knock down those doors.
Craig: The leaders of the church in my generation and Wes' generation need to repent of our sin of hindering the development of leaders who understood how to relate to the culture in a way that was different than ours and we did that because of I think our own insecurities of investing our lives for generations in a particular way, and now being told that way is no longer valid or good. It became a personal issue, but we don't describe these things in personal ways; we always describe them in theological ways. And so our generations have got to repent of that and understand that our job is to be the appropriate Pauls for the Timothys who are emerging and who are going to engage this culture in a way that is different than ours.
Wes: I like your word repent too because so many men and women that I talk to feel like we have the answers and they'll come along some day, and I think that's just dead wrong—it's arrogance at its worst and we don't do enough listening in my generation. I've had some of my greatest conversations with Jason, just saying, "What does this mean? Help me understand music, film, art, literature, these kinds of things that are telling us stories, they're giving us narratives. One of the greatest days with my daughter I remember in the last few years, we were down at the Denver Art Museum. She told me about the narrative of a painting, and to listen to her, and hear her heart and her life in that, was just a huge conversation that we had, and that encouraged me to have others say "tell me about this" and then not get in my two cents worth. And I think too much of out generation has tried to get in our two cents worth, which has been good for its time, but are we willing to change and be transformed?
Brian: That is a two-sided issue. And the parrot opposite is you don't have to look too far forward to know what side the pendulum has already swung to. The pendulum is on the other side and the response is "we will deconstruct; we will reconstruct" and it's a "we will fix the past sins," and I think that's equally erring in the other direction, perhaps as blindly and arrogantly, disregarding the past. It has that potential, we'll say, to disregard the past as the previous generation might have disregarded the future or not thought proactively towards the future.
Craig: We are the guardians of enormous amounts of resources—people in our generation—and we have not mobilized those into the movement of the Emerging church and the young leaders of the church and we need to step back and figure out how to do that better.
Jason: What it becomes is a strategy from the mega-church, which now is saying, "We'll hire Brian when he graduates next year, and we'll bring him in and let him start a Gen-x or an emerging church within our church," and I don't' know if that's the right answer. I think it's a positive, but it's not the best. Some of the guys I like hanging out with the best are the guys who are really excited about reproducing themselves and planting new churches and not getting tied down into, "Well, we've got to build this $4 million building and all our energy has to be built upon saving that building." And so then it becomes about bringing people into the fold instead of encouraging us to go on mission for God. And that's one of the hard things about this whole thing.
While there is sometimes an emphasis on "historic" or "apostolic" Christianity, some believe that emerging leaders often disregard past traditions of the church in the process of "deconstruction."
Wes: I find that people of all ages are hungry to learn, even in an older evangelical context. When people begin to understand the right perspectives of liturgy, and involving the five senses in worship and things like this, yeah, it sounds a little spooky Episcopal, Catholic, Anglican, whatever, but when they understand the objectivity of that and how it can draw us in, I find that younger/older are really intrigued and drawn by the spirit into this. I think people are realizing that there is a great cloud of witnesses out there that we need to pay attention to between the beginning of the church and now. What I think we've done is messed it up between about 310 and now in some ways, and we need to get back to some of the original perspectives of what this was going to be about and not be afraid of that.
Dave: We actually had someone come to our church who was visiting a number of emerging churches and did a critique of all sorts of places. Ultimately he was looking at particular services, and I think that that's an element in this whole process that I think people miss. I think that if evangelicalism has given us anything culturally, it's that the church service is the biggest deal that the church has, and somehow what goes on on the stage, and what happens between a certain time on Sunday morning and when we leave at a certain time on Sunday morning, that that's the biggest deal about what's going on in the church, and we have thrown all of our resources and we have perpetuated that—that this service is the end-all, be-all of Christianity. And I am encouraged by the healthy way that people are having conversations saying, "This service is just one piece of church and it is not the end-all, be-all." So many pastors are frustrated by "Sunday morning Christians," yet they're training people to do that because that's where they're putting all of their resources—their people and their money go to make that thing happen. So, we've said, "how can we intentionally tell people that there is more to Christianity than a service, regardless of when that service is?" We're still in the beginning stages, but we're trying to put together a number of different communities, different sized communities that are equally valued inside of our church.
Wes: We've made Christianity an event, we've made worship an event, rather than moving intentionally as you say about what's happening in relationships.
Jason: There's a beautiful tension there, because that event is still really important to what we do. It is a point of evangelism; it's a point of gathering for people who aren't willing to connect at a different level. I've realized that as I've come on staff at our church that it is the most important thing we do, but there's a tension of that is the most important thing we do for one reason, but these other things are the most important things we do because as people do engage and decide to go deeper, that tension is really hard because we have to do Saturdays and Sundays well because if we don't do Saturdays and Sundays well, nobody's going to want to participate in our small groups. But the willingness to say, "Hey, these other things are just as important" is a big thing because churches have been so stuck on "Invite your friends to church because if you can just get them in the doors, we'll save them." I don't know about that.
Craig: My pastoral experience is a little different than that. Again, it seemed the weekend services were very vital, but the side door ministries produced more evangelism, and more relational things and brought people into the church far more than the event did. And while the event was important because it was the gathering for corporate worship and it did have an evangelistic piece to it—it did have the sense of moving into a safe environment, be there for awhile, and then move beyond that—I think at Woodmen and at the Chapel, both where I served, the side door ministries produced more people into our small groups and into the next level of our church than our weekend services did.
Brian: But, what did you pay your senior pastor and your small group pastor? Not that the pay is everything, but I still think there's an importance and a value. Everything is two sides to the coin, and I'd say that that was the case because you were in a healthy church and your leadership was probably healthy in your church. I ask because some of the other roles in the church are secondary and, at the bad extreme, the leftover role.
Craig: And in response to your question, since the senior pastor is responsible for all areas of the church, obviously they should be paid more than someone who just takes one area and works in that area, but we paid our small groups pastor very, very well.
Brian: I ask because some of the other roles in the church are secondary and, at the bad extreme, the leftover role.
Jason: Again, we need to have this conversation because the perception is the reality for the younger evangelicals. This is there first time I've gotten to sit down and have that conversation with you Craig, and I've had some classes with you, and the reality is you are really an effective mentor. I've met people who have little experiences with Dr. Craig Williford and say, "Man that guy is awesome." I just ran into a pastor down in Colorado Springs who worked with you for a year and just talked about how much impact that you had in that one year. And I'm just here saying I want that experience with you, to hear that, because I think a lot of what's happening for the younger evangelicals is we're like "We're deconstructing, and we're rebelling against authority" and then we go, "Oh, but those guys really know some things and we need to talk to them, and how did they run that program? And how did they put structure on this? Because I don't know how to put structure on this." And that's what I'm learning as I hang out with some of these people. The reality is they still need to have those conversations.
Wes: We have to be aware that the people who are reading this article are not from huge churches for the most part and there are 370,000 congregations in North America. The average sized congregation is 110-125 depending upon which of about 130 surveys you want to go to. So we have to be careful how we talk about churches with a lot of resources because there are a lot of churches in as much turmoil at small as they are at medium size and mega churches. So, I don't know any congregation in our culture because of the internet, television, and the lighting speed at which we do things, are not facing some elements of this. Now they can cloister themselves and incubate themselves possibly a bit more in rural and small town environments, but some of this is still equal straight across the board. You get to denominational meetings and you hear some of the angst of this. I went to the Emergent conference in San Diego, I ran across people basically from churches 300-400 people on down, where the majority of people there. So who are we all talking about? And I think it's critical to realize there is a larger focus of church out there. I find some really good emerging churches in some pretty small towns.
What do you say to the reader who is asking what this movement means for their church? Is this an indictment against the existing church?
Wes: I would hope people wouldn't submit to indictment but that they would expand curiosity to say "what needs to be happening better, further, richer in my own community or culture?" That's what I would hope for.
Jason: I would say too that the missional piece is a really important conversation across the board for the church right now. What's going on in the Gospel and the Culture Network, is the healthiest stuff that's going on right now. As I think about being a pastor, or about the role I play as a pastoral intern...Our pastor just got up last week and challenged our church. "We're six years old, and in 11 years, most churches lose their missional perspective. And we're well on our way." There are some really effective things coming out of the Gospel and Culture Network. That's where I would really encourage the traditional or established church to go. Because reading Brian McLaren is fun, but the guys at Gospel and Culture Network are saying, "Here's what McLaren is writing about, how it plays out in the traditional church."
Comment on two common terms used in EC's. First, "authentic community":
Wes: Here we get back to language again. Authentic is an important word; I want to be an authentic man, an authentic leader, pastor, whatever, but what does that really mean? So authentic community means what and how do we live out our presupposition of that. Because if you ask anybody, I don't care whether it's younger or older, "do you want to be in authentic community," the answer's going to be "yes," but I find the hard part is what does that mean in the context in which you find yourself.
Dave: One of the terms we've been using at TNL is "voluntary displacement," meaning we will voluntarily displace ourselves inside of communities that don't look exactly like us. So, our Sunday night groups are all geographically based. So, people are not driving all the way across town to join a small group with people who look just like them who are already their friends. I think there are all sorts of weird interesting things when it comes to community because Jesus chose to surround himself with 12 other Jewish men, and he saw a real value in that, yet he constantly displaced himself among people who weren't exactly like him. I think there needs to be both inside of community, but I think the church has done historically a pretty good job of getting like-minded people together, so our greatest challenge to our people is to voluntarily displace themselves amongst people who aren't exactly like them.
Jason: Proximity is a big piece of the Emerging Church puzzle that's going to be a hard thing to figure out. There's this reality that goes on in our culture that we all get in our cars, we drive 35 minutes to go to work, our kids play baseball games three counties up on the weekends. This summer I've been amazed at the culture of being a 40-something parent in our church. It is so crazy. This culture has become busier, we have more demands on our lives, and that's a big piece of what we're doing. In reading some stuff about small groups I read a quote by Lyle Schaller who says, "the biggest task for the church in the 21st century is to offer a solution for the discontinuity of our lives." That's what TNL is doing by having these parish based, proximity based, voluntary displacement type things. But that's hard to do, we have people from Highlands Ranch coming to our urban church in the city.
Brian: I think too, you asked what authentic community is, and I think if there's two pieces, a big one is what Dave is addressing. I'm not going to spontaneously swing by someone's house across town and drop in for dinner, but some of that spontaneity is a little bit about what a geographic community is, but even though we're attracted to like-minded people, I think authentic community has been organized around our kids play baseball, or we work together, versus let's just be really honest, "I'm in ministry and every now and then, I struggle, and people sin." And if we organize authentic community around the reality of our positive commonalities versus our harder commonalities, I think that's authentic community. The pastor sins also.
Jason: But that's hard work. Being missional is hard work, so you read Paul going "Timothy, be strong in the faith and go." He's encouraging him because Timothy had a hard task to go be missional and to go back into Ephesus, but that's what I feel like our task is. As I look around and have friendships, I have to be intentional about it and enter into community with these people and ask these hard questions Brian's asking. But it's hard, and people in our culture aren't willing to do it.
Wes: For three years, my wife and I have been part of group. We labor to not call it just a small group, but it's an intentional—I love your word Dave—spiritual formation group. Can we come together, live life together through the thick and thin? Can we come together and listen on behalf of each other to what the Father, the Son and the Spirit may be saying as we do life together. I think that so often, we do small groups in a variety of ways to get people inside the community, but are we really coming together to see each other's spirit formed in the likeness of the trinity? And that has put a different spin to how we come together and what we do, and it sends us out with a bit of grounding. We're eight wildly different people, but I like Dave's voluntary displacement, and I think in our intentional spiritual formation group, it's richer than just a bible study, or getting together to pray, or to have dinner. It's trusting the fact that I may have something to offer and somebody else may have something to offer to me.
Dave: May I go back to the Lyle Schaller comment? Another term we are throwing around at TNL—we are looking for a "soberly sustainable" version of Christianity. I think the church in the past has thrown all these programs and services out there providing people with an incredibly packed schedule. There's no real united feeling of, "this is really what we expect you to do inside of the walls or inside of the programs of our church, and we want most everything else to be lived outside of each of those things." How can we put together our church and what we offer to be a picture that people can say, "Here are the things that this church really values and that they want to do together, and that life is soberly sustainable. I could keep doing this into my 80's, two nights out of the week, and living life amongst these people and in other natural ways beyond that."
Craig: My hope is that as we strive to understand community for people from fractured lives, that we can in some way figure out how to be community beyond just the small group model. Again, I speak from my own experience. In the last 25 years of looking at small groups, I think at the Chapel and and Woodmen Valley, we did not do small groups well, even though we had hundreds and hundreds of small groups. They were closed, they were in-focused, and there was no real service outside of the group. I hope that the form of community can be expressed in ways that will be much more effective. Really what happened well in small groups was when the groups got together on their own and did some things without the church driving it or trying to get this guilt, this guilt of "you have to belong to a small group or else you're not really doing your life together right." So I'm hoping that the emerging church can really express a new kind of community beyond the small groups approach. It has not produced community the way we thought it would.
Brian: Maybe it hasn't produced, but it could be a stepping stone in getting there. Because if I walk into TNL the first time, I'm going to hate being the new person, and the next time I come in, I'm looking for the person I talked to last time. If you stick me in a small group, I might get to know one or two people. I'm not convinced that a small group is community, but when my life falls apart, I might go talk with a guy in the small group. And I think community happened because of the small group. How do you create what you'd love to be spontaneous, natural and organic, and that's the rub.
Jason: And the conversation was like, "become a church of small groups," and as I look at it, small groups have to be there because that's how some people connect. But it's a piece of the puzzle but not necessarily the centerpiece. And that's what it has become in a lot of places.
Craig: I guess what I'm saying is don't take our form. Find a new way.
Jason: Something that fascinated me this year was the book The Tipping Point and he talks about that theory of 150, and that blew my socks off. When you look at the mega, or the large church, you start getting over 150, you have entered into a breakdown of community. I think that's fascinating. But then we're also told as church planters that the number 200 is the magic number, and you have to be over 200 to be self sustaining.
Craig: But community doesn't automatically happen in churches under 200. Is it Erwin McManus who says he's never met a dying church yet that didn't claim it had great community and fellowship.
Dave: We are fascinated at TNL by the term "house church," and we are looking all the way back to the first century. These people met in houses, yet the book was written to the church at Ephesus and there was no indication in Paul's mind that he had any problem calling it "the church at Ephesus" and also saying "the church that meets in this person's house." That these were exactly the same groups of people even though they were different expressions. We asked after 9/11 what if we couldn't meet anymore in the gigantic group that TNL is? What if that couldn't happen anymore? Is it possible to put strong enough leaders, real pastors, and give them each a small house church around the Denver metro area? We have 10% of our church in one of our core groups, yet we have 90% of our Sunday night crowd in our house church. We're just asking the question, doing the experiment. Is the problem with small groups, small groups, or is it simply a leadership problem? Have we not put people who are pastors, have we not trained them up, the leadership vacuum that keeps being talked about inside of churches, have we simply not put great people in charge of this system? Would the system work better if we worked hard on the leaders of the system? We think so. We've put a lot of time and resources into the system, and it's been excelling.
Wes: I love your statements Dave. You're "asking the question," you're "doing the experiment" and you're "intentionally raising up leaders." Those are three things that the church in North America and even in Western culture has not been willing to ask questions. They've been more willing to make statements than listen. They've got to do it all full blown and not experiment.
Craig: One of my hopes for the Emerging Church is that you folks will be really, really effective in equipping leaders—and not just pastoral leaders—and that's one of the things we're trying to figure out at Denver Seminary, is how we come alongside the church and not focus just on the vocational pastor, but the lay leaders, and provide theological education in a very good way to equip them to be effective in the way you are talking about. We ought to be able to help you with that in non-degreed and degreed ways too. We're going to start an institute in continuing ed specifically focused on this one piece, and it will be a different type of faculty that will be teaching that.
Wes: We're back to mission
Craig: Yes
Second, common denominator: missional mindset
Brian: I heard this in what Dave said earlier, there's a question as to whether or not you're going to reproduce the gospel in your culture or the culture of the gospel. If we're going to do something different, the culture of the gospel is reproduced in the church, and now we're going to try to reproduce the gospel into the culture, both inside and outside of the church. I grew up missions meant I go overseas and do something. When missions was done the best in those situations, you would go into a place, and you would not teach them, Just As I Am, on an organ, but you would raise up indigenous leadership who would write their own worship songs. If those mentalities have now come back into the church, I think it's good and healthy that we do mission here in the same way of examining the culture and saying "what are the vehicles by which pure, evangelical, throughout time gospel is going to be transmitted to people who could care less what their parents thought or are from fractured family backgrounds?"
Wes: I think missions is too often implied, whether consciously or unconsciously, that someone else is going to do something in my place somewhere else, and I'll give them a dollar to help them do it. Where mission is part of my daily responsibility as I live in my relationship with the triune God and others. I think it's understanding calling. I don't care whether you're a business person, doctor, homemaker, student, whatever, we all have mission that we need to be responding to. Frankly, it allows life to be a lot more exciting, because when I woke up today I asked, "What is the mission?"
Craig: Is it Bob Lewis at Fellowship that's using the concept, if people were to walk around in your community and asked about your church, what would they say if asked how has that church help you? Maybe that's a way to look at this issue of mission.
Brian: We did a ripoff from probably Rick Warren but we went around the park and said, the rule is you can't share the gospel unless they pin you and beg for it. We sent our leadership into Wash Park and asked people, "if there was a church in your area, what could that church do to serve you?" And one guy said "go away." And that has driven why we do what we do more than any other thing is that we want to be the church that, at one level, being missional means he doesn't want us to go away. And he's never been in the door, he just knows that once a month during the winter, he can drop his skis off and we'll wax them for free, and we won't give him a tract. Or he knows that we've fingerprinted his kids on a Sunday. He doesn't want the church to leave because he thinks "They were a great part of our community."
Jason: That centers a lot of conversation in our church right now. How do we reach this community? Talk about a diverse location. There's a lot of international, immigrants. It's apartment village of Denver really. It's hard. That's the kind of stuff that's driving what we're doing.
What are your thoughts as EC leaders on the Seminary? How can the Seminary and the Emerging Church work together?
Dave: Honestly, there are a number of people in our church who have come up to me and have said, "I'm thinking about going to "Denver Seminary" and I have this cheer and cringe thing that takes place. If they can go in there and get what I got, great. I knew what I wanted out of seminary and I didn't need it to tell me what I needed, so I was able to use it exactly how I wanted it.
Jason: I would say ditto, coming from life experience, I know what I want to get out of seminary. There are some interesting things going on right now. I think Denver Seminary needs to be thinking now about who are we bringing in, who are some of the people who are thinking about this stuff. Biblical Seminary has partnered with Spencer Burke and they've started a whole new M.Div. program that is alternative. Denver Seminary needs to get their minds around the Emerging Church, and I think there are some great opportunities.
Brian: The highlights for me at Seminary were this: What is it that Danny Caroll gets on his soapbox about? When his notes get shoved aside, he leans over the podium and is passionate, that will influence my ministry heavily. Before protestant theology class, I would go to Tokyo Joes with Dr. Buschart, or I had lunch with Don Payne a while ago. You can't pay your seminary profs to be great guys in the coffee shop all the time, but I think if part of the job description is heavily valuing student contact. I took an evangelism/discipleship class with Don Payne. We went to lunch; we sat for three hours over lunch. That was better than every dollar I paid for the class. If there's intentionality among the faculty, I think that's good, but it also might affect who you look for. Because you might have someone who's a rock star on their dissertation but if they can't survive a conversation for 15 minutes across the table with a student, you'll multiply that into your pastors.
Wes: I think that a lot of my generation doesn't know how to sit and have that conversation. Somehow to encourage them to break loose out of their molds, their structure and their systems. So many of the people I know, they don't know how to take the time that's unstructured. The whole thing of, "how do I sit and be and listen and draw out and learn and all of that that is going to change lives?" And your statement's huge that that three-hour conversation was worth all the pennies and all the class. And it's still both and.
Brian: To be more specific, the work of pastoral ministry, the passion of pastoral ministry, is that when I walk out of here, I'll marry, I'll bury, I'll have conversations with people who want to date non-believers. There's a lot of messy things that Seminary doesn't address. There is a big theory/practicality divorce. One of our adjunct professors is a pastor who is a theology nerd, but I walk away from his classes with real life pastoral applicational theology. I'm a nerd, you can give me Systematic Theology and I'm set with a cup of coffee, but I go and pastor in a practical, real world.
Dave: I have a feeling that TNL has some stuff down, has an understanding of certain pieces of how to do church. We're clearly reaching our target. I want to encourage people to go to Seminary to get all of the great stuff I've had, pretty much my whole life. I want people to get some of the basics that Seminary is able to provide that people need. I'm scared that we have a leadership vacuum across the board. I love the Seminary because some of the basic foundational thing. The life rubbing off on life is something I want for everyone. I think the Seminary gives people a vocabulary that allows me to interact with them on a different level. There is something about the way church is done that I'm not sure you can tell me how to bury somebody in a classroom setting, just the everyday pieces of church. I don't want someone to come here and turn into an academic, and talk broadly and without that real life sort of experience. I want them to see the guy who's teaching, not just what the guy's teaching. I have not been concerned with the people who we've sent here. I've been concerned with the people we've sat next to. The cringe factor I have is I don't want people to come here so that they jump through some hoop that they had in their mind or their church had that was necessary in order for them to be able to lead in a church. I don't think anybody at TNL believes I am in the position I am in because I jumped through some hoop. Seminary is an intangible part of ministry. I'm a very different person due to my unique experience at Denver Seminary, but I can't predict how someone else will interact with this place.
Jason: At a certain level, you just have to resign yourself to the intangible.
Craig: Transforming lives is messy and it's also the work of the Spirit, and we want to partner with the Spirit and do what we need to do, but it's still ultimately the Spirit's issue and control and we can't guarantee anything. A couple of other hopes that I hope for the Emerging Church. One is that the Emerging Church will better embrace the female voice as a trusted voice of God and steward that well. My other hope is that the Emerging Church will be much more reflective of the kingdom of God and be more multi-ethnic and not just white. Please don't misunderstand—I'm staying engaged, I'm attending an Emerging Church, I want to be as significant a part as God wants me to be. But I really feel like I've been an Emerging Church leader since 1973 when I started my own church and was fighting the culture of the church way back then. And in a way I think the Emerging Church joins a group of voices that God has called in all generations. I salute you, I want to be a part of helping you, and I want to move the Seminary in that direction too.
How To Get Your Copy
To get your copy of the Denver Seminary Magazine, send an e-mail to Be sure to include your name, street address, city and zip code.
---
The Denver Seminary Magazine is published by the Advancement Office at Denver Seminary. It is printed four times per year and is available free of charge. It offers practical, knowledgeable articles written by faculty members and other experts of their fields. The goal of the magazine is to serve the needs of pastors and laypeople alike.