Denver Seminary Magazine: Fall 2007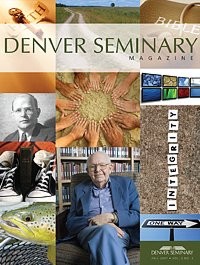 Information
Fall 2007 / Vol 3, Number 3
Online Version
Download the print version of this issue of Denver Seminary Magazine.
If you would like to interact on a deeper level with any of the content in the Fall 2007 issue of Denver Seminary Magazine, we invite you to use the discussion/thought questions listed below, or join our online message forum to interact with the greater Denver Seminary community on these articles. (Note: While anyone may read the posts in the forum, you will need to create an account and log in to post thoughts or messages to the online forum.)
Also available online is the faculty travel schedule.
Keeping Integrity in a Compromised World
article by Dr. Doug Groothuis
Questions for thought or discussion
In what ways has technology tempted you to compromise your integrity?
How do you think you fare in being a "walking Bible"? What things hinder you from achieving this mark? What things could you do differently?
If you are a pastor, what pressure do you feel to deliver a "superstar" sermon or message each week? What steps could be taken to relieve that pressure?
If you are not a pastor, what steps do you think you could take to help alleviate pressure that your pastor feels to deliver "homerun" sermons each week?
How often do you pray for your pastor?
Learn more about Dr. Douglas R. Groothuis.
Resources
Most books are available from our Bookstore.
The Soul in Cyberspace by Dr. Douglas Groothuis
Habits of the High-Tech Heart by Quentin Schultz
The Gagging of God by D.A. Carson
True Spirituality by Francis Schaeffer
Filling In Boxes
article by Carolyn Williford
Questions for thought or discussion
If you were faced with the choice described in this article, what choice would you have made? Why?
Have you ever been faced with a situation like the one described in this article?
How did you react?
Do you think your choice was full of integrity?
If you were keenly aware that God was there with you (not as a policeman waiting to "punish" you, but as a loving Father who wants you to make the right decision), do you think you might have reacted differently?
Spiritual Integrity is Inconsistent
article by Dr. David Osborn
Questions for thought
How would you define spiritual integrity?
If you were to think about where you will be 5, 10, or even 20 years from now, what will be different about your life? What do you hope will be different?
In what areas could you "practice" to become increasingly more like Christ?
Learn more about our Doctor of Ministry Program or Dr. David Osborn.
Careful What You Watch on TV
article by Gordan MacDonald
Questions for thought or discussion

Have you ever had a TV show affect you as the one described in this article?
If you were to be disassembled and assessed, what would someone find?
What is the state of your "inner parts"?
Can you think of anyone that you would describe as "Christlike"? Have you ever used that phrase to describe them? Why or why not?
What influence do you think your life has on others? If your integrity were to grow, do you think this influence would change? How so?
Learn more about other Denver Seminary Alumni.
Spiritual Steadfastness
article by Dr. Vernon Grounds
Questions for thought or discussion
Have you ever felt like one or more of your spiritual disciplines had become a "rut of routine"? Describe the feeling. How did you react or respond to that feeling?
If you stuck with the discipline, did you ever find that it had become a "groove of grace"? How so? If not, do you see the potential for such an opportunity?
Is there any one who inspires, challenges or encourages you in your discipleship? If so, who and how?
Do you see a connection between discipleship and steadfastness? Do you see steadfastness as a desirable trait? Why or why not?
What spiritual disciplines do you think might be beneficial for you to take on as you strive toward spiritual steadfastness
Learn more about Chancellor Vernon Grounds.
Deck Chairs and Courage
article by John Buechner
Question for thought or discussion
The student who wrote this article opens with a humorous story about Linus and Charlie Brown from the popular "Peanuts" comic strip. Where would you say your deck chair is on the boat?
In what ways has God revealed His plan to you and asked you to take steps of courage to follow that plan? Was His plan what you expected for your life?
In what ways might God be asking you to take a step of faith or courage now?
Learn more about our students or how to become a student yourself.
How To Get Your Copy
To get your copy of the Denver Seminary Magazine, send an e-mail to Be sure to include your name, street address, city and zip code.
---
The Denver Seminary Magazine is published by the Advancement Office at Denver Seminary. It is printed four times per year and is available free of charge. It offers practical, knowledgeable articles written by faculty members and other experts of their fields. The goal of the magazine is to serve the needs of pastors and laypeople alike.