Denver Seminary Magazine: Fall 2011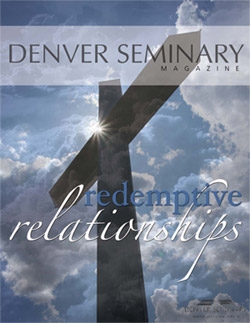 Information
Fall 2011 - Vol. 7 No. 3
Online Version
Download the print version of this issue of Denver Seminary Magazine.
This issue of Denver Seminary Magazine explores the fourth core foundation of Dr. Mark Young's vision for the Seminary - redemptive relationships. At Denver Seminary, we are people of the Faith, committed to the great core confessions that have defined Christianity for centuries. We believe that redemption comes only through honesty with ourselves and through the truth of the gospel. So we nurture interpersonal mentoring relationships throughout the seminary experience that drag us out of our hiding places so that we can move into the light of Christ's searing gaze of love. We also believe that our redemptive relationships must go beyond the community of faith and reach into the lives of those who have yet to confess faith in Christ.
In addition, there is lots of general news on the Growth Initiative, alumni events and campus news.
Read Denver Seminary's core commitments
How To Get Your Copy
To get your copy of the Denver Seminary Magazine, send an e-mail to Be sure to include your name, street address, city and zip code.
---
The Denver Seminary Magazine is published by the Advancement Office at Denver Seminary. It is printed four times per year and is available free of charge. It offers practical, knowledgeable articles written by faculty members and other experts of their fields. The goal of the magazine is to serve the needs of pastors and laypeople alike.