Denver Seminary Magazine: Fall 2012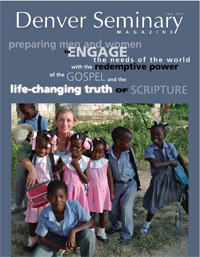 Information
Fall 2012 Vol. 8 No. 2
Online Version
Download the print version of this issue of Denver Seminary Magazine.
Denver Seminary's Mission Statement: Preparing Men and Women to Engage the Needs of the World with the Redemptive Power of the Gospel and the Life-Changing Truth of Scripture.
This issue of Denver Seminary Magazine explores Denver Seminary's mission and how our mission statement reflects where we are heading as a Seminary.
President Mark Young writes about how Denver Seminary is redefining seminary education and how Denver Seminary is finding its rationale and identity in the very mission of God.
Contents of Magazine
FEATURE: Turning the Seminary Inside Out
by Mark Young
How is Denver Seminary redefining seminary education? President Mark Young shares how
Denver Seminary is finding its rationale and identity in the very mission of God.
Constant Reminder of a Living God
By Denise Morris
A trip to Israel helped bring the Bible to life for this student.

The Myth of Working the Great Divide
By David Buschart, Ph.D.
How is our profession a part of God's work in the world?
Radical Dependence Creating Radical Discipleship
By Todd McKeown
A student's personal journey
at Denver Seminary.
Did You Know...?
Some interesting facts about Denver Seminary.
Chancellor's Corner
By Gordon MacDonald
Three observations of Denver Seminary and its mission.
Departments
Message from the Provost
Campus News
Alumni News
How To Get Your Copy
To get your copy of the Denver Seminary Magazine, send an e-mail to Be sure to include your name, street address, city and zip code.
---
The Denver Seminary Magazine is published by the Advancement Office at Denver Seminary. It is printed four times per year and is available free of charge. It offers practical, knowledgeable articles written by faculty members and other experts of their fields. The goal of the magazine is to serve the needs of pastors and laypeople alike.