Denver Seminary Magazine: Fall 2013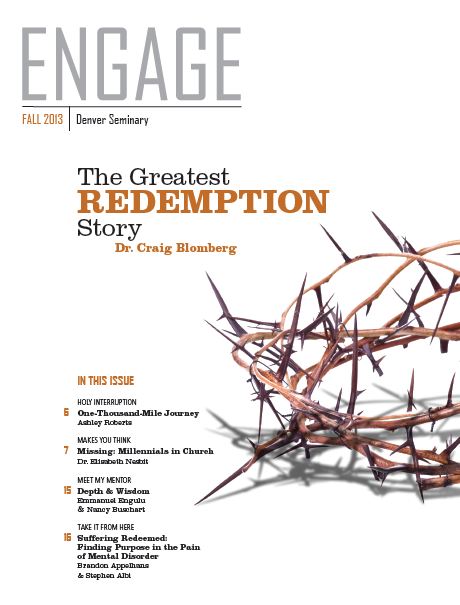 Information
Fall 2013 Vol. 1 No. 1
Online Version
Download the print version of this issue of Denver Seminary Magazine.
Denver Seminary is excited to introduce Engage. This biannual magazine publication is written for students, alumni, friends, and the community.
In this inaugural issue you'll find a feature story written by Dr. Craig Blomberg entitled "The Greatest Redemption Story." In addition, Dr. Betsy Nesbit contributes a must read for all those working in ministry today: "Missing: Millennials in Church."
Along with these articles from our faculty, you'll find contributions from current students, stories of alumni around the globe, and news and events from Denver Seminary.
To download or view this Fall 2013 issue online, click here.
To add your name to the Engage mailing list, please email .
How To Get Your Copy
To get your copy of the Denver Seminary Magazine, send an e-mail to Be sure to include your name, street address, city and zip code.
---
The Denver Seminary Magazine is published by the Advancement Office at Denver Seminary. It is printed four times per year and is available free of charge. It offers practical, knowledgeable articles written by faculty members and other experts of their fields. The goal of the magazine is to serve the needs of pastors and laypeople alike.