Denver Seminary Magazine: Spring 2005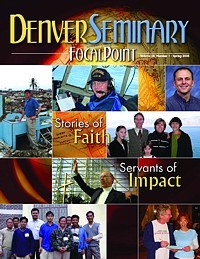 Information
Vol. 28 no. 1
Online Version
Download the print version of this issue of Denver Seminary Magazine.
Her Maker is Her Husband - Elena Bogdan, Romania
Reprinted with permission from Women as Risktakers for God, by Lorry Lutz, Baker Books, 1997.
Sing, O barren woman, you who never bore a child;
burst into song, shout for joy, you were never in labour;
because more are the children of the desolate woman that of her who has a husband, says the Lord.
enlarge the place of your tent, curtains wide, do not hold back;
lengthen our cords, strengthen your stakes.
Do not be afraid; you will not be humiliated.
You will forget the shame of your youth and remember no more the reproach of your widowhood.
For your Maker is your husband- the Lord Almighty is his name.
Isaiah 54; 1,2,4,5
An urgent knock on the door startled Elena Bogdan. Who could be coming to visit her in the middle of the morning? She looked through the peephole to see two men dressed in business suits.
'Who's there?' she called out. But even before they answered she knew these were Ceausescu's secret police, known throughout Romania for their brutality.
Her heart pounding, Elena responded, 'My husband is not at home. Can you come back later?' She glanced around the room, frantically wondering what to do. There in plain view sat the suitcases of documents and the boxes of Bibles and Christian literature she and Traian had brought home just a few days before in preparation for their next round of underground deliveries. Traian worked with Christian Solidarity International which kept the plight of persecuted Romanian Christians before the West. The pounding on the door grew more insistent as the police shouted, 'We have a search warrant; open up.'
Defiantly Elena shouted, 'I won't open the door. Come back when my husband is home.' Only twenty-six years old, Elena with her sparkling brown eyes and rich chestnut hair would be temptation enough if she were caught alone by the police. But the thought never entered her head. She raced to the window in the futile hope that she could at least get rid of the names and addresses of Christian families who had been undergoing persecution by the Communists. She and Traian had been taking food and money to many of these families, impoverished because the head of the house was in prison. But a quick glance told her the house was surrounded. There was no time to burn the evidence for she could already hear the police breaking down the door with a heavy object.
Terrified, she tried the telephone. Thank God they had not cut the wires. Even as the door finally gave way, Elena gasped a plea to her friend that Traian should be warned.
For eight hours the police interrogated Elena at the local police station. Where was her husband? Who provided the money for their work? What were the names of others in Timisoara with whom they were working? They demanded that she write out an explanation of what she and Traian were doing.
But even as they shoved paper and pencil in front of Elena, she refused to put anything in writing. Traian had warned her from his previous prison experience that the police would use against her anything she wrote down.
Instead she turned every question into an opportunity to tell these angry men, 'Jesus loves you and we love you too and want you to be saved.'
In her heart the verse kept ringing, 'On my account you will be brought before governors and kings as witnesses to them and the Gentiles. But when they arrest you, do not worry about what to say or how to say it. . . For it will not be you speaking but. .. the spirit of your Father speaking through you' (Mt. 10:18,19-20). And the Holy Spirit kept reminding her that the only way these men could hear the gospel was if Christians were arrested.
As the day wore on it became obvious that the police had a watertight case against Elena and Traian. They wanted her to bring him back to the police station for questioning the next morning. They spoke about a six-year prison term - and worse if Traian did not turn himself in. And then they released her, no doubt believing Elena would lead them to her husband.
When Elena returned to her darkened home and saw the damaged door, she realized she could not stay there safely overnight. It seemed that Traian had received the warning, but where was he? It was dangerous for her to wander the streets at night looking for him, so she stayed with Christian neighbors. The next morning she slipped out of the house very early to the home of Traian's parents, relieved to find him there.
After their joyous reunion, Elena told him about the six-year imprisonment hanging over their heads. Traian's immediate reaction was, 'I'm not going to spend the best years of my life in a communist prison. Let's escape.'
But escape was easier said than done. The borders were relentlessly patrolled by secret poice; documents were checked on public transport. The Danube which separated Romania and Yugoslavia was guarded not only by foot soldiers, and observation towers, but also by soldiers who travelled in patrol boats back and forth every half hour. Elena had heard stories from people who tried to escape. 'Those guys with military boots, twenty-year-old young men full of energy and brainwashed, start beating you up, kicking you in the stomach, in the kidneys, in the mouth. They knock out your teeth. If you lose consciousness they revive you and start all over again. If a woman is caught she is raped and then beaten just as badly as a man. And after that, they give you over to the police who put you in prison for several years,' she had been warned. 'And if the patrol boat catches you in the water, they just push their harpoon in you and leave you dead on the water, or simply run the boat over you and the engine chops you up.'
However, Elena's greatest fear was not capture or death, but leaving Romania and the people to whom God had called her. Couldn't they be witnesses in prison, as she had been to the police who interrogated her?
Elena and Traian stayed with his parents for a night or two as they debated the pros and cons of escaping from Romania or facing the prison sentence. She concedes that this was one time when she found it difficult to be submissive to her husband. But they finally agreed that they should escape.
Elena admits it was hard to leave behind everything she had worked for so long. 'I had worked so hard training to be an electrical engineer, and to get a good job. It was not easy to buy your own apartment under the Communists. But I saved and furnished my house. And then I had to leave my house, my job, my friends, my church. And worst of all - to leave Oltenia [the poorest and most neglected province of Romania] where God had called me.'
Knowing it was too dangerous to stay with Traian's parents, they moved to the home of Christian friends in Timisoara. But after a few nights, their friends were shaking with fear that the police would come, and they would also be in trouble. They pleaded, 'Please, we don't want you to feel that you are not welcome in our home, but we are afraid.'
So Elena and Traian knew they had to flee into the mountains until they could decide how to escape the country. They made several surreptitious forays back to their home in the middle of the night to get some of their things. While at their friends' home, Elena was able to put together a tent. They carried only immediate necessities - a blanket, a lamp, some changes of clothing, and as much Christian literature as they could carry to distribute as they traveled.
'We knew we couldn't buy food. There was no food without ration coupons. Sometimes we went to the homes of Christians and they gave us their food.
But we also knew that the ration is so small that when they gave us food, they were taking it from the mouths of their own children.' Elena recalls. 'We ate edible weeds a lot of the time.'
May, 1982 - springtime in Romania. Under other circumstances a hiking trip into the beautiful Carpathian Mountains would have been a dream come true. Elena and Traian had only been married five months. They had met when a small group of Christian young people formed a mission group focused on Oltenia in southern Romania.
Elena had grown up in a Christian home, but after she moved to the city of Timi_oara to study electrical engineering, she had gradually lost her faith and taken on the philosophy of her friends around her. 'At school I heard that there is no God, that you cannot believe in somebody that you cannot see and touch. My only goal in life was to be independent.'
Elena even attempted to join the Communist party, but was rejected. 'Probably because my father had been a Christian and when he became mayor of our town, he walked into his office with a Bible,' she surmises.
But once she gained her independence, home and job she began thinking, 'What happens when I die?' She understood there was a part of her that is spiritual, that cannot be seen and touched. She could not deny the existence of her soul.
It took many months for Elena to reflect on her spiritual need. She found herself praying, 'God you know that I don't believe in you, and maybe I'm talking to myself right now. But God, if you are there, I need you. If you are there, help me to believe in you, because my life doesn't make any sense.'
Nine months later, an American missionary passing through Romania shared John 3:16 ('For God so loved the world that He gave His only begotten Son that whoever believes in Him should. . . have eternal life.' NASB) in a meeting 26-year-old Elena was attending, and she accepted Christ. She seemed to hear the Lord say to her, 'Count the cost, because I cannot be second or third in your life. I can be either first or not at all.' Elena testifies, 'I counted the cost and I chose Jesus as my Savior, and I've never been disappointed.'
From the start Elena was filled with fervor to tell people about her new-found love. Every day she prayed that God would give her the opportunity to witness to someone. 'And every day,' she recalls, 'God brought by at least one person with whom I could share his love.'
Elena found the best opportunities to witness came on the trains by which she traveled frequently as part of her job. One day she sat in a compartment with several country women from the southern province of Oltenia. Elena began to talk with them about the Lord and found them responsive. They mentioned their daughters attending boarding school in a village where Elena would be disembarking and she asked their names and for permission to visit them.
As soon as Elena had time she went to the dormitory and asked the matron if she could see the girls. Since Elena was not a relative, the matron was very suspicious. But Elena told her she'd met their mothers on the train and they had encouraged her to visit their daughters. She wanted to take them out for an ice-cream.
The matron relented and Elena spent a delightful time with the girls, as she told them about Jesus. As she got to know them, she was overwhelmed with the spiritual darkness in Oltenia, and God seemed to bum the people of that region on her heart.
On one of her first holidays after her conversion Elena traveled to Oltenia, witnessing in homes, coffee-shops and restaurants. Somehow she was oblivious to the danger, and found people ready to listen and open to accept Christ. It was during this time that a group of young people in Timisoara heard about her burden for Oltenia and offered to form a mission group to work in the southern province. Whenever they had a free weekend, two or three of them would travel by train to towns in Oltenia to witness in public places.
Once Elena sat at a table in a restaurant with several young men, and when the meal was served, she asked if it would be all right for her to thank the Lord for her food. This opened up a lively conversation, and an invitation for her to join them to visit a seriously injured friend in the hospital. Elena still remembers how she walked into the hospital room, crowded with relatives and friends. It seemed as though the Lord opened a pathway right to the young man's bed, and she was able to share the gospel with him. When his relatives realized what she was doing they shouted, 'Lady, leave him alone.' But the young man in the bed asked her to pray for him, and she learned later that he told his friends, 'You don't know how much good she did me today.'
On another visit to Oltenia, village people reported her to the police for spreading 'religious propaganda.' A police truck picked her up and brought her in for questioning. As she shared her faith with the interrogator, she could see his attitude changing. He finally told her to get on the next bus out of town before his supervisors came back.
One of the members of the mission group was Traian Bogdan who had been risking his freedom and life for several years as part of Christian Solidarity International. He often visited families to pray with them after the father or son had been imprisoned, and brought them food and other assistance. Traian was tall and thin, with gentle brown eyes and a fair complexion, and Elena could only describe him as 'beautiful.' Within a few short months they were engaged and married in December, 1981.
And now what should have been a belated honeymoon was a journey of desperation. Instead of enjoying the glorious mountain scenery, far from the environmental desecration that the communists had inflicted upon this oil-rich country, they spent their energies trying to work out how to cross the border. The northeastern borders into Hungary and the Ukraine were heavily patrolled. The Danube, snaking between Yugoslavia and Romania for hundreds of miles, was carefully guarded by the Romanians, since Yugoslavia had a relatively open policy towards fugitives from Ceausescu's tyranny.
They never spent more than a week or two in the same place. Traian seemed to have a nose for the secret police, and when he said, 'Let's go,' Elena packed up and moved. Now and again they stayed with Christian friends whom they had visited in the past. How good to have a bath and 'real food.' How wonderful to catch up on news of family and friends. But always there was the constant preoccupation with, 'How are we going to get out of the country?'
Many times Elena said, 'Let's just go back home and face the risk of going to prison.' She had an overwhelming sense of deserting the people to whom God had called her. She pleaded with Traian, 'All of us .are fleeing when it gets tough. Who's going to stay here and tell these people about Jesus? The ones who are afraid to talk about him anyway? Let's just go to prison.'
But deep in her heart she was also afraid, not of prison itself, but what the secret police would do to brainwash and break her. 'They were demonically evil,' she states flatly. 'They would turn you into an informer- into one of their instruments, and control you by fear. That was something that at the time I did not feel I had enough emotional strength to overcome. And that was the only reason I still considered escaping the country.'
The beautiful spring moved into the summer. And Elena and Traian kept moving too. Sometimes he would leave her behind and find his way back to Bucharest, a city of over two million, where he could slip into the homes of friends unnoticed, trying to make plans or get the latest information on border conditions.
Late in the summer they spent ten days at the beach, relaxing in the sun, trying to forget what lay ahead. But for Elena this became a spiritual drought. After ten days she realized that she had not shared the love of Christ with any of the people they had been mingling with.
She began weeping, saying to Traian, 'I don't know what's wrong. Is there sin in my life, or maybe I'm not doing very well during my quiet time? I've not been able to share the gospel with anyone during these days.' She began to pray fervently, 'Lord if you don't need me, take me home, because the only reason I want to live is for you.'
Traian's prayer that day still rings in her ears, 'Lord, please help me to be worthy of my wife's call.' And she realized then how strong the call of God was upon her life, even stronger than self-preservation.
For a day Traian took over cooking and washing clothes, so that Elena could spend the time alone in prayer and Bible study. The next day was to be their last day on the beach. With joy and freedom in the spirit, she went around telling each person they had met about the Lord Jesus, and leaving Christian literature with them. She wasn't at all surprised that they responded with hunger and appreciation, promising to read the literature. God had prepared their hearts.
As the autumn and cold weather drew closer, Traian and Elena had to make a decision about their escape route. They could not live in a tent eating berries and weeds much longer. Every avenue of escape had its drawbacks. They could not agree. Finally they came to the conclusion that each should work out a way of escape and they would leave separately. It seemed sensible for Elena to leave first, so that if she were captured Traian could notify people in the west as well as exerting pressure from the Romanian side.
At first Elena shared her ideas with him, but he vetoed each one. 'I think I was a bit more of a risk-taker than Traian,' Elena explains. 'He was trying to find a method that would guarantee him a hundred percent success in his attempt to escape. There was no one hundred percent guarantee. You had to take risks. I told him, "Let's give God the chance to show his glory. Let's give him the chance to protect us and not try to do it all." , Traian agreed but added, 'Yes, but God gave us wisdom.'
By this time he had decided that one of the wisest ways to escape was by home-made submarine under the Danube. Elena refused to consider such an attempt, but Traian proceeded with his plans. He went to Bucharest where his friends helped him build a simple tube-like construction with an air pipe to the surface to take him across the Danube underwater. He and his friends drove a car back to the Danube with the contraption on top of the car. Only God knows why they were not stopped.
Elena can still point out the spot in a tributary of the Danube just north of Severin, where she lives today, where they slipped the 'submarine' into the water to test it. It sprang a leak and sank to the bottom!
By early October Elena had made up her mind to cross the Danube on an air-mattress. The thought was terrifying to her for she could not swim, and still remembered when she was almost drowned in the river at fourteen years of age. She and Traian were staying with friends in the town of Craiova. They decided to part there before Elena made her escape attempt. Traian was to return to Bucharest alone to continue researching ways to escape.
Did Elena have a sense of foreboding as they kissed each other the morning he left? They did not say goodbye to each other, but in her heart was the thought that they might not see each other again. However, she brushed it aside and sent him on his way. The sense of danger, apprehension and constant risk overcame the possibility of loss. They were both beyond awareness of their personal reactions. The situation had become so tense, it had to be brought to a close.
Now Elena's plans for escape were crystallizing. She asked her friends to give her an air-mattress to escape, but they refused. They feared that if she were caught the police would force her to tell them who gave her the air-mattress. And beyond that, they did not want to have the responsibility upon their shoulders if the attempt failed and Elena drowned.
The day before she planned to leave was spent in prayer and fasting. She felt as though her mind switched into neutral. She prayed, 'Lord, if you say no, no problem. I will stay here with my husband. And this is how I will know, if you give me the air-mattress by ten o'clock tomorrow morning. I believe you are going to express your will through these people. If they are afraid, fine, but I am going to give that to you.'
By nine o'clock the next morning, Elena had the air-mattress and was on her way. She had decided to cross the Danube from the back garden of her mother's home in Pescari. Though the river was more than a mile and a half wide at this point, she knew the banks well and was familiar with where the soldiers were positioned. A submerged island halfway across would give her a resting spot among exposed branches of trees. Also just across the river in Yugoslavia was a quarry. Often as a child she had been able to discern the movements of the workers on the other side, and she felt that if she headed there she had a better chance of being rescued once she landed.
But the journey from Craiova to Pescari was fraught with danger. She traveled by train from Craiova to the river. Then she took a commercial passenger boat to within seven kilometres of her home town. How would she explain the air-mattress in her suitcase if she were searched? What if the soldiers asked for her identification papers and recognized her? As she neared home, a greater fear crossed her mind. She could not let her mother or brother know what she was doing. They would stop her escape, convinced that she was safer with them than if she fled the country. And if anyone in town recognized her, and told her family, that would put them in danger if the police questioned them. So as she neared the town she asked the Lord to allow her to get to her mother's house without being seen.
Suddenly a heavy storm broke, driving everyone off the streets, and she was able to slip into her mother's back garden, and the hayloft above the house without being seen. She slept fitfully that night, imagining what it would be like to be downstairs in her mother's home, talking with the family, eating a hot meal. The next day she spent in prayer. At one time she heard a voice saying, 'May it be done according to your faith.' She remembers saying, 'Lord, please don't do it according to my faith, because I really don't have any. I believe in your grace and I am really depending on your grace.'
Another time Isaiah 41:10 came to her: 'Do not fear for I am with you. . . I will uphold you with MY righteous right hand.' (NASB) But the enemy told her that perhaps these were just coincidences - the air-mattress, the rain storm. 'And then the Lord gave me a vision of a white hand from heaven . . . reminding me that he would protect me with his righteous right hand.'
During that day she decided she had better be ready to hide under the hay, should anyone come up to the loft for anything. When she heard footsteps climbing the ladder, she covered herself, and her brother noticed nothing amiss. In fact when he finished his work, he jabbed the pitchfork into the hay, just missing her head.
As the darkness of the night settled around the village Elena crept down the hayloft stairs and through the back-garden to the river's edge. She had decided to use the back-garden gate to make a stronger raft, and to lift her air-mattress out of the water. She had come prepared with a few tools - a rope, a knife, a raincoat.
Standing on the edge of the dark waters, moving so swiftly past her, Elena could see the lights of the village, and the stars above. It was a brisk October evening and she shivered even before she pushed herself off from the shore. As soon as she hit the water the air-mattress submerged under her weight, drenching her. Surprisingly, the water was warm. It was difficult to steer the heavy gate towards the trees sticking out of the submerged island halfway across the river - her point of reference. Instead the fast-moving current began taking her east toward the curve in the river, and closer to the soldiers' lookout. The water had carried her beyond any hope of getting to those trees.
'Lord,' Elena cried out, 'you told me, "Fear not for I am with you; I will protect you and help you." And suddenly she found herself transported to the other bank, a short distance from the quarry. To this day she does not know how she got there. 'I believe that to be physically transferred to another place was a miracle. . . I was a Baptist and I did not expect miracles.'
As she pulled herself onto the steep shore of freedom, her body felt like lead. Exhausted, she could only lie on the bank thanking God that she had made it safely. Now she gathered her few belongings together and, shivering in the sharp night air, made her way to the quarry, hoping that some of the workers would hide her until she could make her way out of Yugoslavia.
But instead, they turned her over to the police. Yet how differently these police treated her. They gave her a uniform to wear while her clothes were drying, and a hot drink. The authorities held her for two weeks for illegal entry into the country, but she learned later that this was for her own safety. Ceauescu was paying a state visit to Yugoslavia at that time, and if she had been caught wandering around the country, she would have been returned to Romania post-haste.
Elena spent more than six months in refugee camps, most of the time in Italy, before her application to be admitted to the USA was granted. During that time she was able, through friends in Romania, to inform Traian of her safe arrival. They had previously agreed on contact points and even to use a false name, Victor, for her correspondence. In the ensuing months she received letters post-marked India, Sweden, and other countries, letters which Traian had given to 'underground' visitors in Romania to post for him.
In May, 1983 Elena entered the USA with refugee status. For some months she stayed with other Romanians who had fled their homeland, but she found an extreme paranoia among them. It was obvious to her that they suspected her of being an informer. The Communists used this tactic to divide and weaken the Christians, spreading rumors until it seemed everyone was suspicious of everyone else. It was especially hard for Elena because she could not speak English and was totally dependent on Traian's friends.
Eventually she was able to move to Chicago where she learned English rapidly. It was there in December that she received the fateful phone call from Romania, 'Traian is dead.'
Recent letters from him had told of several failed escape attempts. Once he had tried escaping on a train and the police had questioned him for 24 hours before letting him go. They had not realized that he was a hunted man, but from that point he sensed that his life was in danger. He moved to another safe house, but now the authorities knew he was in Bucharest. He wrote to Elena, 'If something happens to me and I die, please continue my ministry.'
Now the worst had happened. Traian had been missing for two months. He'd been hiding out with friends and had gone out to use a public phone to finalize arrangements for escape by ship on the Black Sea. He'd never returned. After two months without any word of his whereabouts, his body was found hanging in the attic of the very house of his friends where he'd been hiding. Those who found him said there were no signs of decay or that he bad died by hanging. They felt it was made to look like suicide but they were not allowed to have an autopsy done.
The taint of suicide still hangs over his death, though Elena does not believe it. She recalls Traian's words when another underground worker's body was found hanging in an outhouse. 'A Christian doesn't do that because this is a sin you can't repent from.'
Yet the news of his death was devastating. 'I felt so many times like throwing myself on the floor and crying and screaming. But God enabled me every time to fall on my knees instead.'
Elena had memorized much Scripture since she'd become a Christian just three short years earlier. Now Scripture flooded her mind - 'Thank God in all things, for this is his will concerning you.' But she cried out to God, 'Lord do you want me to give thanks for my husband's death?'
God seemed to say, 'Yes, if you believe that I love you so much that I gave my Son to die for you. Not only that, when you were wandering through the door of sin, I stretched my holy arm and I brought you out of sin and to the cross and cleansed you with the precious blood and blessed you with the Holy Spirit. Now that you are my child, do you believe that I love you less? If you believe that I am sovereign, and not one sparrow falls to the ground without my knowing it, would you be willing to trust me and thank me?'
During the hours of wrestling with God and dealing with the pain of her loss Elena decided not to remarry. 'I wanted to use all the time that God had invested in me to put back in his service. And I needed an answer. That was the time the Lord spoke to me through Isaiah 54: 4,5 "Do not be afraid; you will not suffer shame. Do not fear disgrace; you will not be humiliated. You will forget the shame of your youth and remember no more the reproach of your widowhood, for your Maker is your husband - the Lord Almighty is his name."
What was she to do with her life? She had no desire to work as an electrical engineer, but she had no income or permanent home. However a kind Romanian pastor's family had taken her in for a few months and at his suggestion she applied to Denver Seminary. Graciously the Lord provided a scholarship and a local church in Denver took her under its wing. Seeing no possibility of ever returning to Romania, Elena became an American citizen. After her graduation from seminary she took a job as associate pastor in a Denver church.
But the winds of revolution were stirring in eastern Europe. Elena felt God calling her back to work 'underground' from Austria and went through the process of applying to an American-based mission and raising support. By the time Elena returned to Europe the communist government had fallen and she was back in her beloved Romania.
In Bucharest, friends helped her find Traian's grave. She learned that several pastors had refused to conduct his funeral because it would place them under suspicion. And the one who did take the service was followed and questioned many times by the police.
As soon as possible, Elena headed back to Oltenia where she made contact with a pastor in the town of Severin, not far from the banks of the Danube. The spiritual darkness was as heavy as ever. Most Orthodox churches were cold and empty, except for holidays and weddings. The priests warned people against Protestant heretics. The sense of the occult and latent communist oppression permeated the community.
But Elena had come with a message of light and love, and her young adult group in the church mushroomed to more than a hundred. As she taught the word of God, these young people who had grown up under atheistic teaching, soaked in the truths of Scripture. However, as the work grew the pastor became more authoritarian, demanding that Elena wear a babushka on her head. 'It seemed he suddenly remembered that I was a woman and that I had to wear my scarf to cover my head and that I had to be quiet in the assembly. . . and that was not why I had came to Romania. If I had to be quiet I would have stayed in America because that was the best place in the world I have ever lived, and the years that I spent in Denver were the best years of my life. And that is when I realized that the issue of women in ministry was beginning to come up.' In 1993 Patrick Johnstone was to write about Romania in Operation World.
The 1989 revolution removed the Ceausescu 'dynasty' but not Marxist controls or attitudes. There remains a heaviness and pessimism because of unrelieved poverty and the deep wounds caused by the excesses and cruelty of the Ceasescu regime. .. Some leaders in the Orthodox Church oppose Protestant and foreign evangelistic outreach. One Orthodox leader has called Protestantism 'the biggest heresy in Europe. ' . . . The transition from severe persecution and restrictions to freedom to worship and witness has been difficult. Pray for flexibility and vision for the leadership and also wisdom in handling those of their number who openly or secretly served the atheist authorities in the past. . . Few pastors have had formal training. The Pentecostal churches are in a theological crisis: 80 percent of their number have had no formal training. The result is often petty legalism. . . Ethnic divisions infect Christians too. . . the shameful treatment of Gypsies needs an application of the Cross of Christ.1
A prominent Christian leader returned from ministering in Romanian churches and warned, 'Unless the Romanian church changes its attitude towards women in the church, women's influence by the year 2000 will be exactly zero.'
Elena was to experience the tensions of these observations in her ministry as she began to find her own way to serve God in Oltenia. Her mission gave her permission to start her own ministry - as long as it was not on the doorstep of the church, and as long as she did not take converts with her.
She rented a hall which seats one hundred and put an advertisement in the paper. The first week 45 people attended. After three months 13 were ready for baptism; three months later another 17, and so on until a hundred believers were meeting each week. It became clear to Elena that this was no longer simply a Bible study or discipling class, but was indeed a church.
Though people of all ages attended the meetings, most were young people who enjoyed the contemporary worship style she introduced and the practical applications of God's word. Her style of leadership attracted more educated young people - young people who dressed in slacks and jeans and girls with smart hairstyles and make-up. Elena observed that to many Christianity had become a subculture that seemed to declare 'godliness means ugliness.' But as Elena offered an alternative, God raised up some of the brightest young students to follow him.
Within six months Elena organized the Emmanuel Bible School so that young believers could be trained and discipled close to home. She formed the Emmanual Christian Mission and registered it with the government and was able to purchase two adjoining houses in the center of the city for classrooms. Professors from Denver Seminary and Columbia Biblical Seminary came to teach short-term courses. Very soon twenty students were enrolled in the program. Several showed such great potential that Elena planned to send them overseas for further training. This could only be a miracle of God in the poverty-stricken darkness of Oltenia.
Elena keeps short accounts with her students. High standards of godliness and confession of sin are part of the daily experiences at Emmanuel. Her home is open to all and she spends hours counseling students and members of her congregation. Sessions of prayer and repentance are common, for Elena constantly has to deal with her own sharp tongue and quick judgments. Yet she will be the first to confess when they are brought to her attention and expects the same of her disciples. 'I would rather have a sold-out team of very committed Christians than have a lot of them that do not understand and do not have a high regard for Christian values,' Elena explains.
Even as God was blessing and building the work in Severin, the enemy was seeking to destroy it. Elena began receiving criticism and rebuke from Christian leaders in other parts of the country because she was now pastoring her own church. She struggled with bitterness.
'I remember one instance when I felt so hurt in my heart by one of the leaders. It was so painful that I felt I couldn't pray for or love him. If I did pray for him, I would tell on him to the Lord. "Look, Lord at what my brother is doing!" But that was the moment that I realized a root of bitterness came into my heart and I had to say, "This is the time I have to stop praying for him and start praying for myself because I have a problem," , Elena confesses.
But matters were to get even worse. For as the work in Severin grew, her mission realized that not only had a church grown out of Elena's work, but that she was pas to ring that church. At a missions conference in Europe the matter came to a head with one of the mission leaders. 'When the issue of women in the ministry came up he became very emotional about it, and I have to admit that I had become emotional too,' Elena recalls. She did not want to leave the mission and grieved over the decision she had to make, for the mission insisted that a male missionary be sent to take her place.
So reluctantly she turned to her home church in Denver, which recognizes women in leadership, and came under the umbrella of its denominational mission. For some time Elena had found that her lack of ordination caused problems. Every time the church held a baptism, wedding or communion, she had to call in a pastor from another church. This caused confusion in the minds of her congregation. Is Elena our pastor or not? Sometimes she had to depend on leaders who were against her leadership. Before one baptism there was great discussion in the performing pastor's church about whether or not they should allow Elena's converts to 'desecrate their baptismal waters.'
Therefore when the mission of her home church agreed to become her umbrella organization, Elena decided to request ordination. She wrote:
'I believe that the ministry to which God has called me requires ordination. Some functions involved in this work, such as the observance of sacraments, cannot be lawfully performed without ordination. Likewise, the pastoral and teaching role in which I have been for the last two years is ordinarily filled by an ordained minister. Even though God, in his grace, has used me in the planting and developing of Emmanuel Evangelical Church of Severin, in order to continue with the vision God has given me, I would feel much more confident and thus more efficient, if I had the official recognition, blessing and authority of our presbytery.'
But while the local presbytery agreed to ordination, the denomination did not. Instead, a male missionary was sent to Severin with the full intention of becoming the senior pastor. For Elena this was a heartbreaking time, as the dissension affected congregation and students alike, causing some to leave. 'I asked the Lord to take me home because I saw the ministry being destroyed and I would rather die than see my baby die. And I had to learn my own lessons here, that it's not my work, it's God's work, and it's God's baby. And I had to learn to let go and to trust the Lord more.'
Elena's understanding of the biblical role of women in ministry is very basic.
God created male and female in his own image.
Though the woman was cursed, Deborah is an illustration of a woman leader. 'Why didn't God ask Lapidoth, her husband, to be the prophet and judge?' Elena asks. Instead God chose to speak through a woman.
In Christ we are equally saved, equally developed, equally gifted by the Holy Spirit, because the Lord has given gifts as he wills and not according to sex. 'One day the Lord will come and ask me, "What have you done with the talent that I have entrusted to you?" , she states. 'And on that day of judgment I cannot make excuses, "Lord, the men that you have given me did not allow me to use it." I am responsible before the Lord to invest those talents. . . and reproduce myself to the maximum into the kingdom of God.'
From her personal intuitive nature she understands God as an equally loving Father. 'I have a picture of my heavenly father, our Daddy, holding a boy and a girl on his lap. They are both his children on his knees and we both hug him and love him, and he holds us both. And I can't see him pushing the girl off his knee and saying, "You girl, get away, because I need to talk to my son a little bit." I am his child, and he paid the same price for me as he did for my brother in Christ.'
In spite of the disappointments Elena continued to reach out for new opportunities to share the gospel with her countrymen. Though not in her original plans, a contact with a Christian Gypsy woman opened up a whole new area of ministry. Gypsies have long been the despised and hated people of Europe. Hitler destroyed more than 500,000 Gypsies in the gas chambers during World War II. All the Gypsies of Lithuania, Estonia, Poland and Luxembourg were eradicated.
Romanian Gypsies number more than two million. But after the fall of Communism, Gypsies suffered violent persecution. Mobs burned their homes and beat their occupants sometimes to death. More than 150,000 Romanian Gypsies fled to Western Germany in 1991 and 1992- but most were deported and sent back.
Nomadic because of constant persecution, Gypsies today are settling into communities. They usually live in separate sections of town, with few amenities and jobs available to them. In recent years revival has broken out among Bulgarian and Romanian Gypsies and large congregations have grown. However, in Oltenia, Gypsies, remained unloved and unreached.
In December 1994, a Christian Gypsy woman died. Before her death she had requested that she have an evangelical funeral. Her family members came to Elena to ask if she would perform the funeral. Seeing this as a potential evangelism opportunity, Elena took a team of students with their musical instruments to the village of Garla-Mare, about two hours drive from Severin. Though the Gypsies speak their own Romany language, most adults also understand Romanian, so they were able to take in the message of God's love that Elena preached that day.
Elena and the team stood around the body in the home of the deceased, and Elena declared to them, 'I want you to know that the kingdom of God has entered your village and God has something very important to tell each one of you today.' The team sang, read the Scriptures and preached, and many eyes glistened with tears as the Spirit of God touched their lives.
When the funeral was over crowds formed around the team asking questions, 'How can we get rid of swearing? How can we get rid of alcohol?' The conviction of sin was upon them, and when Elena asked if they would like to meet regularly, they quickly assented. More than two hundred people came to the first meeting. The head man of the village had requested the use of the town hall since it was winter and miserably cold standing outside on the muddy ground. But before the first week's meeting, the Orthodox priest had gone from house to house telling people not to go to the meeting, and persuading the town council not to open the hall for a church. Instead the people crowded into the small Gypsy homes, filling three and four rooms with eager listeners week after week.
Elena found discipling the Gypsies difficult. Many made their living by stealing, so much so that the local Romanians ceased giving them jobs. Those who had gone to Germany to 'work' came back with stolen goods. Some of the men actually asked, 'Sister Elena, we have a problem now. How are we going to live? Now that we are Christians we can't steal any more and none of us has a job.'
When Elena asked from whom they stole they admitted they stole from each other, but most of the big stealing was from the government's collective farms. Elena believes this is a demonic stronghold for these people and she leads them through prayer and repentance and rejection of the powers of darkness.
When the first group of seventeen candidates was ready for baptism, the Bible school students spent a whole afternoon interviewing them. They reported that four of the candidates felt they did not pass the requirements. One man said he was going to Germany to 'work' and he didn't feel he should be baptized until he had that trip behind him because he was going to have to lie to cross the border.
Since the church in Garla- Mare started, a second Gypsy church in Punghina has started. This congregation is trying to build its own meeting hall. Elena appointed two teams of Bible school students to work with them every weekend. The Bible School closed for the '95/'96 school year so that students could do a year of church-planting under Elena's supervision.
The students live in Gypsy homes at weekends, suffering the attacks of fleas which seem to infest them, getting along without sanitation facilities and eating food provided by their hosts. But the rugged conditions don't seem to faze them. They teach adults to read, hold Bible classes for children, and continually lift biblical standards of honesty, integrity, forgiveness and a respectable work ethic before the people. Most Gypsy children in this region attend only a year or two of school, and the students try to convince their parents of the importance of education.
Elena has developed a heart of love she never knew she had for the Gypsies. But she is realistic enough to realize that only God can change a culture that has been passed from generation to generation for hundreds of years. 'I believe that the only thing that can change these people is the Gospel of Jesus Christ. They need to develop a new value system and experience inner healing. You need to develop a whole new generation of people to undo, to deprogram them from a lot of the dysfunctional patterns of life and thinking.'
In March, 1995, Dr. Norman Hoyt, head of the missions department at Columbia Bible Seminary, and his wife, Ginnie, returned for a second stint of teaching at Emmanuel. The Hoyts served not only as well-loved teachers, but as wise counselors for Elena. They recognized that it would be difficult for her to find an evangelical mission that would allow her to pastor a church and to appoint her female students as pastors in the church-planting ministry. They agreed to help her find an alternative so that she would not have to go through another painful change.
After spending five weeks teaching at Emmanuel, the Hoyts planned to leave for the United States on the 31st March. Elena had originally planned to return with them for deputation meetings, but because of her schedule decided to leave the day before. The shocking news reached her in Denver that the aircraft on which the Hoyts flew had crashed nine minutes after take-off from Bucharest airport. There were no survivors.
Elena returned to Romania a few weeks later to hold the Hoyts' funeral on the plaza outside the theatre where the Severin church meets. They were buried in the tiny Severin cemetery where a beautiful white marble tombstone reminds visitors that these American missionaries died serving Christ and loving Romanians. And Dr. Hoyt's promise was kept. Friends at Columbia formed an umbrella organization under which Elena can freely follow the call of God upon her heart.
Today Elena continues the dream she had first captured when she studied in Denver. 'I envision that this church in Severin will become the mother of many churches, and that the more this church grows, the more students it will equip. And the more students it equips the more churches we will plant. In that way we will fill the land of Oltenia with the gospel of Jesus Christ by means of saturation church-planting.' She adds, 'I don't have the concept of saturation church-planting down, but I sure understand the philosophy of it.'
Within a year of establishing the church in Gada-Mare, her dream seemed to be becoming a reality. The church began praying and making plans to plant five more Gypsy churches in other towns. Students began two more Gypsy churches in the villages of Recea and Danceu. Some of the Gypsy adults are already showing leadership qualities, and one young man is a student in the Bible school.
Elena knows that the tension over women in ministry will probably be a lifelong struggle - one that she has to learn to handle more graciously. 'I trust the Lord. I started this ministry from scratch. It's his work done through a woman. And I believe that what he started he will carry to completion.
'I did not go into anybody's ministry to divide it or to be divisive because of my sexual identity. And I have no intention of doing that. I will carry on the ministry the Lord has started to the degree that he will bless it and to the degree that he will strengthen me.
'My purpose is not to promote the kingdom of women, and not to promote my own program, but the kingdom of God. But I want all the men and women the Lord raises up within Emmanuel Christian Mission to be able to serve the Lord to their fullest potential and not be hindered by human opinions.'
Remembering the times when she has been deeply hurt by the cutting remarks and rejection of Christian leaders, Elena knows she must cast herself more fully on the Lord. She often prays, 'Lord, don't you feel how it hurts? Lord, give me joy. Help me to love them. Help me to pray for them.' Elena realizes that God is purifying her through the pain she suffers. 'It's not how badly they hurt me, but how 1 respond to that hurt that is important to the Lord.'
Notes
1 Patrick Johnstone, Operation World (Carlisle, U.K.: OM Publishing, 1995), 464.
How To Get Your Copy
To get your copy of the Denver Seminary Magazine, send an e-mail to Be sure to include your name, street address, city and zip code.
---
The Denver Seminary Magazine is published by the Advancement Office at Denver Seminary. It is printed four times per year and is available free of charge. It offers practical, knowledgeable articles written by faculty members and other experts of their fields. The goal of the magazine is to serve the needs of pastors and laypeople alike.