Denver Seminary Magazine: Spring 2012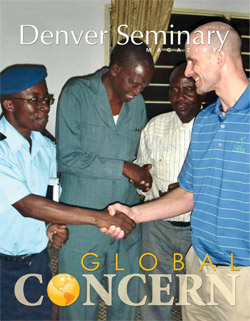 Information
Spring 2012 - Vol. 8 No 1
Online Version
Download the print version of this issue of Denver Seminary Magazine.
This issue of Denver Seminary Magazine explores the fifth and final core foundation of Dr. Mark Young's vision for the Seminary - global concern. This issue explores what it means to mirror the heart of God for the world, a central part of Denver Seminary's mission. There is no place on earth that lies beyond the scope of God's concern, no one who lives outside the boudaries of His love, and no soul that Christ did not die for. That is why our commitment to missions is deeply biblical, rationale, and urgent to our task.
We seek to make the uncomfortable realities of a blinded and broken world an abiding issue in our educational process and we will challenge ourselves to courageously face the indifference and self-indulgent tendencies that keep us from whole-hearted commitment to the mission of God in the world. In a more and more globally aware and connected world, the current generation of students are more easily able to deal with multiple cultural perspectives and complex ethnic and racial realities. This generation of students is better prepared for global engagment than any generation of Christians before it.
Read Denver Seminary's core commitments
How To Get Your Copy
To get your copy of the Denver Seminary Magazine, send an e-mail to Be sure to include your name, street address, city and zip code.
---
The Denver Seminary Magazine is published by the Advancement Office at Denver Seminary. It is printed four times per year and is available free of charge. It offers practical, knowledgeable articles written by faculty members and other experts of their fields. The goal of the magazine is to serve the needs of pastors and laypeople alike.