Denver Seminary Magazine: Spring 2013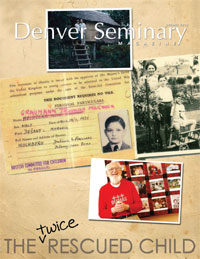 Information
Spring 2013 Vol. 9 No. 1
Online Version
Download the print version of this issue of Denver Seminary Magazine.
In this edition of Denver Seminary Magazine, you'll come face-to-face with folks that are compelled by Christ's love for the world. In reading their stories you may be tempted to think they're crazy for taking the risks that they did for the sake of the gospel. According to the world's values they probably are crazy, but they value something far greater than anything this world has to offer—the all-encompassing, never-ending love of Christ for the world.
Contents of Magazine
FEATURE: The Twice Rescued Child
by Pamela Burton
Denver Seminary alumnus Tom Graumann is a Czech Jew, naturalized American, Christian missionary to the Philippines, and one of the 669 children rescued by Nicholas Winton in 1939.
Changing the World,One Business at a Time
Alumnus Dave Terpstra, ministering in Mozambique
God's Tenacious Grace in My Life
By Erin Lloyd
Student Erin Lloyd shares how she came to Denver Seminary and what she will be doing once she graduates.
Training Hispanics in the Denver Area
It all began with a meeting at Starbucks
Preparing to Make a Difference
Interview with M.Div. student Angela Blattner
Chancellor's Corner
By Gordon MacDonald


Departments
Message from the President
Campus News
Alumni News
How To Get Your Copy
To get your copy of the Denver Seminary Magazine, send an e-mail to Be sure to include your name, street address, city and zip code.
---
The Denver Seminary Magazine is published by the Advancement Office at Denver Seminary. It is printed four times per year and is available free of charge. It offers practical, knowledgeable articles written by faculty members and other experts of their fields. The goal of the magazine is to serve the needs of pastors and laypeople alike.