Denver Seminary Magazine: Summer 2004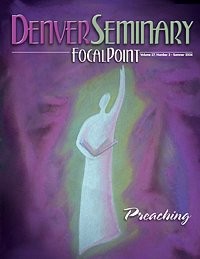 Information
Focal Point Vol. 27 no. 2
Online Version
Download the print version of this issue of Denver Seminary Magazine.
Finding Pre-Modern Help for Post-Modern Preaching
by Dave McClellan
This article sits on the page in your hands, frozen in time. As your eyes scan the shapes on the page, they instantly recognize the patterns of the letters. The letters form words. You could speak the words out loud if you needed to. But you're probably "speaking" them silently to yourself. You may think you're not speaking when you're reading, but test yourself. Try to read these words without, at least in your head, "hearing" them. It can't be done.
That's because while the invention of the alphabet (an ingeniously simple innovation in writing that allowed the "mapping" of sound) made verbal speech preservable, it is still only a record, an archive of spoken words. Sound is still primary in communication, despite the fact that the invention of text, and then later, printed text, has revolutionized the very way we process information, communicate it to others, and archive it for the future. This article, while arguing for the rediscovery of orality in communication, is dependent upon the very literate tools of alphabet, paper, and printing press for its distribution.
Literacy and orality have been using each other this way for at least 4,000 years. Ideas conceived and expressed in orality are documented and preserved with literacy. God has used the amazing power of literacy to accurately preserve His revelation to humankind. But Scripture itself is a blend of oral and written sources. When you read the passionate prayer of Solomon or the raging of Jeremiah or the anguish of the Psalmist, or Peter's sermon at Pentecost, or Paul's at Mars Hill, it's easy to "hear" the primary orality of the words. They were spoken before they were written. Jesus didn't Xerox the Sermon on the Mount and have His disciples pass it out. He spoke the words even as God "spoke" the universe into creation, and in these last days "has spoken to us" through His Son.
This raises an interesting question for contemporary preaching. Although our source, our text, is literate, how "textual" should the preacher be in the exposition of that text? One might think that all sermons (unless read verbatim from a manuscript) are orally based. Not necessarily so. Jesuit scholar Walter Ong has documented the ways literacy has shaped our modern thinking in pervasive ways (Orality and Literacy, Routledge 1988).
Textual preachers prepare their sermons surrounded by piles of books and downloaded articles. They prepare privately in monk-like seclusion. They craft an argument or central premise and support it with multiple points through extended argumentation. They refer constantly to a detailed set of notes to guide their delivery, and publish a version of those notes in the form of an outline, often projected with PowerPoint. The entire process is couched in literacy which was invented to archive and preserve a message, and endows the sermon with a sense of documentary authority. If it's on paper, it must be authoritative, right? But is that confusing the nature of the source of the sermon (Scriptural text), with the sermon itself? What would it look like if a preacher utilized the older resources of orality, and added those to the mix?
Oral preaching would be better modeled than described. Forcing orality into literate forms on this page somewhat cramps its style. Nevertheless, in general, an oral sermon would utilize dialogue as an integral part of its preparation. Rather than being researched in secrecy, foundational research in text is distilled to general ideas. Those ideas then go through an extensive cross-examination by a process that ancient orators of the Greek and Roman periods called "stasis." In stasis every implication of an idea is tested and refined both mentally and orally. A preacher talks about a scriptural idea until it becomes so familiar, so close to lived reality, that it becomes "owned." Those ideas are then processed in dialogue with others: staff members, elders, discipleship groups, worship leaders. Sometimes we don't know what we mean until we actually utter words. In speaking we find clarity. The sermon is "prepared" privately and publicly.
Oral preaching is also structured differently. Rather than relying on multiple points to buttress a central premise, it has a more narrative structure. That doesn't mean it's merely sprinkled with good stories. All sermons attempt that much. A narrative structure implies a sequence where one episode leads naturally, sequentially to the next. If a sermon's points can be rearranged sequentially without harm, it has no narrative (unfolding) structure.
Since that sequential narrative structure naturally unfolds, the sermon is more like telling a long story. Just as you don't normally forget how a story ends when you're in the middle of it, an oral preacher doesn't have to repeatedly return to notes to bolster and reinforce flow of thought. So the sermon can be exceptionally fluent, and gain the advantage of almost constant eye contact with the audience. Oral preachers evidence a credibility that comes through to an audience. The message "seems" owned by the preacher and not separate and disembodied. The preacher enjoys more freedom and less stress in delivery.
Given the fact that a sermon, as it is being delivered, is unquestionably an oral event, it would seem to make sense to utilize the strengths of orality in preparation and delivery. Preparing entirely in the world of paper and ink, and then expecting that preparation to magically transform into something oral at the point of delivery, seems naïve at best. The strengths of literacy are abundant and unquestioned, but perhaps not sufficient to entirely supply the preacher with the necessary resources for the oral environment. Indeed when we look for creative new ways to reach a post-modern culture, we might find unexpected help in the very ancient, pre-modern, art of orality.
---
Dave McClellan, Denver Seminary alumnus, is the pastor of The Chapel at Tinker's Creek in Aurora, Ohio and is finishing a Ph.D. in Communication and Rhetoric at Duquesne University.
How To Get Your Copy
To get your copy of the Denver Seminary Magazine, send an e-mail to Be sure to include your name, street address, city and zip code.
---
The Denver Seminary Magazine is published by the Advancement Office at Denver Seminary. It is printed four times per year and is available free of charge. It offers practical, knowledgeable articles written by faculty members and other experts of their fields. The goal of the magazine is to serve the needs of pastors and laypeople alike.