Denver Seminary Magazine: Summer/Fall 2008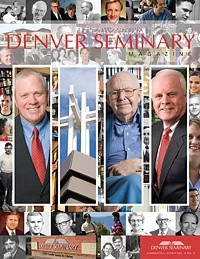 Information
Summer/Fall 2008 / Vol 4, number 2
Online Version
Download the print version of this issue of Denver Seminary Magazine.
If you would like to interact on a deeper level with any of the content in the Summer/Fall 2008 issue of Denver Seminary Magazine, we invite you to use the discussion/thought questions listed below, or join our online message forum to interact with the greater Denver Seminary community on these articles.
Also available online is the faculty travel schedule.
Corrections
In the Campus News section, Rev. David Kang's educational information and title were incorrectly reported. While Rev. Kang took several DMin courses, he did not actually complete the degree.
In the article regarding the Vernon Grounds Institute of Public Ethics, Kent Mathews last name was misspelled in one instance. Information about the Kent Mathews Endowed Lectureship in Christian Social Ethics.
Looking Back with Gratitude
Discussion Questions
What memories of your own experiences with the Seminary would you celebrate and look back with gratitude?

What pieces of Denver Seminary's history most excite you?

How do you see God working through those experiences?
A Call to Prayer
Please pray for our...
Board
...as they seek direction from the Lord to govern the institution and identify the next president.

Interim President, Provost and Vice Presidents
...that God would empower them by His Spirit to provide servant leadership for the Seminary.

Faculty and Staff
...to have wisdom to teach and strength to serve the needs of our campus community.

Mentors
...that God would grant them grace as they voluntarily journey with and provide spiritual guidance for our students.

Students
...may they learn and grow in our transformational educational settings and be shaped for effective service to our Lord Jesus Christ.

Alumni
...as they pastor churches and serve in other capacities, may each of them glorify God and adance the Gospel of Jesus Christ.

Friends
...that God would expand our circle of friends who give generously to support our mission and who pray faithfully for the Seminary.
Helpful Links from this Issue
How To Get Your Copy
To get your copy of the Denver Seminary Magazine, send an e-mail to Be sure to include your name, street address, city and zip code.
---
The Denver Seminary Magazine is published by the Advancement Office at Denver Seminary. It is printed four times per year and is available free of charge. It offers practical, knowledgeable articles written by faculty members and other experts of their fields. The goal of the magazine is to serve the needs of pastors and laypeople alike.