Denver Seminary Magazine: Winter 2007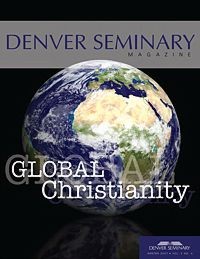 Information
Winter 2007 / Vol 3, Number 4
Online Version
Download the print version of this issue of Denver Seminary Magazine.
If you would like to interact on a deeper level with any of the content in the Winter 2007 issue of Denver Seminary Magazine, we invite you to use the discussion/thought questions listed below, or join our online message forum to interact with the greater Denver Seminary community on these articles. (Note: While anyone may read the posts in the forum, you will need to create an account and log in to post thoughts or messages to the online forum. Instructions are available in the forum.)
Also available online is the faculty travel schedule.
NOTE: Links to external sources are provided merely as a resource to Denver Seminary Magazine subscribers. They are not meant to imply endorsement by Denver Seminary or suggest that a relationship between Denver Seminary and the linked organization exists.
Latin American Christianity: There and Then...Here and Now
article by Dr. M. Daniel Carroll R.
Learn more about Dr. M. Daniel Carroll R.
Discussion Questions
Have you ever been to Latin America? In what context? Describe your experiences and what differences you witnessed between your own culture and theirs?
Are there any things that you witnessed that you wish American Christianity would embrace? (e.g., slower pace of life)
Resources
Many of these books are available from our Bookstore.
Crisis and Hope in Latin America: An Evangelical Perspective by Emilio A. Nuñez C. and William D. Taylor
The Other Spanish Christ by John MacKay
The Next Christendom: The Coming of Global Christianity by Philip Jenkins
Power, Politics and Pentecostals in Latin America by Edward L. Cleary and Hannah W. Stewart-Gambino
Evangelicals and Politics in Asia, Africa, and Latin America by Paul Freston
The Fundamental Factors for Christianity in South Korea
article by YoungSung Lee, student
Christianity in India: An American Perspective
article by DJ Turner
Discussion Questions
Describe a time when you experienced another culture or were immersed in an environment that was different from your own.
How did that experience change or expand your worldview?
Did or do you find it difficult to maintain that broader worldview? Why or why not?
Hope for Africa
article by DJ Turner
Discussion Questions
Have you or someone close to you ever been to Africa? If so, how did that experience change you (or them)? What did you learn?
How does your life here in America influence the way you view Christianity or the Bible?
In this article, Weedor describes the need to "undo the damage that the worldview has done in order to build and establish a biblical worldview." What is your reaction to that statement?
Do you think there is a difference between an American worldview and a biblical worldview? If yes, what are those differences? If not, why not?
Be of Good Courage
article by Sandy Widstrom
Discussion Questions
Have you ever experienced cultural persecution for what you believe? How did you respond to that?
What examples from the Bible show how God can overcome cultural boundaries?
Filipino Christianity
article by Dr. Heather Davediuk Gingrich
Resources
Phenomena and their interpretations: Landmark essays 1957-1989; J.C. Bulatao
Learn more about Dr. Heather Davediuk Gingrich
Identified with Christ
article by Sandy Widstrom
Discussion Questions
How do you define your Christian faith?
Do your race or your culture add to that definition? If yes, how so?
How do you think your church defines its identity? Do you see race or culture impacting or dividing your church? If so, what steps do you think could be taken to bring unity to your congregation?
Instilling a Global Perspective
article by Dr. Randy MacFarland
Resources
These books are available in our Bookstore.
Globalizing Theology: Belief and Practice in an Era of World Christianity; by Craig Ott and Harold A. Netland, editors
The Globalization of Theological Education; Robert A. Evans, David A Roozen and Alice Frazer Evans, editors
Advancement Pages
Other links from this issue
How To Get Your Copy
To get your copy of the Denver Seminary Magazine, send an e-mail to Be sure to include your name, street address, city and zip code.
---
The Denver Seminary Magazine is published by the Advancement Office at Denver Seminary. It is printed four times per year and is available free of charge. It offers practical, knowledgeable articles written by faculty members and other experts of their fields. The goal of the magazine is to serve the needs of pastors and laypeople alike.