Denver Seminary Magazine: Winter 2011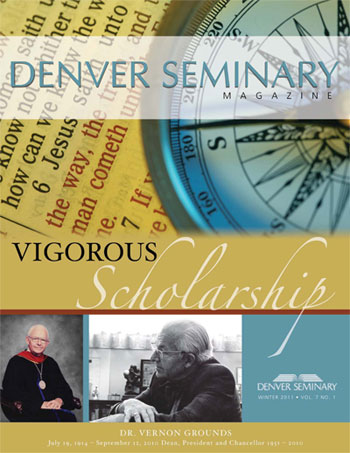 Information
Winter 2011 - Vol. 7 No. 1
Online Version
Download the print version of this issue of Denver Seminary Magazine.
This issue of Denver Seminary Magazine explores the second core foundation of Dr. Mark Young's vision for the Seminary-vigorous scholarship. At Denver Seminary, scholarship means knowing more and more about what matters-the real questions of real people in the real world. Included in the issue is a tribute to our beloved Dr. Vernon Grounds.
Read the messages and memories posted about Dr. Vernon Grounds
How To Get Your Copy
To get your copy of the Denver Seminary Magazine, send an e-mail to Be sure to include your name, street address, city and zip code.
---
The Denver Seminary Magazine is published by the Advancement Office at Denver Seminary. It is printed four times per year and is available free of charge. It offers practical, knowledgeable articles written by faculty members and other experts of their fields. The goal of the magazine is to serve the needs of pastors and laypeople alike.