June 2014 Two Day Adventure Preview
Thursday, June 12, 2014, 8:30 AM - Friday, June 13, 2014, 6:00 PM
Adventure Preview
Spend two-days at Denver Seminary, experiencing life on campus one day and enjoying the beautiful Colorado Rockies the next day!
Thursday, June 12: On Campus
You will have the chance to sit in on a class, tour the campus, and meet current students, faculty, and staff.
8:30 am - Welcome Breakfast with Admissions Department

8:45 am - Devotional

9:15 am - Denver Seminary History

9:45 am - Class Visit

11:00 am - Financial Aid

11:30 am - Training and Mentoring

12:00 pm - Faculty Welcome Lunch

1:00 pm - Campus Tour

2:00 pm - Community Life and Student Q&A Panel

3:00 pm - Application and Housing
Friday, June 13: Hike to Loch Vale in Rocky Mountain National Park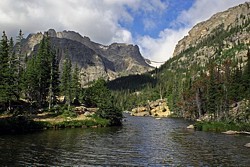 Enjoy a moderate hike to a spectacular alpine lake in Rocky Mountain National Park. Loch Vale and the hike up offer an incredible opportunity to enjoy God's creation: aspen, evergreen forest, mountain streams and towering peaks. This trip is sponsored by Expedition Backcountry Adventures.

To plan your trip and make overnight reservations, please click here.
Register for the two day adventure preview
If you would prefer, you can register for the campus daytime preview only.