Denver Seminary Appoints Missiologist-in-Residence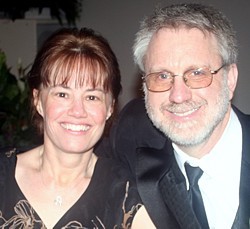 Scott Klingsmith with his wife, Carol
Denver Seminary is pleased to announce that effective August 15, 2009 Dr. Scott Klingsmith will begin serving as Missiologist-in-Residence at Denver Seminary.
Scott is a 1986 graduate of Denver Seminary. He has a PhD in Intercultural Studies from Trinity International University. He has served with World Venture in Vienna, Austria since 1985. He will spend roughly 30 percent of his time with World Venture and 70 percent of his time with Denver Seminary, working closely with Dr. Alex Mekonnen.
Scott and his wife, Carol, will interface with members of our community in a number of ways. He will:
teach at least one course each semester,
work with us to further develop our offerings in intercultural ministry,
participate in student mission gatherings as available,
participate in the training and mentoring program as available,
and more.
The memo of understanding that was signed on March 17, 2009, by Drs. Klingsmith, Finzel, Mekonnen and MacFarland represents another step in advancing the historical partnership between World Venture and Denver Seminary.
About Dr. Scott Klingsmith
Dr. Scott Klingsmith received his PhD from Trinity International University, an MDiv from Denver Seminary, and a BA from Colorado State University. He has extensive teaching experience around the world, including places like Austria, Czech Republic, Ukraine, Bosnia, Germany, Hungary, Canada, Romania, India, and the U.S. He has written several papers and articles on the missions and missiology and has participated in several missions-related conferences and seminars. He fluently speaks English, German and Romanian. Dr. Klingsmith is a member of the Central and Eastern European Association for Mission Studies, the American Society of Missiology, the World Evangelical Alliance Missions Commission, and the Evangelical Missiological Society.