Guatemala: A Land of Contradictions
Introduction
As an Associate Professor of Counseling at Denver Seminary in the beautiful city of Littleton, Colorado, I live quite a sheltered life. God has been very good to my family and provided more than we could ever need. For two weeks this summer, my wife Jan and I had the opportunity to spend time in Guatemala City, Guatemala, experiencing and observing a much different way of life. We were privileged to travel with my colleague, Danny Carroll, Distinguished Professor of Old Testament at Denver Seminary, and seven Denver Seminary students to SETECA, a Central American evangelical seminary, to be a part of a class they were taking there.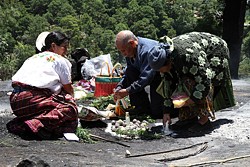 Rather than a vacation, this experience was meant to be a thorough exposure to the culture and context of this country. Danny takes great pride in his beloved Guatemala and he feels very passionately about it. From the indigenous people to the Americanized two-story fast food chain restaurants…from the inner-city parks to large academic institutions…from the poverty-stricken areas to the affluent suburbs…from the gang-infested ravines to the mega-churches on the hill…Danny showed us all aspects of the people of Guatemala and the country's many facets.
Neither my wife nor I had been to Guatemala before, and as each day unfolded, the depth of depravity and poverty in the nation became clearer. Yet amidst all this pain and suffering, a picture of a remarkable people began to emerge…a people who are truly gracious, kind, and honorable; a people who seek a better life; and a people who are reaching out to Christ in huge numbers.
The Context of the Class
The experience in Guatemala was set in the context of the course Danny was teaching on reading the Bible contextually. The class focused on the perspectives each of us brings to the Bible based on our culture, our experience, and our understanding of the world around us, especially in terms of our evangelical call to share God's Word with others. As the group went out into Guatemala, we discovered how clearly our cultural context shapes the theological lens that we bring to our understanding of Scripture.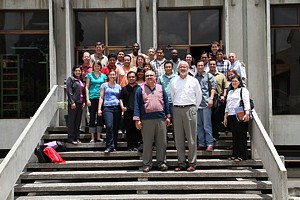 One of the most valuable aspects of the class was the variety of backgrounds present in the participants. There were Latin American students from numerous countries: Guatemala, Peru, Bolivia, Uruguay, Chile, Cuba, Honduras, Nicaragua, and Argentina, as well as a student from Haiti. By understanding the varying contexts of the people we met in Guatemala, we learned to be sensitive to the perspective that others bring to the text through reading the Bible. We came to realize that in order to share the Gospel, we must understand the way that those we share it with will hear it.
The Variety of Experience
We were exposed to many aspects of Guatemalan society. The students experienced an intensely moving worship experience in La Limonada, a gang-infested ravine community of tin shacks where, despite the violence and poverty, the people displayed an intense devotion to their faith, and the Holy Spirit was present and alive. The group spent a day traveling to Chichicasteanga, a mountain village where the Mayan and Catholic religions have become so entwined that we watched a Mayan priest perform rituals while praying to Mary and Jesus at the same time. In stark contrast, we visited a new shopping mall filled with high-end American stores, restaurants and 5-star hotels; large universities with brand new video equipment in classrooms; and beautiful mega-churches that hold 10,000 people. Communities where people exist in absolute poverty, living off other people's trash; where packs of dogs run wild; and where gangs control the neighborhoods are just a short walk from high-rise hotels and beautiful homes shielded from crime by armed security guards, layers of barbed wire, and huge cement walls and reinforced steel gates.
The Violence of Guatemala
The violence in the country is readily visible. Most stores have armed security guards holding rifles to protect their storefronts and we saw men armed with shotguns riding in the passenger seat of pickup trucks. Jan was surprised to see so many guns in public view. Compared to the armed conflicts of the country that ended barely a decade ago, the military is much less visible, but gang violence and crime is pervasive. Even Danny was surprised that areas into which he had previously been allowed to take students were now off limits. During our stay, several students were awakened by gunfire at night. The local students told us that on one of the nights, a young lady was shot to death just two blocks from the seminary. Tragically, the student told us the woman's body lay on the ground for six hours before anyone attended to it.
A Nation of Contradictions
Everywhere you look in Guatemala, there are contradictions. Brand-new SUVs drive down the same street with converted school buses so overcrowded that people are hanging out the doors. A young boy who is gaunt from hunger wears a discarded Tommy Hilfiger sweatshirt. 5-star hotels that serve the finest food in the most luxurious accommodations sit only a short distance from areas of abject poverty, where finding a way to provide rice and beans for the family is a good day. Massive, two-story, fast-food restaurants (Burger King®, Wendy's®, McDonald's® and Pizza Hut®) sit in stark contrast to the thousands of street vendors selling their wares.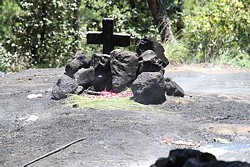 Religious contradictions also abound. Inside a huge Catholic cathedral in the mountain village of Chichicastenango people conduct Mayan rituals throughout the week while Mass is celebrated in the same building by Catholic priests on Sunday. Witch doctors leave dead birds on the steps of the Methodist Church, and on the high place above the city, the Mayan altar has a stone cross atop the very stone they worship as their god. In Guatemala City, huge mega-churches that hold up to 10,000 people sit across from shanty towns made of tin walls that wash away in the heavy rains.
This is a country with a complex social and political structure that must be understood if one wishes to even attempt to make sense of the context of the people who live and work here. For Jan and me, our trip to visit the children of the city dump and our interactions at a gathering of people from the indigenous mountain towns and Guatemala City helped us understand these contradictions in new ways.
A Community of "Scavengers" – Life on the Garbage Dump
One of the starkest contrasts in the city can be found at the National Cemetery. In Guatemala City, the people cannot be buried underground in the Cemetery due to earthquakes, so everyone is buried above ground. They have to "rent" mausoleum sites for their coffins, but many cannot pay. If you can't pay to rent your spot, they take the remains out, dump the bones in a big hole at the back of the cemetery, and throw the rest of the remains into the adjacent dump. The lack of dignity that the people of Guatemala must endure continues even after death.
Danny took us to the very back edge of the cemetery. The city garbage dump, the largest trash dump outside of Brazil in all of Latin American, sits in a huge ravine in the middle of Guatemala City. It has now stretched out so far that it runs right up to the back rim of the National Cemetery.
Hundreds of vultures circle the sky in threatening descending spirals. When you follow them down to their destination, you realize that thousands of their fellow creatures have landed on the massive dump, interspersed with packs of vicious dogs, all centered around this huge pile of refuse. It is then that your eyes see what they cannot believe…amidst this landscape of desolation, there are human beings sorting through the trash and actually living in huts and shacks around the dump itself.
You see people drive trucks into the mass of vultures to dump garbage as men, women, and children scurry over the mounds of garbage to find food they can eat or items to try and take back out and sell. This is where families live, work, and die with very little hope of every escaping the poverty. The despair lingers…The stench is overwhelming and seeps into your clothing even from a distance, but by God's grace, we get to go home, take a shower, and wash away the smell. The men, women, and children who live here have nowhere else to go, as this is their home.
"Scavengers" or "Treasures"?
We were privileged to spend much of one afternoon at a ministry to the children of the dump called "The Potter's House." You can read more about this wonderful ministry at their website – www.pottershouse.org.GT. The people who live in the dump have been named "Scavengers," discarded and rejected even by those in their own city. This ministry to the children was actually started by two Guatemalan psychologists who believed the first step in helping these children was to suggest to them that they are "Treasures" (as in Treasured from Heaven) rather than "Scavengers." These ladies believed that the children could learn to see themselves as valued and treasured children of God. The staff at The Potter's House teach the children basic self-care skills (such as how to use a toilet and wash their hands) and they help them learn to follow rules and provide a classroom education for them.
They tell us that the children come to them defining themselves as "trash" because they see themselves as no better than the garbage they live in. In fact, by the time the garbage gets to the dump, all the bags have already been torn open and sorted through in the trucks, so even the trash these people sort through is "second-hand" trash.
Many of the students played soccer with the children, and some of us sat and taught the children the names of colors of crayons. Some were proud of their accomplishments, while others lacked even the most basic level of self-confidence. One young girl had been taught that being "obedient" was good, and she greeted everyone by saying, "Ola! I am obedient!" with a smile that melted everyone's hearts.
This was an experience that touched my wife, Jan, deeply. When we talked about the children later, she shared the following:
"I would have taken them home if I could have. These children are the lucky ones, as they have a chance to see what lies beyond the dump and to be told that they can see themselves as treasures from heaven. They gravitated to us like moths to a flame and soaked up the attention from us. When you look into their eyes you see hope, faith, and a promise of a better life. Yet, each night these precious children leave the haven of their school and slip back into the dump and into a world they may never leave."
As we return home she is wrestling with what she feels called to do in response to what she has seen.
There are 200 children that go to school at this ministry, so we initially thought that the ministry was helping a large percentage of the children who live and work in the dump. However, we were shocked to hear that there are 10,000 people who live in the dump and 6,000 of those are children, so these 200 are only a drop in the bucket. .
We did spend a good deal of time with an indigenous woman who had lived and worked on the dump for many years. We learned that the community is organized with community leaders, assigned jobs, and individual responsibilities. She was so grateful for her cleaning job with Potter's House. Interestingly, she believes that her sons have become "successful" because rather than sorting through the trash on the dump itself, they drive a truck in and out. Her biggest fear now is that she is getting older, and if she can no longer physically able to maintain her job with the ministry, she is afraid she will have to return to live in the dump.
Bring it Closer to Home
This coming academic year, the Vernon Grounds Institute of Public Ethics will focus on the topic of illegal immigration. This experience shines a new light on that issue for Jan and I. Regardless of your political view about this issue, think for a moment about the reality of life on the dump in Guatemala City. Can you look out from their eyes and see how you would take advantage of any opportunity, whether it was legal or illegal, to give your children a chance to escape the depravity of living in trash? Crossing a border illegally takes on a whole new light when you see the unbearable conditions the children live in. The literature from The Potter's House, with pictures of the conditions, shouts in huge capital letters, "THIS IS UNACCEPTABLE!" Truly, no human being should have to live this way, and The Potter's House is trying to provide at least some of the children a way out.
One last thought…You have undoubtedly heard of huge mudslides injuring people during major storms. In Colorado, we deal with large rock slides and avalanches in the Rocky Mountains. However, the people living in the city dump in Guatemala City deal with a different type of danger. During the tropical storm a few weeks ago, three people were killed by a "garbage slide" as they were buried alive in the trash and died. To spend your last moments buried alive in trash is a depth of poverty that is simply unacceptable.
A Chance to Speak with the Indigenous People
Through God's Providence, we were presented with another amazing opportunity on this trip. Six months before our trip, a group of pastors had planned a conference that occurred over one of the weekends we were in Guatemala. Churches from many indigenous mountain cities, where many of the people practice the Mayan religion, and from Guatemala City, had asked for the conference to be focused on marriage due to the high levels of physical abuse, infidelity, and marital conflict they were experiencing. One of these pastors was a student in Danny's class who learned of our passion for marriage and asked us to speak at the conference to the approximately 300 or so people gathered. Pastor José, a wonderful Christian brother, and his family were our hosts for the day and we spent some wonderful time with their family after the conference.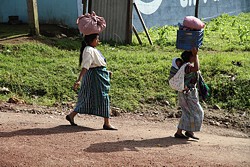 Each village, many of whom were Mayan in ancestry and language, had been brought by bus, many from long distances, to learn what God's Word has to say about how they should treat their spouses. It was our privilege to share Biblical principles that God placed on our hears. We shared our thoughts about God's plan for committed, graceful, selfless marriages in which partners build each other up instead of tearing each other down. We shared how Paul's letter to the Ephesians teaches us about mutual respect and submission and what his letter to the Colossians says about forgiveness and grace. I shared examples of how couples can work together with honor, respect, and dignity, and I even got some laughs when I used a universal World Cup soccer analogy, as the World Cup is a huge deal here.
A wonderful young lady interpreted for us, and many others in the crowd then interpreted again in Mayan to those who didn't know Spanish. Each individual village came dressed in their traditional indigenous outfits to show their pride in their culture and heritage. This was the first time village pastors and leaders had met together with so many different churches to discuss principles of Christian living and working.
The women seemed especially surprised when Jan told them that God loves women and men the same and that spouses should both treat each other with respect and kindness. When I shared that we had learned so much about warmth and kindness and love from the Guatemalan people and that America had much to learn from Guatemala, they actually stopped the presentation to clap for us. Danny told us later that they may never have heard an American share that we have a great deal to learn from them and that they have much they can offer us.
We were honored by the response of these wonderful people who gave us warm hugs of gratitude, kisses on the cheek, and gifts of fruit and candy. The pastor's wife said she knew the people appreciated what we shared, as she said, "We can tell when a message has been well received, as after the gathering the people are happy and are smiling and sharing warmth, and you can see that is how they feel."
Although these people were thanking us for teaching them Biblical principles about marriage, they were the ones who had traveled so far to listen to us speak, and they touched us more than they will ever know. You are never really the same when you encounter people like that. Danny thought it may have been the first time that the women were empowered and told they were equal in God's eyes or that the men were told that God expects them to treat their wives with the depth of love and sacrifice that Christ has shown us. Spending the day with them was a privilege that neither Jan nor I will soon forget.
What We Take Home With Us
Our time in Guatemala has helped us see how important it is to understand a people and their world before you can share with them. The world that we live in shapes the way they think of God and our understanding of who and what He is. Jan will take back new ways of understanding people in her work as a school teacher, and I will return with a new appreciation for the context that my students and clients come from and within which they hear and process what we discuss. We are both truly grateful to Danny Carroll and to Denver Seminary for this opportunity to immerse ourselves in another part of God's world and see the amazing work that God and His people are doing in the midst of the challenges this country faces.