The Passing of Mrs. Ann Grounds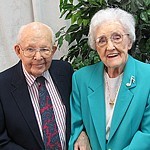 We were saddened to learn that Mrs. Ann Grounds was taken into the presence of our Heavenly Father, Thursday afternoon, April 14th in Wichita, KS. Alongside her husband of seventy-one years, Dr. Vernon Grounds, Ann has left a lasting legacy of wisdom, compassion, and hospitality at Denver Seminary. Hundreds of young piano students learned from her gentle touch and warm heart. She was a beloved member of the Denver Seminary community, providing inspiration through her life of faith and sacrifice. We grieve this loss and find comfort in the certainty that she has joined the love of her life in the Presence of the Lord they both faithfully served.
Funeral services will be held on Wednesday, April 20th at 2:00 p.m.at the Olinger Chapel Hill Mortuary and Cemetery. Directions can be found here. A public viewing is being held Tuesday, April 19th from 5:00 – 7:00 p.m. at the Olinger Chapel Hill Mortuary as well.
Please be in prayer for Barb and Bob Owen, the Grounds' daughter and son-in-law, and Emily and Mike Gagnebin, their granddaughter and her husband, with their two sons, Noah and Eli.
To view the official obituary and a slideshow of Mrs. Grounds life, or to leave your condolescences, please go here:
http://obits.dignitymemorial.com/dignity-memorial/obituary.aspx?n=Ann-Grounds&lc=2556&pid=150401835&mid=4639201&locale=en-US

In lieu of flowers, donations be made to Denver Seminary for the Vernon C. Grounds Memorial Fund. Gifts can be made by mail or online at http://www.denverseminary.edu/friends/giving/