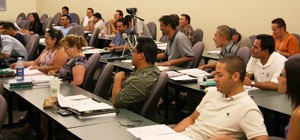 Welcome to Denver Seminary!
Denver Seminary is a graduate level theological school geared toward those who are called to be leaders, whether in church, parachurch ministries or in the corporate world. We offer a vibrant evangelical environment in which you are free to do your own thinking within the limits laid down by Scripture. Denver Seminary prepares men and women to engage the needs of the world with the redemptive power of the gospel and the life-changing truth of Scripture.
Through our educational programs and mentoring process the seminary challenges students to grow spiritually, intellectually, and professionally in order to lead God's people in the accomplishment of His mission in the world. We stand ready to help you find your God-given giftedness, fulfill your call in God's kingdom and increase your ability to impact our world.
Denver Seminaries Hispanic Initiatives
The Denver Seminary Hispanic Initiatives is led by Director Wilmer Ramirez and includes these four key programs:
Hispanic Initiatives in Español (entire page option in spanish?)

For more information about Denver Seminary, contact us at 800.922.3040 or