Resources
Whether or not you are a student, alumnus or friend of Denver Seminary, there are several resources available to those in the Denver Metro Community.
The Denver Journal
An Online Review of Current Biblical and Theological Studies.
Recent Posts
posted 03/10/2014 by Craig Blomberg
posted 03/10/2014 by R. W. L. Moberly
Fall 2013 Vol. 1 No. 1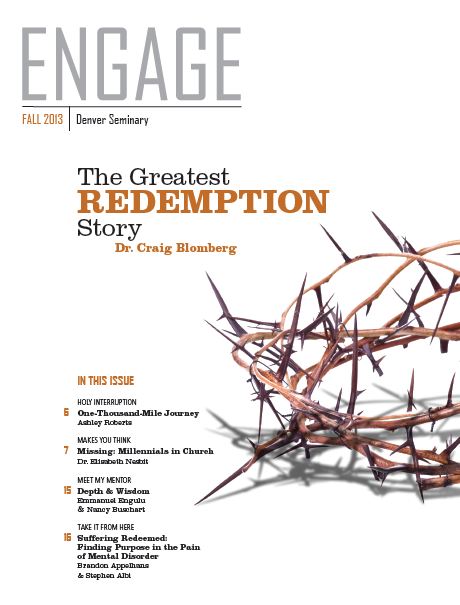 Denver Seminary Magazine
The latest edition of the Denver Seminary Magazine is available!
Subscribe for Free
To receive free email notification when the Engage is posted online, fill out the e-subscription form. To start a free postal subscription to the Engage magazine, send an e-mail to Be sure to include your name, street address, city and zip code.
Shepherd's Gate Counseling Center
Offering biblical counseling to the Denver area
A warm, caring community counseling clinic that offers low-cost counseling services to individuals in the Denver metro area. We serve adults, teens, children and families. Clients receive professional expertise and personal attention from our qualified staff of graduate counseling students, who are trained in the most current therapy techniques and are grounded in solid theological understanding of the Bible. Our counselors are selected for their giftedness and commitment to Christ. All staff are supervised by licensed faculty. More info