Dr. Vernon C. Grounds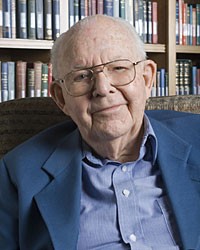 Vernon Carl Grounds was born and educated in New Jersey. A Phi Beta Kappa graduate, he received a B.A. from Rutgers University. His B.D. was granted by Faith Theological Seminary and a Ph.D. from Drew University. Wheaton College awarded him an honorary D.D. and Gordon College an L.H.D. in recognition of his long service as a Christian educator and leader.
For 10 years he pastored the Gospel Tabernacle in Paterson, New Jersey, during which time he taught at the American Seminary of the Bible, the Hawthorne Evening Bible School, and King's College. From 1945 to 1951, he was dean and professor of theology at Baptist Bible Seminary in Johnson City, New York. He joined Denver Conservative Baptist Seminary in 1951 as dean, becoming president five years later. Retiring from that position in 1979, he continued to teach at the Seminary in areas of ethics and counseling and is now the Cauwels Professor Emeritus of Pastoral Care and Christian Ethics. In January 1993, he was officially named chancellor of the Seminary. For many years he also carried on a ministry at the Grounds Counseling Center.
Dr. Grounds has traveled extensively, preaching in hundreds of churches and lecturing at colleges, universities, and seminaries all across the country as well as Europe and Latin America.
Author of The Reason for Our Hope, Evangelicalism and Social Responsibility, Revolution and the Christian Faith, Emotional Problems and the Gospel, and Radical Commitment (republished under the title YBH—Yes, But How?), Dr. Grounds coauthored Is God Dead? and has contributed to a number of symposia and encyclopedias. His articles appear frequently in Christian periodicals and he regularly contributes devotionals to Our Daily Bread.
Dr. Grounds passed away on October 10, 2010. To read a reflection on his passing, please see this page.