Grounds Institute Event Archives
Event Archives
Since 2008/2009, the Institute has decided on a theme for the coming academic year. The theme is fleshed out in a series of three events: The Kent Mathews Lectureship in the fall, the Rally for the Common Good in winter and the Salt & Light Seminar in the spring. The year concludes with the publishing of a book on the theme of the year.
To view what has been done in the past, please see the links below.
Inaugural Year of the Institute 2008/2009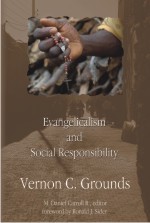 The inaugural year of the Institute, 2008/2009, focused on the "Christian Concern for Our Common Life," which is a slight modification of the title of a lecture Dr. Grounds gave at Harvard in 1981. We feel that since the Institute was established in his honor, it was very appropriate to launch it with a challenge that he never tired of issuing to the evangelical community, namely, the necessity of intertwining evangelical theology with a robust and full-orbed ethical witness in the public square.
The Institute's launch in the Fall of 2008 included two notable speakers for the Kent Mathews Endowed Lectureship on Social Ethics, which is an important part of the Institute. They were Dr. Ron Sider, president of Evagelicals for Social Action, and Dr. Darrell Bock, professor of New Testament at Dallas Theological Seminary.
The launch also included the presentation of a reprinted version of Vernon Grounds' Evangelicalism and Social Responsibility. A booklet written by Dr. Grounds nearly 40 years ago. You may download a free .pdf version of the booklet here: Evangelicalism and Social Responsibility.
2008/2009 Events
Salt & Light Seminar
The Salt & Light Seminar is designed for collective learning for mutual empowerment and maximum social impact. The 2008/2009 seminar centered around the question, "How can faith prompt politics to great faithfulness?"
Rally for the Common Good
In 2009, the Vernon Grounds Institute of Public Ethics teamed up with Denver Seminary's African American Initiatives (now Urban Initiatives) program to host the Rally for the Common Good.
Listen to the "Thinking Christians Talking Politics" Dialog
This dialog between Dan Breed (alumnus, MDiv '06) and Craig Blomberg (Distinguished Professor of New Testament) on October 23, 2008, explored what these two thinking Christians have in common and what separates them in their support of Senators McCain and Obama for the presidency.
Please Note: Denver Seminary does not take a political position and remains non-partisan when it comes to political issues.
Listen to the Presentations from the Institute's launch in October 2008