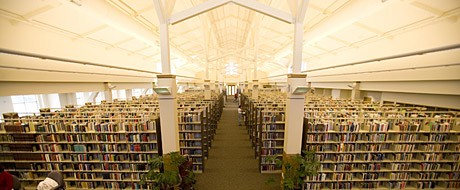 Our Library
Carey S. Thomas Library
Welcome to Carey S. Thomas Library of Denver Seminary. If you are in the Denver area, we invite you to stop by to see the wonderful library facility the Lord has provided. The library is part of the Paul and Marjorie Lewan Learning Resource Center, which is building 300 at the north end of campus. The Vernon C. Grounds Reading Room and Chancellor's office are both located in the west end of the library. The library collections include over 175,000 books and bound periodicals.
Have you "liked" us on Facebook yet?

BOOK ADOPTION ZONE!!! The Zone has been overturned and "new" used books have been restocked. The recommended donation is $4.00 for hardbacks and $2.00 for paperbacks.
Library accounts are available free of charge for all Denver Seminary students (including distance students), faculty, staff and graduates. Accounts are also available for the general public, clergy, graduate students at ATS institutions and other local theological schools, although they may have some associated fees and/or restrictions. Please check with the for detailed information. Applications will be accepted online but must be completed in person at the library within 30 days of online application submission. (Distance students should send an to the library after submitting the online application. The email should include student ID and contact information.)
We recently upgraded to a new library system. Updated tutorials are available through the links below. For issues involving access to your account through the catalog, please try using the entire library barcode for your user ID and enter your current PIN (if you opened your account prior to 2011, the PIN is probably your phone number without the area code and without the dash. If you opened your account in 2011 or later, you probably chose your own PIN.) For more information about accessing your library account, click here or contact the for assistance. To set up an EZlogin or reset your PIN, check here. To suggest a new item for the library's collection, contact our .
Mobile Access - Connect your mobile device (iPhone, iPod, iPad or Android) to our Library. Just access our LS2PAC via the browser on your mobile device for access to our library's PAC (Public Access Catalog) where you can search for a title, place holds, renew items you have checked out (if not already renewed or on hold for another patron) or check your account status (loans, holds, fines, etc.) With just a few clicks, you can have your library in your back pocket!!
TUTORIALS for using our online catalog (2 variations):
Search these databases for full-text articles, journal citations, and other resources. Remote access is available for Denver Seminary students, faculty and staff. Click here for more information.
EBSCOhost Mobile is here! Search our EBSCO databases from your smartphone. The new EBSCOhost application is tailor-made for the smaller screens of mobile devices, and offers the most important EBSCOhost features and functionality, right in the palm of your hand! To get started on using your mobile device to access your EBSCOhost resources, simply review this FAQ . Contact the if you need additional help.
TUTORIALS for searching:
Library Carrel Lockers
A limited number of carrel lockers are available for use (by semester) upon submission and approval of an application form and payment of a $20.00 deposit. Any remaining lockers may be rented on a daily or weekly basis upon payment of a $5.00 or $10.00 deposit. The deposit will be refunded when the locker key (and attached lanyard) is returned to the library circulation desk on time at the end of the lease. Library materials stored in carrel lockers must be checked out to the student leasing the locker. Library books found in carrel lockers that have not been checked out will result in immediate termination of the lease and loss of locker deposit. Please stop by the circulation desk for more information.
Bibliographic Guides
See the Denver Journal for departmental bibliographic guidance.
Contact
General:

303-762-6962


Reference:

303-762-6961


Interlibrary loan:

303-762-6985


Postal mail:

6399 South Santa Fe Drive
Littleton, CO 80120

Fax:

303-762-6950
About The Carey S. Thomas Library
Named after Dr. Carey S. Thomas, who served as the first president of the seminary from 1951 to 1955, the library is made up of volumes carefully selected to provide the best in theological and scholarly literature as an undergirding for the school's curriculum.
The Mission of the Carey S. Thomas Library and its staff is to serve the Denver Seminary community by providing and facilitating access to information in support of the seminary's curriculum, research and training.
Library Announcements and Policies
Library Staff - Who Does What?