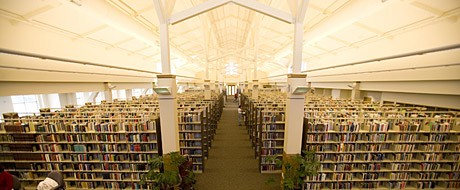 Collections
Collections
Books
The library is made up of volumes carefully selected to provide the best in theological and scholarly literature as an undergirding for the school's curriculum. The present collection of books totals over 175,000 volumes.
Search the Online Catalog.
E-Books
Currently, the library delivers E-books via two platforms - EBSCO and OverDrive. Some E-books are only deliverable to your desktop, laptop, or tablet; some to E-Readers; and some to both. Learn about our E-Book options here.
Periodicals
The library currently subscribes to approximately 250 periodicals. Recent issues are in the Current Periodical Reading Area. Earlier bound volumes - including back runs of approximately 700 other titles - are located in the Bound Periodicals area. Unbound back issues may be requested from the circulation desk attendant. Periodicals may be used only in the library.
Current List of Bound Periodicals
Reserve
Some items that are critical for a course or project are placed on reserve to help manage high demand. Reserve items are for Denver Seminary students only and may be used inside the library for 2 hours at a time.
Reference
The Reference collection includes items such as encyclopedias, commentaries, dictionaries, indexes, and statistical information; these items do not circulate. Do not reshelve reference, or any other items, as library assistants will take care of this and track in-house usage statistics.
Electronic Databases
Search these databases for full-text articles, journal citations, and other resources. If you are a current member of the seminary community and desire remote access to these databases, the library for access information.
See the alphabetical database list for more information and access.
Tapes
The library maintains a collection of cassette tapes ranging from chapel addresses to conference speakers. Many of these are available to borrow or purchase. See list here.
Microform
Microfilm of older theological journals; Microfiche titles from the ATLA Preservation Collection 1850-1910; TREN microfiche of M.A. and Th.M theses; Ultrafiche of Microbook Library of Religion in America: Beginnings to 1914.