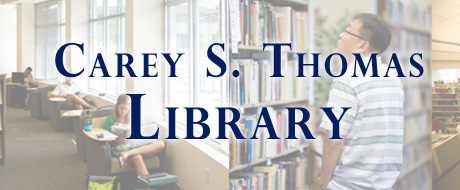 Resources and Services for Distance Students
The mission of the Carey S. Thomas Library is to make learning materials available to all students, no matter whether they are taking courses on-campus or off-campus.
The Carey S. Thomas Library of Denver Seminary provides applicable resources and services for Denver Seminary students designated as distance students. Delivery of library materials to distance students may take the form of: (1) E-mail, where journal articles, chapters, or essays are scanned and e-mailed to students; (2) Mail, where library materials are shipped directly to students.
Resources and Services
E-Books
All Denver Seminary distance students are eligible to borrow any e-books available through Denver Seminary and the Carey S. Thomas Library. Generally, e-books are available for a 7 day checkout.
Kindles
The library has a limited number of Kindle EReaders (preloaded with Reserve materials.) They are available for 2 week checkout for distance students and require a signed loan agreement before shipping. if you have any questions.
Denver Seminary Library Materials
Distance Students may borrow up to 26 books from the library for up to four weeks at a time. These may include 2 items from the reserve collection (Reserve items may only be checked out for a period of two weeks.) All books will be shipped to the student via UPS (United Parcel Service) which will be paid by the library.

All books must be returned via UPS paid by the student

.
Interlibrary Loan
D.S. may utilize Interlibrary Loan (ILL) services offered by the Carey S. Thomas Library. D.S. should access the ILL web page and fill out ILL form for journal article requests, making sure to choose "Distance Student" in the affiliation field of the form.

D.S. are encouraged to use their local library to borrow books that Denver Seminary Library does not own due to the delay and costs involved in shipping items to and from the patron and multiple libraries.

D.S. can usually eliminate shipping fees and receive their materials much faster by utilizing their local public libraries for ILL. However, ILL requests for books will be filled if the student has no local ILL options available to them.
Online databases


All Distance Students are eligible to access any electronic database available through Denver Seminary and Carey S. Thomas Library.

Remote access to electronic databases will be provided to D.S. through the use of the Remote Access usernames and passwords.
Reference Assistance
Need to contact a reference librarian? Call 303-762-6961 or send an email to